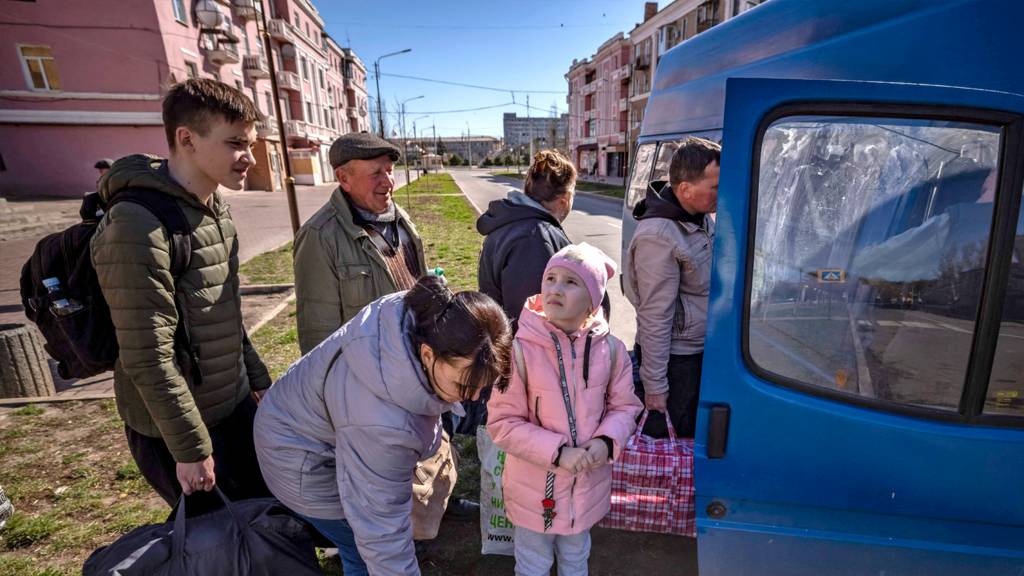 As it happened: Ukraine facing 'crucial' period as Russia focuses on east
Updates from BBC correspondents: Yogita Limaye, Mark Lowen, Joel Gunter and Anna Foster in Kyiv, Jonathan Beale in Donbas, Tom Bateman in Dnipro, Catherine Byaruhanga in Odesa, Dan Johnson and Toby Luckhurst in Lviv
Our live coverage is moving

UK checking Russia chemical weapons claim

Image caption: Mariupol has been virtually wiped out by weeks of heavy Russian bombardment

There have been "reports that Russian forces may have used chemical agents in an attack on the people of Mariupol", UK Foreign Secretary Liz Truss has tweeted.

"We are working urgently with partners to verify details. Any use of such weapons would be a callous escalation in this conflict and we will hold [Russian President Vladimir] Putin and his regime to account," Truss warned.

This comes shortly after fighters from Ukraine's Azov regiment defending Mariupol said on Monday that Russian troops "used a poisonous substance of unknown origin against Ukrainian forces and civilians" in the besieged southern port city.

It provided no evidence to back up its claim.

Petro Andryushchenko, an aide to the mayor of Mariupol, wrote on his Telegram channel that reports about a chemical attack had not been confirmed and that he expected to provide clarifications later.

The Pentagon said the US was aware of "social media reports" about the claim of Russian forces using a potential chemical munition in Mariupol, but made clear it was unconfirmed.

US defence department spokesman John Kirby said: "We cannot confirm at this time and will continue to monitor the situation closely."

Ukrainian President Volodymyr Zelensky touched on this issue in his video address late on Monday.

"One of the mouthpieces of the [Russian] occupiers stated that they could use chemical weapons against the defenders of Mariupol. We treat this with the utmost seriousness." Zelensky gave no further details.

Russia has not publicly commented on the issue.

Western and Ukrainian officials have been accusing Moscow of planning to use chemical weapons in Ukraine going back to early in the conflict, yet no such attack has been substantiated.

Kharkiv residents warned not to approach scattered mines

Officials in the north-eastern city of Kharkiv have warned residents to stay away from mines that they say are being dropped from the air onto the city.

Lieutenant Colonel Nikolay Ovcharuk, who leads the country's demining initiative, said the devices have "self-destructing timers" that allow them to go off hours after making impact on the ground.

Loudspeakers in the area are being used to warn people against entering cordoned off areas where Ovcharuk's teams are working.

The scatterable explosives are considered anti-personnel mines that are likely to cause civilian injuries, and are therefore banned under some interpretations of the laws of war.

Kharkiv residents told Reuters that some of the mines had been dropped early on Monday morning.

"Tonight at 01:00 we heard some strange sounds, something whistled and then it all dropped," a local man named Sergey told Reuters.

Zelensky: Russians 'left mines everywhere'

Russia is finding itself increasingly shunned by the international community, Ukrainian President Volodymr Zelensky says in his nightly Facebook address, adding that the "invasion makes [Russia] more and more toxic every day".

He goes on to warn that "tens if not hundreds of thousands" of dangerous munitions have been left behind by Russia in their withdrawal.

"The occupiers left mines everywhere. In the houses they seized. Just on the streets, in the fields. They mined people's property, mined cars, doors," he says.

He warned of reports that Russia may be planning to deploy chemical weapons in Ukraine, adding that they are taking those concerns "as seriously as possible" and calling on Ukrainians to fortify their resolve.

"The key task both today and every day at this time is concrete defensive measures," he tells Ukrainian citizens.

"A concrete increase in our ability to repel any attacks by Russian troops. I am dealing with this issue almost around the clock."

He says that Ukraine's troops are "braver" than Russia's forces, and "are beating the occupiers with wisdom and well-thought-out tactics".

But he says Ukraine is still reliant on its international partners for weapons, and does not have the equipment it needs "in particular, to unblock Mariupol".

Could Sweden and Finland join Nato?

The Nato military alliance could soon expand, with both Finland and Sweden expected to apply for membership.

US officials expect both Nordic nations to go for membership as early as June.

If they joined it would take the Nato alliance to 32 members.

US defence officials have said Moscow's invasion of Ukraine has been a "massive strategic blunder" that's likely to spur Nato enlargement.

Find out more about Nato here.

Countries give 2.5m euros for war crimes investigation

Germany, the Netherlands and Sweden have said they are giving 2.5m euros ($2.7m; £2.1m) to the International Criminal Court (ICC) to help its investigation into possible war crimes in Ukraine.

Dutch Foreign Minister Wopke Hoekstra - whose government gave one million euros - said it was the view of the European Union that the court was the best place to bring the alleged perpetrators to justice, news agency AFP reports.

The ICC's chief prosecutor Karim Khan announced he would begin an investigation at the beginning of March.

Since then, there have been numerous atrocities uncovered - including the discovery of mass graves in the town of Bucha and an attack on a railway station in the eastern city of Kramatorsk that left dozens of civilians dead.

'Red flags' in Ukraine, says UN women's chief

A combination of mercenaries, conscripts, mass displacement and brutality against Ukrainian civilians has raised serious "red flags" for the director of the UN's women's agency.

Sima Bahous has made the comment as she calls on the UN Security Council to back an investigation into allegations of sexual violence in Ukraine.

"We are increasingly hearing of rape and sexual violence," she says. "These allegations must be independently investigated to ensure justice and accountability."

Russia would need to agree to any investigation backed by the security council.

'Home is home': The refugees returning east

Toby Luckhurst and Mariana Maglych

Reporting from Lviv

Copyright: Toby Luckhurt/BBC

Image caption: Irena (far right) has decided to return home with her family, including daughter Katerina, eight (second left)

The trains pulling into Lviv from the east are full of people. The trains going back, far less so.

But on the platform we meet a family heading back east, to their home in Kryvyi Rih, in central Ukraine.

They had initially left for neighbouring Moldova and stayed with relatives.

But now, despite those they left behind warning explosions are getting closer and closer to their home town, they have decided to pay for a ticket and return. In contrast, evacuation trains to the west are free.

"Home is home," Irena says.

She says they would have returned sooner, but her eight-year-old daughter Katerina hasn't been well.

She tells me she's very worried about her daughter's safety. We ask what she's told Katerina.

"We're telling her the truth," she says.

Food shortages risk harming Ukraine's children

Unicef's director of emergency programmes is warning more than a million Ukrainian children are at risk of not having enough to eat.

Manuel Fontaine tells a meeting of the UN Security Council almost half of the 3.2 million children who have remained in their homes are at risk of not having enough food.

"The situation is even worse in cities like Mariupol and Kherson, where children and their families have now gone weeks without running water and sanitation services, a regular supply of food, and medical care," she says.

How will the war unfold in the east?

Image caption: Western officials and military analysts say they expect an intense Russian offensive in eastern Ukraine in coming weeks

Following President Zelensky's warning that Russia is getting ready to send tens of thousands of troops to Donbas, we've been speaking to Russian security policy expert Dr Aglaya Snetkov about how the conflict in Ukraine's east could unfold.

What will Russia's strategy be?

"We are looking at a slow war of attrition," says Snetkov.

"The Russians will be focused on grinding down Ukrainian positions and infrastructure."

She says Putin will attack from the north and from Mariupol, in the south - piling on pressure to extract concessions.

What will the fighting look like?

Snetkov believes Russia may target more railway infrastructure but fears there will be more civilian casualties too.

"Whether they're planning to take over areas in the east by bombing them out of existence, at this stage we don't know."

She says it will take a while longer for heavy military equipment to arrive in Donbas, especially if it's travelling from Belarus or Russia.

How else could things change?

Meanwhile, she says Russia's appointment of General Alexander Dvornikov to oversee the invasion could make the Russian operational strategy more coordinated - with fewer generals sent to the front line.

"What's been surprising until now is that the Russians have had no chief of command, or at least we haven't known who it was."

Copyright: Maxar Technologies

Image caption: Recent satellite imagery shows an eight-mile plus military convoy moving through the Ukrainian town of Velykyi Burluk, in the Khrkiv region north of Donbas

More than 4,300 people evacuated on Monday, Ukraine says

A total of 4,354 people were evacuated from Ukrainian cities through humanitarian corridors on Monday, including 556 from Mariupol, Ukraine's deputy prime minister Iryna Vereshchuk has said on the Telegram messaging service.

Mariupol was among nine humanitarian corridors agreed with Russia on Monday to evacuate people from areas in the east.

BBC study reveals huge cost of troop deaths to Russia

Olga Ivshina

BBC Russian Service

Image caption: The test for the elite maroon berets is said to be one of the hardest in the world

We reported earlier that the BBC has been able to verify the deaths of more than 1,000 Russian troops, of whom about 20% are officers.

Even if we talk about confirmed losses only - there is evidence that Russia has lost some of its best specialists, including elite special forces operators, highly skilled fighter pilots and some experienced commanders.

It takes five years and at least $10,000 to prepare an infantry lieutenant in Russia. For other specialties, the cost rises to $60,000 per officer. It costs between $4m and $14m (and takes up to 14 years) to prepare a skillful fighter pilot.

We also noticed another trend. About 15% of all confirmed losses are paratroopers from units which are considered the elite of the Russian army. And preparation of a paratrooper in Russia demands more money and time compared to an infantryman. So these are sensitive losses.

Some servicemen were very experienced, for example fighter pilot Capt Sergei Volynets fought in Georgia and Syria, and had several medals.

There are at least 15 military intelligence special forces operators (including five officers) and three maroon berets in the confirmed losses list. These take months or even years to train and educate. The test to get a maroon beret is considered to be one of the hardest in the military world.

Probe after Russian karter, 15, accused of Nazi salute

Image caption: Artem Severiukhin has been sacked by his racing team

A 15-year-old Russian karting champion is under investigation after appearing to make a Nazi salute while on the podium.

Artem Severiukhin made the gesture after winning the first round of the European Championships in Portugal on Sunday.

The teenager was competing under the Italian flag due to a ban on Russian athletes following the invasion of Ukraine - a war justified without evidence by Moscow on the grounds of "denazification".

The FIA - motorsport's governing body - is now investigating the incident. Severiukhin has been dropped by his team already.

You can read more from our colleagues at BBC Sport by clicking this link.

Many refugees who arrive in Lviv need medical help

Toby Luckhurst and Mariana Maglych

Reporting from Lviv

Image caption: Roksolana has been helping refugees arriving in Lviv from other parts of Ukraine

As Russia prepares a major offensive in the east of Ukraine, governors there have told people to evacuate and head for the relative safety of the west.

Roksolana is a medical co-ordinator on the platform at Lviv's central station. She and her team meet people off the train to offer physical and mental health support.

"Many people don't have families [in Lviv], many have been bombed," she explains.

The hospitals are already filling up in Lviv, and the team has begun transporting the wounded to other nearby cities, such as Ivano-Frankivsk.

As we talk Roksolana gets a call on her radio telling her a woman has had a heart attack on a train inbound from Kharkiv. We run to platform three and wait for doctors and volunteers to arrive with a stretcher.

We ask how often emergencies like this happen. "Every day. Every single day," she says.

Before the war, Roksana was a medical student in Lviv. She started helping at the station just two days after the invasion began. She is 21 years old.

'Not a friendly visit', says Austrian chancellor in Moscow

Some more now Austrian Chancellor Karl Nehammer's visit to Russia for talks with Vladimir Putin, the first by an EU leader since the invasion.

Nehammer told journalists afterwards that he had "no optimistic impression" to report from the conversation.

"The offensive [in eastern Ukraine] is evidently being prepared on a massive scale," he said.

It was "not a friendly visit, but a clear confrontation with the facts", he added.

The chancellor said Moscow blamed Ukraine for the failure of humanitarian corridors to get civilians out of the worst affected towns and cities.

"This is a form of reasoning that I did not accept, but pointed out that it must be the task of the Russian army to ensure the security of these corridors, so that the civilians who are enduring so much suffering through this war can be evacuated," he said.

France expels six Russians accused of spying

Six Russians suspected of working as spies have been expelled from France following a long investigation, the French foreign ministry has announced.

The six were alleged to be working "under diplomatic cover" and were working "contrary to our national interests", the ministry said in a statement.

The "clandestine operation" was revealed on Sunday by the intelligence services, the statement said. No further details are known at this time.

France has already expelled 35 Russian diplomats, as have numerous other European countries.

20% of confirmed Russian casualties are officers, BBC data shows

Image caption: A destroyed Russian tank west of Kyiv on 10 April

Approximately 20% of Russian troops confirmed to have died in Ukraine are officers, according to a new study from the BBC's Russian service.

The data shows that of 1,083 losses the BBC has been able to verify, 217 have been of officers, ranging in rank from junior lieutenant to general.

The trend is consistent with a previous BBC analysis of 557 casualties conducted in late March, which found 19.6% were officers.

The high number of officers reported dead, however, is likely due to the fact their bodies are recovered and sent home on a priority basis and are more likely to be announced publicly.

The data also shows a disproportionate number of confirmed Russian casualties - 15% - are members of Russia's VDV, or airborne forces.

Russian airborne units - considered among the most elite in the Russian military - have been reportedly committed to some of the heaviest fighting of the war so far, including at Hostomel near Kyiv and in the south,

What's been happening today?

Image caption: Civilians take shelter from the shelling in a Kharkiv underground station

Good evening from London, and thanks for joining our live coverage of the war in Ukraine. Here's a quick recap of what's been unfolding today:

On the ground

Ukraine has denied it is about to lose control of the besieged port city of Mariupol. A number of reports on Monday suggested the resistance is in its last hours following weeks of bombardment by Russian forces

President Volodymyr Zelensky warned that Russia is gathering together tens of thousands of soldiers as it plans to concentrate its assault on Ukraine's east
A senior US defence official said some of the Russian troops who were withdrawn into Belarus from the Kyiv region are moving east towards Ukraine's Donbas
Meanwhile, a French team has arrived in Ukraine to help local investigators look into allegations of war crimes around the capital Kyiv

Beyond Ukraine

The BBC has seen leaked documents which show a sanctioned oligarch from Putin's "inner circle" hid his wealth, underlining the obstacles impeding Western attempts to penalise Moscow
Austria's Chancellor, Karl Nehammer, has held talks with President Vladimir Putin at his residence outside Moscow - he's described them as "direct, open and tough"
Indian Prime Minister Narendra Modi has told the US President Joe Biden that he has repeatedly appealed to Putin and Zelensky to hold direct talks. India has so far refused to condemn the invasion
And finally, a decision by a German newspaper to hire a Russian journalist who staged an anti-war protest live on television has come in for criticism from some fellow journalists

Russian journalist's Die Welt appointment raises hackles

Earlier we reported on the Russian TV journalist Marina Ovsyannikova being hired by German newspaper Die Welt following her anti-war protest during the main Russian evening news programme.

But the appointment has not gone down well with some fellow journalists, who point to the fact Ovsyannikova worked for years in Russian media producing anti-Ukraine propaganda without complaining.

Others mention that finding work in Western media is extremely difficult for anti-war Russians, and suggest many independent journalists would be better qualified for the job.

Some commentators remain suspicious of Ovsyannikova's motives, and wonder if her protest was even genuine.

In the days following Ovsyannikova's protest last month, she said she made the stand because she didn't like Russia starting the invasion and said she was questioned for 14 hours afterwards, while denied access to a lawyer or the chance to speak to her family.

Ukraine official fears for women held in Russian prisons

More than 1,000 civilians and more than 700 servicepeople are being held in prisons in Russia or by pro-Russian separatists, Ukrainian Deputy Prime Minister Iryna Vereshchuk has said.

In an emotional interview for Reuters, Vereshchuk said she was most concerned about more than 500 women among the civilians, who were facing regular humiliation such as having their heads shaved and being forced to stand or undress.

She also said she knew of cases of rape.

"They want us to be scared. They want us to cry and to be victims. But we aren't. Our girls and women ... ask us to continue fighting for our victory," Vereshchuk added.

She said many civilians were being held "alongside criminals", and that Moscow was only prepared to exchange military prisoners.

The BBC has been unable to independently verify Vereshchuk's claims, and Russia says it is providing for all prisoners of war in accordance with international law.