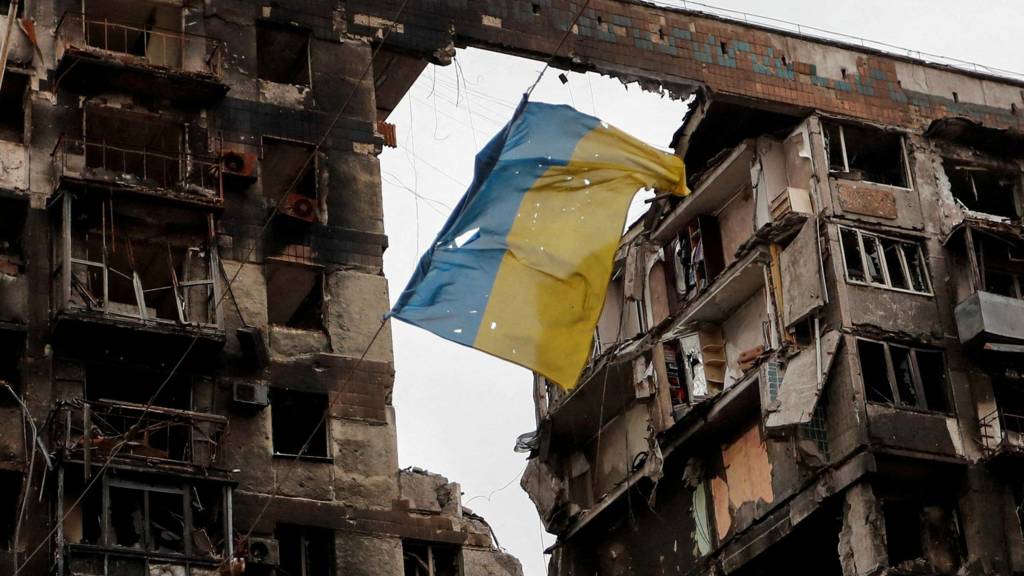 Mariupol defenders ignore Russia surrender deadline
Updates from BBC correspondents: Yogita Limaye, Mark Lowen, Clive Myrie and Anna Foster in Kyiv, Joel Gunter and Jonathan Beale in Donbas, Tom Bateman in Dnipro, Dan Johnson and Toby Luckhurst in Lviv
Our live coverage is moving

Cybercriminals stole my identity

Scammers have been profiting from the war in Ukraine by spreading emotional appeals across the internet and stealing identities.

The BBC's global disinformation reporter Hannah Gelbart investigates their emotionally charged tricks, and follows digital paper trails across the internet.

Ukraine talks to IMF about post-war rebuild

Ukraine's president says he has spoken with the International Monetary Fund about Ukraine's financial stability and the country's post-war reconstruction.

Volodymyr Zelensky said the discussion with IMF Managing Director Kristalina Georgieva had laid out "clear plans".

The president's economic adviser says Ukraine will be asking the IMF and G7 (Group of Seven) industrial countries for $50bn (£38bn) to cover its war-linked deficit.

Prime Minister Denys Shmyhal will attend the IMF and World Bank meetings in Washington DC over the next week.

Dozens of dead and wounded in Moskva sinking - newspaper

Image caption: Sailors said to be from the Moskva were shown on parade in a video released on Saturday

Some 40 sailors were killed, several are missing and many more were wounded in the sinking of the warship Moskva, the independent Russian newspaper Novaya Gazeta Europe reports quoting the mother of a sailor believed to be on board.

The mother said her son told her in a phone call that the Moskva, the flagship of Russia's Black Sea Fleet, had been hit by three missiles from land, from Ukrainian territory.

"He called me and was crying because of what he had seen. It was terrifying," she said, adding that she herself was terrified of having to wait for him to finish his service.

He said he would not give her the details of what he had seen because it was so terrible, adding that many of the wounded had lost limbs because of the explosions.

The newspaper has not named the sailor or his mother to protect them.

But it says it has documentary evidence which makes it plausible that the sailor was serving on the Moskva.

Russia's defence ministry has so far given no word of any casualties in the sinking. However, earlier we reported that Radio Liberty had confirmed the death of Midshipman Ivan Vakhrushev.

Meanwhile the ministry on Saturday posted video which it says is of the ship's sailors meeting the commander of the Russian Navy in Sevastopol.

It blames the sinking on a fire on board the ship and stormy weather. Ukraine says it hit the Moskva with two missiles.

Novaya Gazeta Europe was set up earlier this month to get around Russia's crackdown on media freedom. Its Russian counterpart suspended its operations in March after being repeatedly threatened with closure over its coverage of the invasion of Ukraine.

Propaganda of war leaves siblings in Donbas divided

Joel Gunter

reporting from Serhiivka, Donbas region

Rayisa Horislavets hasn't spoken to her sister for two weeks. The sisters live either side of the frontlines in Donbas in eastern Ukraine - Rayisa in a village controlled by Ukraine, her sister not far away in the so-called Donetsk People's Republic, controlled by Russia.

They stopped speaking because the phone connection to the Russian-controlled part of Donbas went down, but the relationship had already deteriorated before then, Rayisa said.

Her sister believes that the news about Russia's attacks on Ukraine is fake.

"She tells me not to believe anything I see in our media, that it is the Ukrainians doing all the damage," Rayisa said. "I told her there are witnesses, we see what is happening in Kharkiv and elsewhere, but she doesn't believe me."

Rayisa's story is not uncommon in eastern Ukraine, where frontlines have divided families and Russian propaganda has convinced many on the Russian side that the atrocities and attacks in international media are fake.

"When bad things came to their home we supported them," Rayisa said, referring to Russian hostilities in Donetsk starting in 2014. "Now bad things come to our home, and they turn their backs," she said.

Rayisa would like to speak to her sister again. "Of course, she is my sister," she said. "But we cannot talk now, we will only fight."

Civilians face daily threat as Russia steps up offensive in east

Joe Inwood

Reporting from Dnipro

Image caption: Kharkiv saw fresh shelling on Sunday

Across eastern Ukraine, air raid sirens have gone from sporadic to near constant. Areas we visited where we expected to feel relatively safe, proved to be anything but.

It seems nowhere is that the case more than in the city of Kharkiv. Terrifying footage, filmed by the Sun newspaper's defence editor Jerome Starkey, shows a team of paramedics coming under attack from above. A man in red shields a wounded woman on the floor, while others flee in panic past him.

Fires are said to be raging throughout the city, with five people reported killed.

But it's not just Kharkiv where Russia is reportedly taking civilian lives. Zolote is a village right on the frontlines of the Donbas. We visited it a week ago, filming in the trenches with Ukrainian soldiers.

Even then it was astonishing to think that civilians were still living in an area that felt like a warzone. Now, with Russia's main offensive gathering pace, it is simply incomprehensible that people are still there.

But, with reports of two dead and four injured in the area, it is evident that there are still many civilians who have been unable or unwilling to flee.

Ukrainian armed forces say they have repelled a number of attacks today, taking out dozens of tanks, armoured vehicles and drones.

But, the more Russia is frustrated on the ground, the more they are expected to vent their anger from above. For the people of the eastern Ukraine, that is a terrifying prospect.

Mayor freed from Russian captivity attends Pope's Easter Vigil

Image caption: Ivan Fedorov was freed last month in a prisoner exchange

Mayor of Melitopol Ivan Fedorov and three other Ukrainian lawmakers attended Pope Francis's Easter Vigil mass at St Peter's Basilica in Vatican City on Saturday evening.

The Vatican said that the Pope met the Ukrainian delegation privately before the mass.

Fedorov was detained by Russian forces last month but freed later in a prisoner exchange. His city remains under Russian occupation.

Pope Francis said: "In this darkness of war, in the cruelty, we are all praying for you and with you this night. We are praying for all the suffering. We can only give you our company, our prayer."

The latest from Ukraine on Sunday evening

Image caption: Russian shelling set apartments ablaze in Kharkiv on Sunday

If you're just joining us, welcome to our live coverage of events in Ukraine.

Here's a round-up of the latest developments:

Ukrainian Prime Minister Denys Shmyhal says the remaining Ukrainian forces in the devastated port city of Mariupol are still fighting and will continue defying Russia's demand for them to surrender. "The city has not fallen," he told ABC News, after Russia's latest ultimatum had expired
Russian forces shelled buildings in central Kharkiv, killing five people and injuring 13, local health officials said. The north-eastern city, near the Russian border, has been heavily damaged by previous Russian attacks
A statue in Kharkiv of Marshal Georgy Zhukov, a Soviet war hero, was toppled by a Ukrainian military unit. Zhukov was Russia's top commander in World War II
The southern city of Mykolaiv and nearby areas came under heavy Russian rocket fire, its governor Vitaliy Kim told the BBC. Ukrainian forces there have blocked Russian attempts to advance on the port city of Odesa
Another Russian general has been killed in combat - deputy commander of the 8th Army Maj Gen Vladimir Frolov. In late March Western officials said Russia had lost seven generals in the war so far. Russia has not confirmed that figure

Mariupol steelworks really well set for defence - analyst

Image caption: Azovstal iron and steel plant in Mariupol, 4 Apr 22

The Ukrainian troops defending the huge Azovstal steelworks in Mariupol may hold out for a long time with guerrilla tactics, using its nuclear bunkers and tunnels, a military expert says.

Justin Crump of security consultancy Sibylline told the BBC "they are really well set for defence", having had more than 50 days to fortify the site and build escape routes.

"I suspect that unless they are wiped out they'll be there a long time - they could do nasty stuff at night, and go back in."

He estimates as many as 800 fighters are defending the plant, led by the far-right Azov Battalion - a group vilified by Russia as "neo-Nazis".

"The soldiers there don't want to get captured, I don't think they'll surrender. And Russia doesn't want to go in and clear it out metre by metre, underground, that's horrendous," he said.

Ukraine has managed to resupply its beleaguered forces in Mariupol in very risky night-time missions, he said.

The steelworks is a key industrial site and, if Russia does get control of it, "maybe the Chinese will get them back in operation, as they want the steel", Mr Crump said. But it will take years to rebuild devastated Mariupol, he added.

Mariupol may be a red line for talks - Kuleba

Dmytro Kuleba, Ukraine's foreign minister, said Russia and Ukraine have not had any recent diplomatic communications.

In an interview on CBS News, Kuleba said: "Mariupol may be a red line" for peace talks and the situation over there is "dire".

Russia's guarantee that it would spare the lives of Ukrainian soldiers who surrender and lay their arms down has been rejected by Ukraine.

Earier on, Prime Minister Denys Shmyhal said Ukrainian soldiers have remained in the besieged city of Mariupol and they "fight to the end".

The Kremlin has said that its forces had almost completely seized the city.

Bust of Soviet WWII hero in Kharkiv pulled down

A monument to the Soviet commander and hero of World War Two Marshal Georgy Zhukov has been pulled down in the Ukrainian city of Kharkiv.

Video footage circulating on social media shows the bust being toppled from its pedestal.

Local official Tatyana Topchiy told Ukrainian broadcaster Suspilne the incident happened very quickly at about 11:00 local time (08:00 GMT), adding that she did not know who was responsible. Local authorities in the city have been long opposed to the dismantling of the monument.

Konstantin Nemichev, leader of a military unit called the Kraken, affiliated to the far-right National Corps, said the unit had carried out the act.

A longer version of the video published in his Telegram channel shows the bust being driven away in a truck and dumped at a rubbish tip.

Marshal Zhukov is regarded as the most important Soviet commander of the Second World War.

He played key roles in the battles of Stalingrad and Kursk, and commanded the final assault on Berlin.

The manner of the monument's removal is likely to be seen as a serious provocation by many Russians.

Ukrainian forces will 'fight to the end' in Mariupol - PM

In an interview with ABC, Ukrainian Prime Minister Denys Shmyhal said that remaining Ukrainian forces in the southern port city of Mariupol are still fighting and will continue to defy Russia's ultimatum for them to surrender.

"The city has not fallen", Shmyhal said.

On Sunday, Russia said it would guarantee the lives of Ukrainian soldiers who would surrender, with the Kremlin adding that the only Ukrainian soldiers left in the city were at a giant steelworks.

Other Ukrainian officials have been reiterating the same message. Ukrainian MP Oleksiy Goncharenko told the BBC earlier on that he had spoken to soldiers in Mariupol and "they're going to fight until the end".

Celebrity chef José Andrés' kitchen destroyed in bombing

A community kitchen set up by celebrity chef José Andrés was among the buildings destroyed by Russian bombing in Kharkiv city on Saturday.

Kharkiv's mayor said three people were killed and 34 wounded by missile strikes in the city.

Nate Mook, CEO of World Central Kitchen, tweeted a video of himself at the destroyed building, adding that four staff members were injured in the missile attack.

Andrés founded World Central Kitchen in 2010 after the devastating earthquake in Haiti that displaced hundreds of thousands of people. Since then, the organisation has set up community kitchens in several disaster zones around the world.

World Central Kitchen now operates kitchens in 30 Ukrainian cities and says it provides nearly 300,000 meals a day.

The Associated Press news agency reported that Andrés said the Kharkiv attack in Kharkiv showed that giving food "in the middle of a senseless war" was an act of courage, and that his chefs wouldn't stop their work.

Duke and Duchess of Sussex praise bravery of Ukrainians

At the opening ceremony of the Invictus Games on Saturday evening, the Duke and Duchess of Sussex paid tribute to the people of Ukraine and praised their bravery.

The Duke of Sussex, who set up the sporting competition for injured military veterans, said the world was united with Ukraine.

With the first full day of the event in the Netherlands under way, Prince Harry and his wife Meghan Markle have been pictured with Ukrainian athletes.

The Duchess praised the country's team for making the journey to take part.

Ukraine has no intention of surrendering Donbas - Zelensky

Ukrainian President Volodymyr Zelensky said Ukraine is fighting in the Donbas region and it has "no intention of surrendering".

In an interview broadcast on Sunday by CNN, Zelensky brushed aside the idea of letting Moscow take over the Donbas and part of eastern Ukraine to stop the conflict.

He added: "Ukraine and its people are clear. We have no claim to anyone else's territories but we are not going to give up ours".

When Russian President Vladimir Putin talks about taking over the Donbas, he is referring to Ukraine's old coal and steel-producing area. What he really means is the entirety of two big eastern regions, Luhansk and Donetsk, which run from outside Mariupol in the south all the way to the northern border.

More on the deadly shelling in Kharkiv

Earlier on we reported on the deadly shelling in Kharkiv, which led to five people being killed and 13 injured, according to regional health officials.

A series of strikes were heard across the city.

The shelling hit the city centre and saw fire engines called into operation from all areas. Firefighters have been battling the blazes in residential buildings.

Reporters from the news agency AFP were on the scene and have described what happened. They said that the shelling ignited fires throughout the city and tore roofs from buildings, showering debris onto the roads below.

Ever since Russia pulled back from its offensive to capture the capital Kyiv, the Kremlin has scaled up attacks on the east of Ukraine including Kharkiv, which is just 21km (13 miles) from the Russian border.

On Friday, shelling of residential areas of the city killed 10 people, and on Saturday a strike claimed two more lives.

Mykolaiv under continuous attack, says governor

Catherine Byaruhanga

Reporting from Odesa

The governor of Ukraine's Mykolaiv region has told the BBC that there have been continuous rocket attacks in the city and surrounding areas since Sunday morning.

Vitaliy Kim said: "Today in the morning there were rockets, which damaged the electricity lines that provide for one of the regions of our city."

A BBC team approaching the centre of town heard explosions in the distance.

The military spokesman for the region says, the Russians are bombing power grids, houses and playgrounds with various types of missiles.

One eyewitness in Mykolaiv said it was hard to pinpoint the location of the strikes.

The military in Mykolaiv has held off Russian forces seeking to take over the south-eastern corner of Ukraine, including the strategic port city of Odesa.

Kim said that despite the recent attacks, the Russians have not yet moved the front line.

"They [Russian forces] can't advance in one day, even in one a week, they can't advance and reach Mykolaiv. So people will have some time to leave Mykolaiv, if it becomes dangerous. And if I see it becoming dangerous in the city, I will tell everyone to leave," he said.

He added: "But for now, we have no threat about them circling us or occupying us."

The region is now in its fourth day without water after an explosion on a central water pipe along the battle lines. Most people can get drinking water from wells, but there's no running water for hygienic purposes.

At least one death during Moskva sinking - reports

Copyright: Max Delany/AFP

Image caption: The Moskva was the flagship of Russia's Black Sea Fleet

Journalists from Radio Liberty's Ukrainian service say they have confirmed one death during the sinking of the Russian warship Moskva, despite no casualties having been announced by the Russian authorities.

They spotted that news of the death of Midshipman Ivan Vakhrushev, 41, had been posted by his wife on Russian social media site Odnoklassniki (Classmates).

"Our hero!!! He died doing his duty. He fought to his last breath for the life of the ship. We are in tears and in mourning. You'll always be a hero in our hearts," she wrote on the site.

Varvara Vakhrusheva told the journalists that her husband had died as a result of the sinking. She was informed of his death on 14 April, adding that his body had been found but the circumstances of his death had not been revealed.

Ms Vakhrusheva said that another 27 members of the crew were missing, but there has been no official confirmation of this.

On Saturday Russia's defence ministry published video footage of a parade in Sevastopol of what it said were sailors from the sunken ship, the first evidence offered of the survival of any sailors from the vessel.

They were met by Navy Commander-in-Chief Adm Nikolay Yevmenov.

The ministry announced late on Thursday that the Moskva had sunk on stormy seas after a fire caused by exploding ammunition. Ukraine said it had sunk the ship with two Neptune missiles.

Breaking

Deadly shelling hits Kharkiv

Five people have been killed and 13 injured in shelling of the city of Kharkiv, local officials say.

"Rescuers are operating in the sites," the Ukrainian Suspilne public broadcaster reports.

We'll provide more details as we get them.

Trucks stuck at Poland-Belarus border following EU sanctions

A lenghty queue of trucks has formed on the Poland-Belarus border as Russian and Belarusian drivers try to leave the European Union following a sanctions deadline.

In the run-up to the Saturday deadline, the line extended to 80km (60 miles), with some drivers stuck for up to 33 hours. Hours after the deadline passed, the waiting times had been shortened to 12 hours, the BBC's Adam Easton in Warsaw says.

The EU has banned lorries from Russia and Belarus - except those carrying medicine, mail or petroleum products - from entering or staying in the bloc as part of a range of sanctions over Russia's invasion of Ukraine.

Read more here.