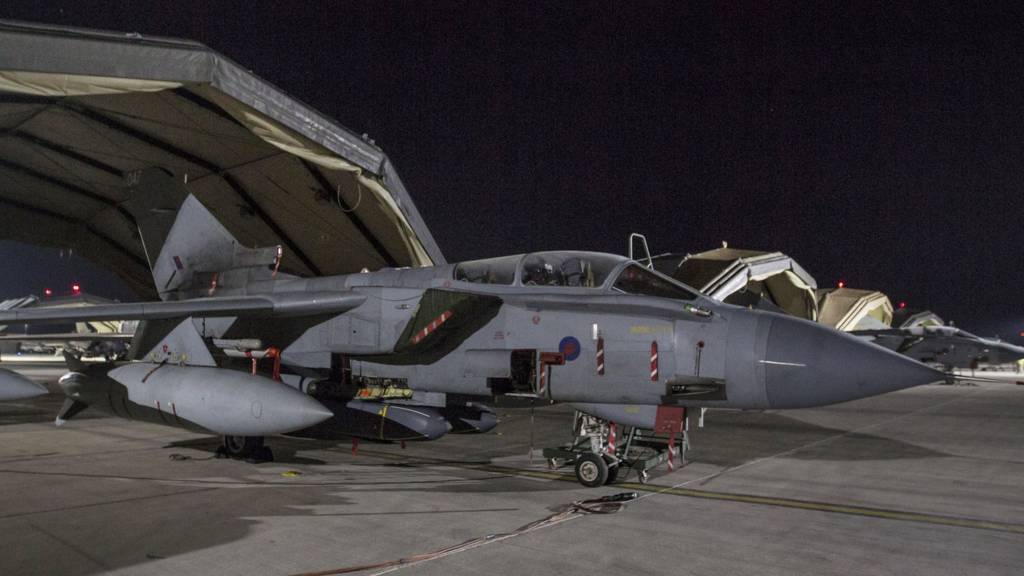 Reaction - Western powers strike Syria targets
We are ending our live coverage of the aftermath of the air strikes that the US, the UK and France launched overnight in Syria.

Here is a summary of what we know:

Washington says 105 strikes were launched against three targets in Syria - a research facility in Damascus and storage facilities near Homs
The missile strikes were carried out from "air and naval platforms" by the US, UK and France and "successfully hit every target"
The "precise, overwhelming and effective" action was in retaliation for a suspected chemical weapons attack in Douma, near Damascus, last Saturday

President Trump says allies "marshalled their righteous power against barbarism and brutality" by conducting "perfectly executed" strikes
Russian leader Vladimir Putin said the air strikes were an "act of aggression"

Thank you for joining us today.

For more of the BBC's comprehensive coverage of the Syria crisis, catch up with our full report, analysis and video explainers:

End the aggression, says Syria

The Syrian Ambassador to the UN, Bashar al-Jaafari, says the military action that took place overnight will not prevent Syria from achieving its aim of "defeating the terrorists" in the country.

He said the "plan of action" executed by the US, France and the UK was "very strange" and asked those involved to "stop the aggression".

Mr Jaafari also presented three copies of the UN charter outlining its position regarding international law, and urged the US, UK and France to "re-read" it.

He said the "attacks" on Syria, were an attack on the entire UN Security Council.

Leaders agree strikes were "a success"

Theresa May has spoken in separate phone calls to President Trump and President Macron, with the three leaders agreeing that the air strikes had been successful, a Downing St spokesperson said.

"The prime minister welcomed the public support which had been given by fellow world leaders for the strong stand the UK, France and the United States had taken," the spokesperson added.

Saudi foreign ministry: strikes are a 'response to regimes' crimes'

A statement from the Saudi foreign ministry has backed the US, France and Britain in its air strikes against Syria "because they represent a response to the regime's crimes".

Saudi Arabia has been a key backer of opposition groups fighting President Bashar al-Assad, which Syria says are terrorists.

Corbyn's concerns remain over legality of strikes

BBC political editor Laura Kuenssberg says that the UK's publication of its legal advice has not assuaged Labour leader Jeremy Corbyn's concerns.

She says that the UK is one of only a few countries that use humanitarian intervention as a justification for military action, and that "most international lawyers don't accept it, rightly or wrongly."

Typhoon fighters deployed 'in support' by UK

The UK Ministry of Defence has said that the four Typhoon fighters flew "in support" of the four Tornado jets which carried out strikes on Syria, according to BBC defence correspondent Jonathan Beale.

The MOD did not confirm the role of the Typhoons, but they can carry air-to-air missiles.

UK government sets out legal basis for strikes

The UK government has released the legal case it says it has for air strikes.

It directly links the strikes to the suspected chemical weapons attack in Douma, which it says "has exacerbated the human suffering". It adds that the continued use of chemical weapons by the Assad regime amounts to "a war crime and a crime against humanity."

It believes it was "highly likely" that chemical weapons would be used again.

It says that the UK has the right under international law to "take measures in order to alleviate overwhelming humanitarian suffering" and that it believes the strikes fulfilled the conditions for permissible humanitarian intervention.

Nato offers 'full support' to strikes

Nato Secretary General Jens Stoltenberg says the organisation "expresses their full support" over last night's military action.

Speaking at a news conference in Brussels, Mr Stoltenberg said Nato "strongly condemns the repeated use of chemical weapons by the Syrian regime" which has chosen to use them "with impunity".

"They cannot become normalised, they are an immediate danger to the Syrian people, and to our collective security and those responsible must be held to account," he said.

Chemical capabilities crippled, says US

US Vice-President Mike Pence says US forces, assisted by France and the UK, have "degraded and crippled" the chemical weapons capabilities of Syria, Reuters news agency reports.

During a meeting with Canadian Prime Minister Justin Trudeau, Mr Pence warned that President Trump was prepared to continue with military operations such as those carried out overnight "if necessary".

Mr Pence also thanked Mr Trudeau for his support of the air strikes.

What did air strikes target?

Copyright: Press Association

The US, UK and France say their air forces and navies conducted the overnight strikes on several sites in Syria, firing 105 missiles.

The missiles, says the US, hit targets "associated with the Syrian regime's chemical weapons programme".

So which sites were targeted?

Here's a summary of the locations and facilities that were reportedly struck in the military operation.

Assad regime weakened, says France

Meanwhile, France's Defence Minster Florence Parly has said that the Syrian regime's capacity to produce and store chemical weapons has been "considerably weakened" following the strikes.

"The mission is a success. The goals had been carefully chosen and I observe that there are no incidents to report between our forces and other forces active in the region," Ms Parly told a news conference.

French army chief Francois Lecointre added that Syria's ground-to-air defence system had been effective but that its efficiency proved "very limited".

Russian assets deployed in Syria were "neither active nor proactive" he said.

France has 'no doubts' on those responsible

France's Ambassador to the UN, François Delattre, says that the suspected chemical attack on Douma called for a "strong response".

"France has absolutely no doubt about the Assad regime's accountability in the chemical attack [in Douma]," he said.

He added that those challenging this should review the facts and information published in a report made available by France earlier on Saturday.

Four tests for diplomatic resolution - UK

Karen Pierce, UN ambassador for the UK, set out four tests for a diplomatic resolution to the Syria crisis:

Syria must end its chemical weapons programme and destroy its stockpiles
There must be an immediate cease to hostilities, including allowing humanitarian access to Syria
The Syrian regime must return to the Geneva talks, UN peace negotiations which ended last year.
"There must be accountability for the use of chemical weapons and other crimes in Syria," Ms Pierce said.

UK: Syria chemical attacks were a 'crime aganst humanity'

The UK's Ambassador to the UN, Karen Pierce, said the UK's involvement in the air strikes against Syria was a "humanitarian intervention", which was legally justified.

"The Syrian regime has been killing its own people for seven years," Ms Pierce said, and the use of chemical weapons "was a war crime and a crime against humanity".

US remains 'locked and loaded'

Ms Haley adds that the US would not allow the Assad regime to continue to use chemical weapons for "mass murder".

"Russia's veto was used as a green light for Assad to use chemical weapons.

"Our Syrian strategy has not changed. However Syria has forced us to take action by it use of chemical weapons," she said.

"The US is locked and loaded," she added

US: action was 'justified, legitimate and proportionate'

US Ambassador to the UN Nikki Haley responded that Russia was carrying out a "disinformation campaign".

But she said that the victims of chemical weapons attacks in Douma were not "fake news".

"We gave diplomacy chance after chance," she said. But Russia had blocked action on Syria's chemical weapons six times in the UN security council.

"We cannot stand by as Russia trashes every international norm that we stand for," Ms Haley said.

US has 'blatant disregard' for law, says Russia

Vassily Nebenzia adds that Russia "condemns in the strongest possible terms" the military action in Syria.

"The US panders to the terrorists and the current situation is destructive," he said.

"The US and its allies continue to demonstrate blatant disregard for international law."

He said it was "shameful that the US constitution was cited as a reason to launch military action.

"It's interesting what the UK and France will think when they realise they have broken international law while citing the US constitution."

Solution 'must be political'

Mr Guterres says events in Syria demand a political solution.

"There is no military solution to the crisis, the solution must be political", he says.

"We must accelerate the political process."

Mr Guterres emphasised the need for member states to act consistently with the UN charter and in accordance with international law".

"I urge member states to avoid actions that could add to the suffering of the Syrian people ... for eight long years the Syrian people have lived through a series of horrors."

UN: security council "failed" to deal with Syrian chemical weapons

Earlier in the session, UN Secretary General António Guterres urged members to exercise restraint and "avoid escalation".

He said that he was disappointed that the security council had "failed to agree an effective mechanism against the use of chemical weapons in Syria."

"I urge members to fulfil their obligations," he said.

Mr Guterres said the situation in Syria called for a "thorough investigation", and said the Organisation for the Prohibition of Chemical Weapons team was ready to investigate the site Douma.