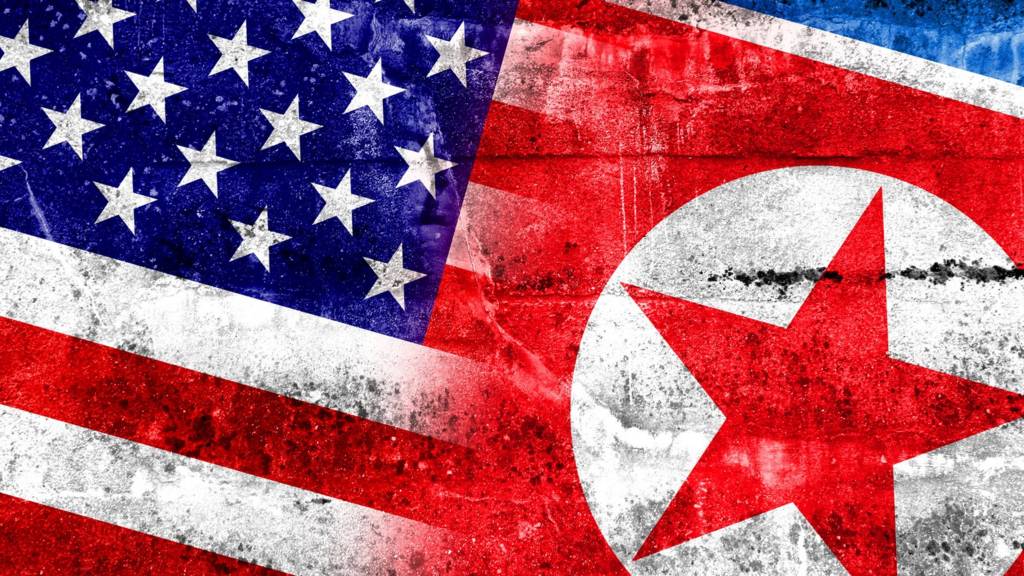 Trump cancels summit with Kim
Goodbye and thanks for reading

We're closing our live coverage of President Trump's decision to pull out of his summit with North Korea's Kim.

Trump blamed "tremendous anger and open hostility" from North Korea.

He said it was possible a meeting could still take place but warned North Korea against committing "foolish" acts.

For the latest developments, head over to our main news story - Trump cancels Kim summit amid North Korea 'hostility'

This tweet by Toronto Star reporter Daniel Dale is being widely shared.

Dale asked Jeffrey Lewis from the Middlebury Inst of International Studies for his reaction to Trump's summit cancellation:

According to the Urban Dictionary, a goat rodeo refers to a "chaotic situation, often one that involves several people, each with a different agenda/vision/perception of what's going on".

Another definition on the same site says a goat rodeo is a "scenario that requires about 100 things to go right at once if you intend to walk away from it".

'War is more likely' - Obama officials react

Several former senior Obama officials have been tweeting their thoughts on today's news.

Here's what they had to say:

White House officials 'look stressed'

The BBC's White House reporter Tara McKelvey says that White House staff today appear to be "sweaty and overworked".

Meanwhile, that sinkhole doesn't appear to be going away anytime soon.

Did Kim's attitude change after China trip?

Trump insisted to reporters that he had a "wonderful dialogue" with North Korea, and refused to say who was to blame for the breakdown in talks.

"The dialogue was good until recently," he said.

He added that he thought he knew what went wrong, but declined to explain it - "Someday, I'll give it to you, you can write about it in a book," he said.

Two days ago, Trump suggested that China was to blame

Chinese President Xi Jinping is a "world-class poker player" Trump said, after Kim travelled to China for his second meeting there in recent weeks.

"There was a difference when Kim Jong-un left China a second time," he said two days ago.

"There was a somewhat difference attitude after that meeting, and I'm a little surprised."

"Now maybe nothing happened. I'm not blaming anybody. But I'm just saying maybe nothing happened and maybe it did."

"But there was a different attitude by the North Korean folks after that meeting."

The editor of China's English-language newspaper the Global Times appears to think so.

He says Mr Trump's announcement that he was cancelling the summit with Kim came a few hours after Pyongyang said it had dismantled its only nuclear test site at Punggye-ri.

"Many people would think" Trump had tricked Kim, Hu Xijin said.

'Some test site destruction' - Pentagon

Washington Examiner reporter Jamie McIntyre quotes a Pentagon official as saying that there has been "some visible destruction to the entrances of the tunnels" at North Korea's Punggye-ri nuclear test site.

Earlier, foreign reporters at the Punggye-ri site in the north-east said they had witnessed a huge blast. Pyongyang later said the site had been dismantled.

However scientists believe it partially collapsed after the last test in September 2017, rendering it unusable.

Independent inspectors were not allowed to witness the process of the dismantling of the Punggye-ri site in the mountainous region of the country, and some worry it could be easily reversible, the BBC's Laura Bicker reports.

Moon: Cancellation 'very regrettable'

South Korean President Moon Jae-in has expressed deep regret over Trump's decision to cancel his meeting with Kim, the Yonhap news agency reported.

"I am very perplexed and it is very regrettable that the North Korea-US summit will not be held on June 12 when it was scheduled to be held," Moon was quoted as saying at a meeting with his top security officials.

WATCH: Trump's full statement on North Korea

And here's the full statement by President Trump on why he decided to cancel the 12 June summit with the North Korean leader.

Watch BBC World News for the latest

Watch BBC World News for our rolling coverage of all the latest developments.

On the Beyond 100 Days programme at 14:00EDT (18:00 GMT), we'll be speaking with former US Ambassador to South Korea Chris Hill.

We'll also be speaking to our correspondents Jon Sopel in Washington and Laura Bicker in Seoul.

Later in the hour, we'll be speaking to former US diplomat Nicholas Burns.

'Way forward in hands of North Korea' - Pentagon

The Pentagon says the way forward now is in hands of North Korea, and the US military will continue to ensure that America's alliance with partners is strong, Reuters reports.

What now for the summit coin?

Well, it is still being sold, correspondents say, although at the time of writing the link to buy it from the official White House gift shop was not working.

A screengrab taken by the BBC's North America Correspondent Anthony Zurcher earlier shows the gift shop insisting the coin would be made regardless of whether the summit took place or not.

Refunds would be available - but the gift shop says "most supporters" have said they want this "heirloom of political history" whether or not there is a meeting to commemorate.

President Trump explains why he has cancelled the planned June summit with North Korea.

Singapore regrets summit will not take place

Singapore - where the Trump-Kim meeting was scheduled to take place on 12 June - has issued a statement regretting its cancellation.

Moon urges direct US-North Korea talks

South Korean President Moon Jae-in has urged the US and North Korean leaders to hold direct talks, Yonhap news agency reports.

He said the denculearisation of the Korean should not be delayed.

"Denuclearisation of the Korean Peninsula and the establishment of permanent peace are historic tasks that can neither be abandoned nor delayed," the president said in an emergency meeting with his top security officials at his office.

'North Korea wins, US loses'

Vipin Narang, a professor of political science at MIT in Massachussetts, has given his take on the day's events.

He says North Korea and China are the winners in this situation, and the US, Japan and "pretty much everyone else" are the losers.

That's because, he says, North Korea gets to keep its nuclear weapons and "baited" the US into pulling out of talks, making it look like the "bad guy".

Trump 'creating double nuclear trouble' - Democrat

Democratic Congressman Adam Schiff, who serves as the top Democrat on the House Intelligence Committee, has just passed us this statement.

He says Trump had no choice but to cancel the meeting, and that it's unfortunate that this comes just after Trump cancelled a nuclear deal with Iran.

"While it is regrettable that we are back to comparing the size of our nuclear arsenals, the decision to call off the summit was the necessary result of a poor negotiating strategy in which the President made it all too clear to North Korea that he needed the summit more than the North Korean dictator.

He says that he hopes for renewed negotiations in the future, but says that Trump has essentially created a double problem for the US today.

"Having created an increased nuclear threat from Iran with his abandonment of that deal, the last thing the United States needs is two nuclear problems at the same time."