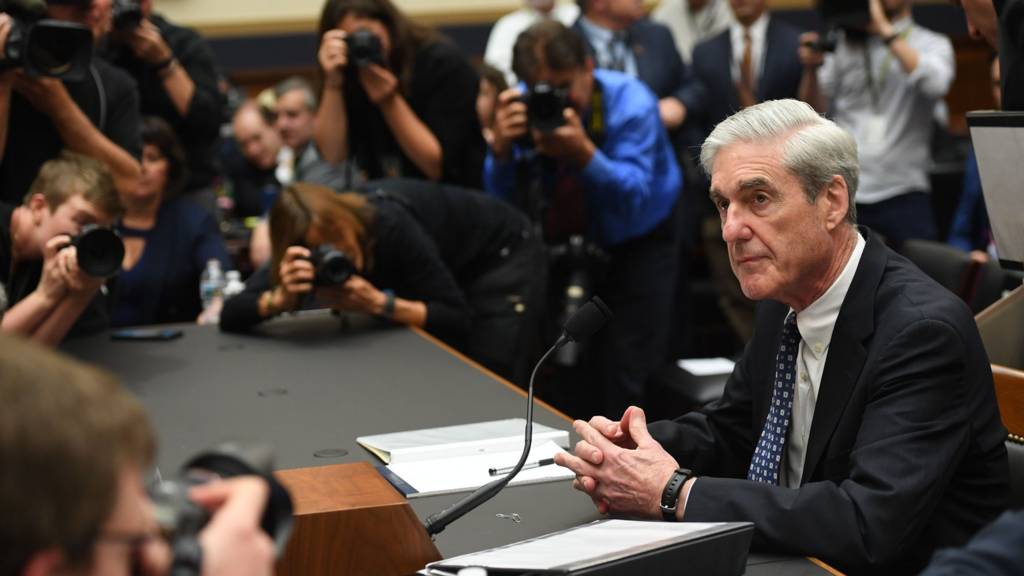 Mueller testifies to Congress on Trump probe
That's the end of our live coverage

The partisan muddle remains

Anthony Zurcher

BBC North America reporter

Robert Mueller has been presented, at various times and by various parties, as a hero or villain - an avenging angel who would expose corruption or the part of a corrupt establishment himself.

After six hours of testimony, the former special counsel – for two years the silent sphynx of Washington – spoke extensively, but he revealed he had little of the superhuman powers that have been attributed to him.

In his sometimes stumbling testimony, he stuck by the text of his voluminous report – leaving the American political landscape much the way it sat before he entered the committee room on Wednesday morning.

Democrats hoping that Mr Mueller would offer the kind of sweeping testimony that fuels calls for presidential impeachment will surely be disappointed. Republicans, including the president himself, who were hoping for vindication at last – "No collusion! No obstruction!" - did not receive it.

Instead, the partisan muddle remains. Investigations in Congress will continue to plod along. Those on the left will continue to decry what they see as the president's obvious crimes and ethical shortcomings. Republicans will continue to insist the president is being smeared by false accusations.

In the end, like all political disputes, the American public will be the final arbiter.

In this case, that judgement will be passed at the ballot box, 15 months from now.

Trump: 'Truth is a force of nature'

Despite earlier claims that he wouldn't be tuning in, President Trump issued tweets throughout Mueller's testimony - all declaring the day had been a win for the White House.

His most recent came after the hearings ended.

Here are key points from the House Judiciary hearing:

Trump could theoretically be charged after leaving office
Mueller disputed Trump's claim of "total exoneration" saying that Trump "was not exculpated" by his report
Mueller said he would "generally agree" that lies from Trump staff members "impeded" his investigation
He denied for the first time Trump's claim that he had applied to be FBI director, but agreed that he had discussed the role with Trump, but not as a candidate

And from the House Intelligence hearing this afternoon:

Mueller firstly corrected his statement from the Judiciary hearing, where he agreed Trump could not be indicted because of a longstanding department policy, to note he did not reach a determination as to whether or not Trump committed a crime

Mueller characterised Wikileaks as "hostile" and said Trump's tweets about Wikileaks were "problematic"
Mueller flat out said the Russia inquiry was not "a witch hunt" and election meddling was not "a hoax" as the president has often claimed
He did not comment on impeachment
Mueller agreed accepting help/dirt on an opponent from a foreign government was "unethical", "wrong" and in some cases, a crime
Mueller warned that foreign campaign interference could be "the new normal"

Here's what BBC reporters have had to say about Mueller's day of testimony.

"These hearings were a disaster for Democrats," Trump campaign manager Brad Parscale said in a statement.

"This entire spectacle has always been about the Democrats trying to undo the legitimate result of the 2016 election and today they again failed miserably.

"Robert Mueller confirmed what we already knew: no collusion, no obstruction, and the way President Trump has been treated is unprecedented.

"Almost three years and tens of millions of dollars have been wasted on this witch hunt and it is now even more apparent that Democrats are completely consumed with their hatred of the president and their obsession with overturning the will of the people who elected him."

Schiff excuses Mueller and then the hearing is adjourned.

'We must protect the country'

"You would not tell us whether the president should be impeached, nor did we ask you, since it is our responsibility to determine the proper conduct," Schiff says in his closing statements. "Whether we decide to impeach the president or not... we must protect the country while he is in office."

Schiff says it's now on the House to look into possible money laundering, compromised individuals in the administration, and any foreign financial inducements to influence US policy.

"One thing is clear from your report, your testimony...the Russians massively intervened in 2016 and they are prepared to do so again in voting that is set to begin a mere eight months from now. The president seems to welcome the help again."

He says lawmakers must protect the sanctity of elections and "make them [Russians] pay".

'Is Trump representing us or his financial interests?'

Democratic Chair Schiff ends by talking about holding leaders to a higher standard.

Mueller agrees that accepting foreign aid in an election can be "a crime" and is not moral or patriotic.

"And wrong," Schiff adds.

"True," Mueller replies.

"The need to act in an ethical manner is not just a moral one, but when people act unethically it also exposes them to compromise, particularly in dealing with foreign powers," says Schiff.

"True."

Mueller won't speculate on Trump's future plans post-presidency, so Schiff concludes by saying: "We are all left to wonder whether the president is representing us or his financial interests."

US commentators: 'It's over'

Conservative and liberal commentators alike took to Twitter to declare the hearing a devastating blow for Democrats.

Mueller says he had more questions for Trump

Trump's written answers were done under oath, says Mueller, after he confers with his aide sitting beside him.

But he adds that he would have liked to discuss other things with him if Trump had ever agreed to an in-person interview.

'A balanced decision' on Trump

Mueller says Trump's written answers "were certainly not as useful as the interview would be".

But he says the investigation did not subpoena the president because they assumed he would fight it in court and there was a need to expedite "the end of the investigation".

"We had to make a balanced decision," he says.

Democrat Peter Welch asks if Mueller shares his concern about a campaign encouraging help from a foreign adversary.

"Have we established a new normal from this past campaign that will apply to future campaigns?"

Mueller replies: "I hope this is not the new normal, but I fear it is."

Mueller struggles with the word 'collusion'

Democrat Denny Heck asks if it's fair to say Trump, Kushner, Cohen and others "all tried to use their connections with the Trump organisation to profit from Russia, which was openly seeking relief from sanctions".

Mueller says he is not able to agree.

Heck goes on: "That was not only dangerous, that was un-American. Greed corrupts!"

Biden: Trump committed 'impeachable offenses'

Asked by reporters about Mueller's testimony, former Vice President and Democratic White House front-runner Joe Biden said that President Trump has committed "impeachable offences".

"I think the president should be tried for it," Biden said while on a campaign stop in Michigan.

He added that Congress should pursue an impeachment inquiry in an "orderly way" so that the American people do not view the process as politically motivated.

Biden also says Mueller's probe provides "plenty of reasons" for Trump to be charged after he leaves office.

Mueller: 'Expect more Russian meddling'

Republican Congressman Will Hurd, who has shown a past willingness to cross party lines, says that as a former CIA officer, his focus is on preventing Russia from meddling in another US election.

He asks Mueller if campaigns should be required to disclose when a foreign nation approaches them with offers of help.

"It sounds like a worthwhile endeavour," says Mueller, adding that offers "should be pursued, aggressively and early".

He adds that many other countries are now capable of "replicating what Russia has done".

Hurd asks if the Russian attempt in 2016 was a one-off or if more attacks are being planned in Moscow.

"It's not a single attempt. They're doing it as we sit here," says Mueller, adding that Russia will attempt to meddle in the next campaign as well.

Cohen, Trump, and a Moscow tower

Democrat Joaquin Castro asks about Michael Cohen and plans for a Trump Tower Moscow.

"According to your report, Cohen lied to minimise links between the [tower] project and Trump and stick to the party line in order to not contradict Trump's message that no connection existed between Trump and Russia," Castro says.

"If it's in the report, consequently I do believe it to be true," Mueller replies.

Trump discussed a tower in Moscow several times over many years. In 2015, it came up in discussions between Trump Organization aides, led by Cohen, and Russian contacts.

Castro asks if Mueller looked into whether Trump could be blackmailed over dealings with Moscow over the tower. Mueller says he can't answer.

Mueller refuses to answer Steele Dossier questions

New York Republican Elise Stefanik asks if Mueller has read the Steele Dossier, but Mueller says he won't answer that question.

As she continues to press him on the dossier, alleging Trump ties with Russia, she says they are important questions because the dossier forms the early basis on Mueller's investigation.

Mueller has said that he will not answer questions about the beginning of the investigation, despite Republicans pressing him, because the investigation started nearly a year before he was appointed to lead the special counsel.

'We don't know what we don't know'

Eric Swalwell, who recently ended his bid for the 2020 Democratic presidential nomination, asked Mueller about information kept secret, and if Mueller wanted to interview the president (Mueller says yes).

Swalwell then asks if, "as a result of lies, deletion of text message, obstruction and witness tampering", it's fair to say Mueller's team wasn't able to fully assess the role of Russian interference in the election - and any part Trump played in it.

Mueller says he can't agree with all of that, but does not specify which parts he might agree with.

"We don't know what we don't know," he says.