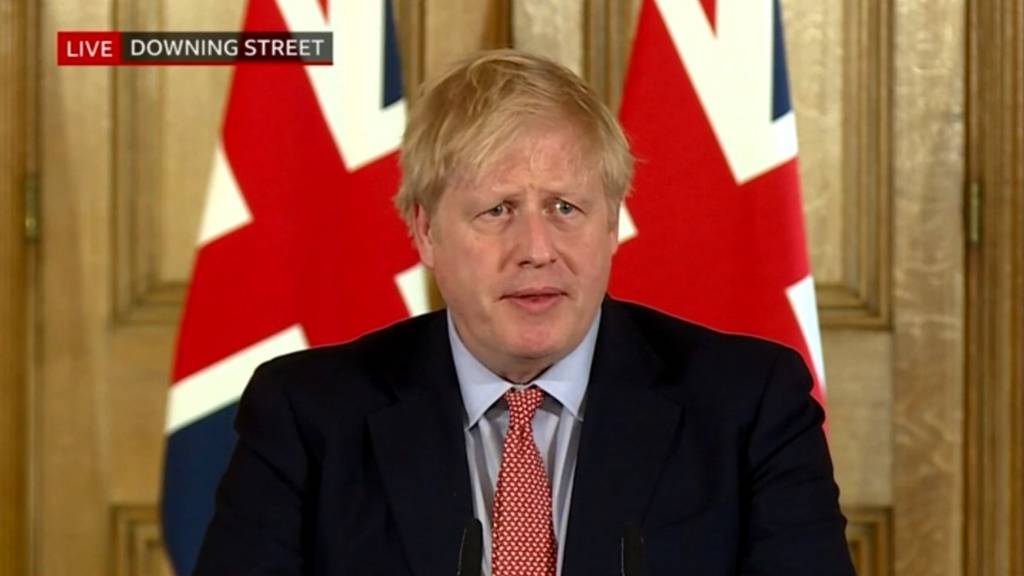 As they happened: Thursday's coronavirus events
By The Visual and Data Journalism Teams

BBC News

By The Visual and Data Journalism Team

BBC News

By Reality Check team

BBC News

We're wrapping up our coverage for today....

Thanks for joining us. You can follow the latest news on the BBC News website.

Here's a recap of the main events.

UK PM Boris Johnson held a press conference in which he labelled coronavirus the "worst health crisis in a generation". So far, 10 people have died out of 590 confirmed cases in the country
A number of countries including Belgium, France and Portugal have announced they are closing schools to curb the spread
In the US, a state of emergency has been declared in New York City amid a state-wide ban on large gatherings. Gatherings of more than 250 people have also been banned in California. Disneyland California will close from Saturday

Brazil's president tests for virus

Copyright: Jair Messias Bolsonaro/Facebook

Brazilian President Jair Bolsonaro has been pictured wearing a mask as he awaits the results of his test for coronavirus.

He said on social media that he expected the results in a few hours.

His son Eduardo said earlier on Thursday that his father was not showing any symptoms.

Hours after Eduardo's tweet, a government statement said President Bolsonaro would be addressing the nation at 08:30 local time (23:30 GMT), without specifying what it would be about.

President Bolsonaro's communications secretary, Fabio Wajngarten, has tested positive for the virus. He was part of the president's entourage during a recent visit to the US, where he met President Donald Trump and Vice-President Mike Pence.

At least 73 cases have been reported in Brazil. Concerns about the virus' impact on the economy have also hit local stock markets - the B3 stock exchange dropped 13% by the close of trading on Thursday.

Disney holds Mulan premiere behind closed doors

The European premiere of Disney's live-action movie Mulan has been held behind closed doors due to concerns about the virus.

A red carpet event was due to take place in London's Leicester Square, but Disney said it cancelled the public portion of the event "in an abundance of caution."

It comes soon after Disney cancelled its European launch event for streaming service Disney Plus, planned for later this month.

The outbreak has also caused delays to other films, including James Bond's No Time To Die, A Quiet Place II, and Fast and Furious 9.

Belgium closes schools and restaurants

Belgium has announced it is closing schools, cafes, bars and restaurants.

Supermarkets and pharmacies will remain open. Other stores will remain open during the week but will close on weekends, according to local media.

The measures take effect from midnight on Saturday and will run until 3 April.

However schools are expected to remain shut for five weeks.

Three people out of 399 infected have died in Belgium.

NYPD debunks rumours transport will be shut down

The New York City Police Department has responded to rumours on social media that transport will be shut down in the city.

Portugal to shut schools from Monday

Portugal has become the latest European country to announce the closure of schools, starting on Monday.

According to local media, schools will shut until at least the end of this month.

Prime Minister António Costa also said nightclubs will shut and the number of people allowed into shopping malls and restaurants will be restricted.

There have been 78 confirmed cases of coronavirus in the country.

How many cases in your area of the UK?

If you're living in the UK, you can use this BBC tool to find out how many cases of coronavirus are in your area.

A total of 590 cases have been confirmed, and the government today announced it is moving to the next stage of its plan to tackle the outbreak.

Leader of Spanish Vox party tests positive

Santiago Abascal, the leader of Spanish far right party Vox, has tweeted he tested positive for coronavirus and has gone into self-isolation.

Meanwhile, four towns in Catalonia are the first in Spain to go into lockdown, after a cluster of cases was identified in the area.

The quarantine applies to four places around the village of Igualada, 50km north of Barcelona, where three people have died, Catalan media report.

Schools and universities across the country will close for two weeks, and the government announced it will give financial support to the badly affected tourism industry.

In the UK, the chief executive of telecoms company BT Group has tested positive for coronavirus.

Philip Jansen said he was experiencing "relatively mild" symptoms and would work remotely. The firm is working with Public Health England to clean its offices and advise staff who had interacted with the executive.

"There will be no disruption to the business," Mr Jansen said.

What's the latest in the US?

Image caption: Disneyland in Anaheim, California

With the situation changing quickly, here is a round-up of the latest from the US:

A state of emergency has been declared in New York City by Mayor Bill de Blasio, who called the past 24 hours "very sobering"
A top health official admitted that the testing system for coronavirus in the US was "failing" after the government was accused of not doing enough testing
March Madness - the national college men's and women's basketball tournament - has been cancelled

Gatherings of more than 250 people have been banned in California, and Disneyland California will close for only the fourth time in its history
Senator Lindsey Graham will self-isolate after attending an event with President Donald Trump that a Brazilian political aide went to and later tested positive for the virus

On Wednesday President Donald Trump announced a travel ban from most of Europe to the US - prompting widespread criticism

Data limits scrapped for students in Italy

What can make life easier for millions of people stuck indoors? Communications and entertainment companies in Italy are trying to ease the burden on people ordered to confine themselves to their homes.

Mobile phone company Vodafone is removing data limits for students who will need to study from home while universities and schools are closed.

Newspapers La Repubblica and La Stampa are offering free three-month subscriptions, while publishing company Mondadori is giving away 10,000 free e-books as well as 50,000 subscriptions.

In order to help Italians to working from home, some IT companies including Microsoft and IBM, are offering free training and support for schools using distance learning.

Shares around the world plunge

Shares around the world have plunged over fears that the coronavirus pandemic will affect economic growth.

The main UK index dropped more than 10%, its worst day since 1987. In the US, the Dow and S&P 500 were also hit hard.

Classes and exams at LSE to go online

All undergraduate and postgraduate teaching, as well as exams, at the London School of Economics will be delivered online until the end of the academic year. The director of the LSE emailed staff and students on Thursday to say all public events, including graduation ceremonies, would be postponed until further notice. Student halls and the campus, however, will remain open.

A recap on advice from the UK government

As we mentioned earlier, Prime Minister Boris Johnson has announced that the UK government is moving to the "delay" phase of its plan to tackle coronavirus.

As part of the new measures, people with symptoms are no longer required to call NHS 111, as the system is under strain. Instead they are urged to look for information on the NHS website and 111 online.

Testing will now only focus on identifying people with the virus in hospital.

US suspends all major sport

All major sport in the US has been suspended amid the coronavirus outbreak.

The NBA has suspended all matches until further notice after a Utah Jazz player tested positive for coronavirus.

The National Hockey League and the Major Soccer League have also paused their seasons.

And Major League Baseball has delayed the start of its season by at least two weeks.