Alan Johnson: 'My pop star ambitions'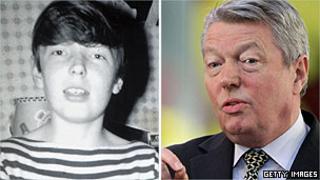 He's best known as a former home secretary, but when Alan Johnson was a teenager he dreamt of a life in pop music not politics. Here he recounts how his early love of music led him to dreams of being a rock star.
I'm not proud of the first two records I bought - Fings Ain't What They Used to Be by Max Bygraves and Theme from A Summer Place by the Percy Faith Orchestra - but I was very young and they were big hits.
What I remember is every detail of each precious and coveted disc.
The Bygraves one was on Decca, with its blue label, Percy faith was on Philips which was purple. They were quickly followed by Handy Man by Jimmy Jones, on MGM (yellow), and Slow Boat to China by Emile Ford and the Checkmates - Pye (maroon).
My passion for music began early but getting access to pop music was so difficult.
Our home radio was linked to a big Bakelite switch that had three settings - BBC Light, Home and Third programmes. Because of a Musicians' Union rule there was a limit on so-called needle time - playing of records.
So most lunch times were given over to band shows on the Light programme playing the latest hits - 40 middle-aged men trying to recreate "Shakin' All Over" by Johnny Kidd and the Pirates.
This eventually led to the rise of the pirate station Radio Caroline. But in the late 1950s and early 60s Pick of the Pops became our once-a-week fix of genuine American rock n roll.
But everything changed and changed forever at the dawn of civilisation - the arrival of The Beatles, on Parlophone (black).
By now I was 12 or 13 and had my own designs on taking to the stage. Indeed, me and my first band - The Vampires, with a drummer Jimmy Robb who thumped away on a large Tupperware bowl were playing The Beatles' Thank You Girl (very badly) when the mother of our bass player, Colin, shouted down that President Kennedy had been assassinated.
By then I had learnt to play the cheap Spanish guitar that I got for Christmas via the classic route of Bert Weedon's Play in a Day manual. I wonder that Bert was never prosecuted under the Trade Descriptions Act.
At the time my mother died I was doing a milk round for Johnny Carter, part of a tough Notting Hill family. He asked me if I'd like an electric guitar and took me down to his basement where there was an array of instruments which I guess hadn't been acquired by saving Green Shield Stamps.
Tight white pants
I chose a solid bodied Vox electric guitar and my sister's boyfriend made me an amplifier.
After the Vox was stolen I went to Wardour Street in London's Soho district and bought a beautiful, big sunburst red Hofner Verithin.
By the time my friend, and drummer, Andrew Wiltshire and I left school aged 15 we were telling our teachers and friends that we were going to join a band. Actually, he was going to be a butcher and I was destined for a job as a clerk for Remington Electric Shavers.
But our musical ambitions remained strong and started to crystallise when frontman Danny Curtis came on the scene. Aged 20 he was good bit older than us, drove a van and had absolutely no qualms about jumping about on stage in tight white pants like a cross between Mick Jagger and Rudolf Nureyev.
We advertised in Melody Maker for a bass and rhythm guitarist and adopted the name The Area.
Oh, the joy of five young men playing music in front of an audience, or even without an audience in our Sunday morning rehearsals.
Our repertoire was varied. We did a great version of The Stones' Time Is On My Side and hits by the Monkees, Small Faces and the Troggs.
We played all over West London and our crowning gig came on the night of 4 March 1967. My team, QPR, had won the League Cup at Wembley and when we played just down the road from their ground, in London's Shepherd's Bush, we'd never had a more receptive, or inebriated, audience.
Invading the North
Our reputation was beginning to grow. We had a regular gig at a pub opposite Wormwood Scrubs prison, that Andrew and I were too young to drink in, and did weddings, parties, not forgetting the Christmas do the Tescos where I now stacked shelves for a living.
We even performed in front of 1,000 young people at Aylesbury College (not quite the O2 but it thrilled us). There was talk of invading the North but I never even got to Islington until my second band, The In-Betweens.
Just after the QPR celebration we made a record. Regent Sound in Denmark Street was where many great hits were recorded. Danny hired it for an hour and we did the Clark/Kearns quest for the perfect two minute pop hit - Hard Life, and my song I Have Seen as the B-side.
Why have you never heard it? It was never released. Danny hawked it round to several record labels without success.
I can't imagine a life without music but I've stopped imagining a life within music. I have never recaptured the thrill of those days in a band and I never will.
My only regret is that I didn't continue to play and write songs beyond my 20s.
Alan Johnson is Member of Parliament for Hull West and Hessle. He is currently shadow home secretary. He presents Alan Johnson: Failed Rock Star on BBC Radio 4 Monday 19 July and at 0930 BST every Monday until 16 August.