Family getaway or get away?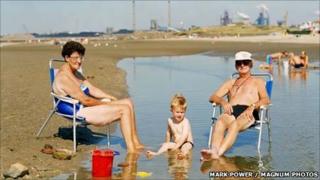 Millions are setting off on their summer breaks, but for many the experience will be anything but relaxing. Why do we persist with the ordeal of family holidays?
The traffic jam stretches for miles and the kids are squabbling on the back seat.
Beside you, your partner is getting increasingly agitated at the prospect you might miss your flight - pushing up your blood pressure even further.
Right on cue, you remember that you left your passport at home.
And that's before you've even had the chance to face sunburn, dodgy accommodation and your luggage ending up in the wrong hemisphere.
The family holiday may be a byword for mishaps, rows and the overwhelming pressure to have a good time.
Yet each year we put ourselves through the ordeal - and pay good money for the privilege.
That we willingly do so is, of course, testament to the lack of quality time the average family gets to spend together in an age of long commutes and work-life imbalance.
Nonetheless, most of us have established from personal experience that neither money nor good intentions can guarantee a harmonious break.
A survey by Footprint Travel Guides of the factors underlying British tourists' vacation tiffs offers familiar explanations for this discontent.
Some 21% of respondents said the journey to the holiday destination caused the most arguments, while 16% cited running out of funds as their main cause of strife.
Tellingly, some 11% of the 1,000 respondents told the study that spending time together as a family when unused to doing so at home had led to the majority of their fallings out.
The tendency of family holidays to end in disaster has been keenly chronicled by comedian and writer Emma Kennedy, whose book The Tent, The Bucket and Me recalls how her own parents led her on a succession of catastrophic camping trips in the 1970s.
Particularly memorable was one journey to France aged six when a fellow passenger vomited on her leg on the ferry; with her clean clothes buried somewhere deep inside the family Land Rover, the senior Kennedys thought it wisest to clean her up at a public convenience when they reached the continent.
Unfortunately, when they did so the young Emma managed to step into the squat toilet and cover herself in human effluent; she was so traumatised that she fainted and, as she recalls with a shudder, her parents then "had to wrap me in a bin bag, take me to a garage forecourt and hose me down".
The incident was to set the tone for the squabbles and catastrophes which characterised her family's successive summer breaks.
But strangely, she notes, it is these incidents on which she looks back most fondly.
"I've had lots of wonderful holidays where nothing has gone wrong, but I can't remember anything about them," she says. "It's the disasters that make a holiday memorable.
"Very often, it's the pressure to have the best time ever that causes problems in the first place, after all."
Nonetheless, not everyone is so sanguine about the impact of an unsuccessful summer break.
Dr Lynn Minnaert, a lecturer and researcher at the University of Westminster's Centre for Tourism, believes that successful holidays can contribute to what she calls "family capital" - how your relationship with the rest of your family takes you forward in life.
"Avoiding obstacles on holiday and having a good time together builds up a store of happy memories - this increases the self-esteem of the parents and children alike," she says.
"High levels of family capital have been linked to children's improved performance at school so this is something that can have a big effect."
If a bad holiday can actually damage your children's life prospects, then, how best to avoid them?
David Atkinson, the author of the book Lake District With Kids, believes that it is important that all members of the family - adults and children alike - get to do things they enjoy, and that the needs of one do not crowd out those of the other.
But most crucially of all, he warns that the more regimented a holiday, the greater the potential for it to go wrong - and that families come to grief when they forget that a break is meant, ultimately, to be relaxing.
He adds: "I spend my working life juggling deadlines - what's the point of giving myself more?
"Very often we have a tendency to over-complicate things, but usually the simplest things are the most enjoyable. When I think about our time in the Lake District, it's not driving up the M6 to some attraction that I remember most fondly - it's skimming stones on Derwentwater."
It may be a novel concept in this age of activity breaks and adventure holidays - but making an effort to rest and loosen up may be the surest guarantee of a good time.
So have a happy - and relaxing - trip. Just don't forget to pack that passport.