Who, what, why: How do you import a cloned cow?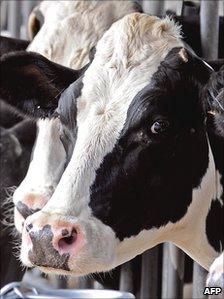 The Food Standards Agency (FSA) has said meat from a cloned cow's offspring has been eaten in the UK and is investigating claims that milk with similar links to cloning was sold without its approval. But how could it have ended up here?
Think of cloned animals and you will probably picture Dolly the Sheep - the first mammal cloned from an adult cell by scientists in Scotland in 1996 - or perhaps laboratory mice.
However, many of us may baulk at the idea of drinking milk from such a cow or tucking in to a plate of cloned steak. The chances of produce from a cloned cow's offspring ending up in the shops is very slight, says Jon Meakin from farmers' body DairyCo.
But how milk from such a cow may have been sold is not because farmers actually import cloned cows, he says. Instead a small number of embryos from these cows have been imported from the US.
The cloned animal is inseminated in America in the conventional way by a bull of the right stock. Its embryo is then frozen and exported to a British farmer to implant in a surrogate cow.
Once the cow has given birth - preferably to a female calf - the offspring can be reared, mated with a pedigree bull and its embryos - one a year for up to four years - can be sold on. If it is a bull calf, it may be used less profitably to sire herds in the UK.
Mr Meakin says pedigree records show just eight embryos from cloned cows have been imported to the UK. This is largely because it is such an expensive process - buying in embryos costs at least £10,000.
"Not that many dairy farmers have that kind of money to invest," he says. The results can be "hit and miss", he adds.
Despite this, DairyCo says it is confident no milk from the offspring of cloned animals has entered the human food chain.
How can it be so sure? Well, Europe's politicians - perhaps mindful of the backlash against genetically modified crops - have been reluctant to sanction the sale of produce from cloned animals or their offspring.
While there is no specific EU ban, the UK's Food Standards Agency treats produce with any link to cloning as a "novel food" - one that must be "rigorously assessed for safety" before it can be introduced on the market.
Dutch MEP Kartika Liotard made plain the case: "A clear majority in the European Parliament supports ethical objections to the industrial production of cloned meat for food. Cloned animals suffer disproportionately highly from illnesses, malformations and premature death."
All this means the only viable market for the offspring of cloned cows is abroad. But if there is so much concern, why would farmers bother with cloning at all? Many in the industry dispute claims about its adverse effects. They see the technique as an extension of traditional animal husbandry.
The point is to replicate a genetically strong cow - one with characteristics such as strong legs, high disease resistance or which produces a high milk yield. When a cloned animal is inseminated by a bull of the right stock, it should produce valuable calves which inherit the good genetics of its parents.
This reproduces "the healthiest animals, thus minimizing the use of antibiotics, growth hormones and other chemicals", according to the industry-backed Clone Safety website.
While banned in Europe, cloning has advanced further in the US. Karen Batra, of America's Biotechnology Industry Organization, estimates there are about 600 cloned animals in America.
She says the US food industry is observing a voluntary moratorium on allowing their offspring to enter the food supply. However, she admits it may already have happened.
Back in the UK, Simon Gee from breed society Holstein says farmers milk offspring of clones to test quality and quantity as a measure of the animals' quality. But all the milk was kept separate and disposed of as part of the farms' slurry, he says.
Related Internet Links
The BBC is not responsible for the content of external sites.