Why book signings are becoming such a performance
By Mario Cacciottolo
BBC News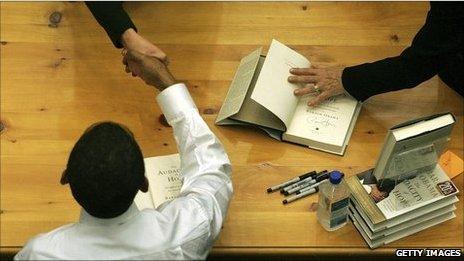 People attending Tony Blair's book signing will be subject to a list of strict instructions as to what they can and cannot do. But why should a book signing be so controlled?
Roll up, roll up, come meet your favourite author and tell them how much you enjoy reading their work.
But if it's a big name in showbusiness, or a former politician with a controversial past, then you'll probably have to wear a wristband and leave your mobile phone at the door.
You also won't be able to ask for a personal dedication to be written in the book you've just bought, nor will a photograph with - or of - your hero be possible. In fact, the only proof you'll have of being in the same room as them is their autograph, scribbled down as you were hurried past their desk.
Not all book signings are like this, of course, but many events are now introducing such restrictions. This is particularly true for those attending former prime minister Tony Blair's appearance on 8 September at Waterstones' flagship store in Piccadilly, London.
Those planning to attend have been "strongly discouraged" from bringing any bags, backpacks or briefcases along.
All purses and mobile phones will also have to be handed in. Those who purchase Blair's memoirs, entitled A Journey, will receive a wristband which entitles them to queue to have their book autographed by the former prime minister.
A spokesman for Waterstones said the store was expecting "many hundreds of people to attend" and that it was "working to ensure as many people as possible get to meet Mr Blair and get a signed copy of A Journey on the day".
"This is why it sadly isn't possible to do dedications. All arrangements are standard practice for high profile books and public figures and are similar to those used at previous events, for example with Hillary Clinton and Bill Clinton, both of whom have signed their respective autobiographies at the same store in recent years."
Graeme Neill, news editor of The Bookseller, says such restrictions are chiefly a matter of logistics.
"When Bill Clinton came to London in 2004 to do his book signing, there were 1,000 people who showed up. If 500 turned up for Blair, and he spent 30 seconds with each, then he could be there for four hours. From the store's perspective, it's about a need to get as many people through as possible.
"Handing your mobile in is also to cut down on people asking for photographs or stopping the queue moving while they take one."
Unsavoury incidents at previous book signing events have also increased the need for tighter controls.
X-Factor winner Leona Lewis was punched by a man while she signed books at an event last year, and Madeline Albright, former US secretary of state under Bill Clinton's administration, was carrying out a signing in Oxford in 2007 when a man approached her desk and spat fake blood over it.
In the film Borat, Sacha Baron Cohen famously tried to stuff Pamela Anderson into a bag. Although that was fiction, it was certainly an indication of the dangers of meeting the public - for some celebrities at least.
But Mr Neill says the rise of the internet and its effect on the world of book sales is driving up demand for signing events in general.
"Book market people are passionate about particular authors. No-one is going to turn down the opportunity to meet an author who wrote a book they adore. And that's the one thing websites selling books at cheaper prices can't ever offer."
Indeed, Jon Howells, of Waterstones, said the company holds hundreds of book signings every year.
"The interest in signings has certainly risen and risen over the past decade, with figures famous on the world stage joining more traditional authors in putting themselves in front of readers," he says.
"The amount of events in bookshops has probably remained at the same very high level for the last few years, but there has been a marked increase in the number of book festivals around the country."
Plenty of authors have much less restrictive book signings, such as Conn Iggulden, author of Dangerous Book for Boys and the Emperor and Conqueror series.
He recently invited all the members of the online forum from his personal website to his publisher's offices, to meet him and get an early copy of his proofs for his latest work. They all went down the pub afterwards.
Meanwhile, Janie Hampton, author of How the Girl Guides Won the War, recently did an unusual book signing - she sang to 900 Girl Guides, as well as signing and personalising copies.
Scottish-based crime author Stuart MacBride, best-known for his series of Logan McRae detective novels, draws cartoons in people's books and happily writes dedications.
He says people should be entertained when they attend a signing.
"I had never been to a book signing before I became an author. So I thought you had to stand up, tell stories that make you look like a twit and make people laugh.
"It's not about selling books, it's about meeting readers. It's our one opportunity to get out and meet people. And if you have dedicated a book to someone, then you know that person wants that book and loves that book."
And although book signings are primarily about the fans, spare a thought for the hazards endured by the authors, not least on their egos.
One popular author of a famous detective series tells the tale of how there was once a long queue to meet him. After quite a wait a particular woman got to the front.
She looked hard at the author, then at his picture on the back of the book and eventually said: "Crumbs, you take a good photograph, don't you?"
Related Internet Links
The BBC is not responsible for the content of external sites.