A new lease of life?
By Jon Kelly
BBC News Magazine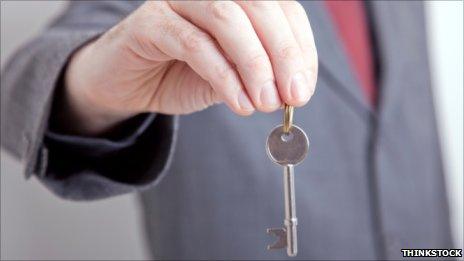 The "golden age of home ownership" is over, says a report by a distinguished housing organisation. But could the British ever learn to love renting?
It is as much a national obsession as football, pets and complaining about the weather.
For millions, the ideal of buying, owning and making a hefty profit from one's own home has gone from a dream to an expectation, and fuelled an insatiable demand for TV property programmes.
But in the post-credit crunch world, reality is slipping behind the fantasy of ever-rising prices and a mortgage for all.
It warns that while 100,000 new UK homes are expected to be built in 2010, the number of new households each year for at least the next 11 years is expected to be more than double that.
As a result, the study raises fears for what it calls the "in-betweens" - those typically earning more than £12,000 but less than £25,000, too poor to make it onto the property ladder but too well-off to qualify for social housing.
But could a national consciousness forged in the eras of Right To Buy and Sarah Beeny ever truly be reconciled to paying off a landlord's mortgage rather than one's own?
It may be that millions will have little choice. While owners trapped in negative equity as a result of the crash in prices learn hard lessons about the downs as well as the ups of speculation, an ever-increasing number of young would-be buyers are finding it harder than ever to make their first steps into the market.
According to statistics from the Council of Mortgage Lenders (CML), the average first-time buyer is now putting down a deposit of £35,000.
The estate agency Savills predicts that this high threshold will mean an increase in the percentage of Britons renting privately and a drop in the proportion lucky enough to be owner-occupiers.
By 2020, it forecasts that some 20% of households will be privately rented - up from 15% today and a low of 9% in 1988. By contrast, it predicts that owner-occupied households will make up 62% by the start of the next decade - down from the 2010 figure of 67% and an all-time high of just under 71% in 2003.
If an era really is coming to an end, it will be a harsh awakening for a country which has come to view owning one's own bricks and mortar almost as an article of faith.
By contrast, Britain's continental neighbours have long approached property tenure very differently. In 2007 just 56% of French and 43% of German households were owner-occupied - thanks in no small part to legal systems which make renting more attractive and secure.
Could the UK now follow their lead? One expert synonymous with the national property obsession - Location, Location, Location presenter Kirstie Allsopp - thinks a rise in the proportion of renters is likely, but is sceptical that their numbers will ever reach continental levels.
She notes that in Germany, tenants have greater security and more freedom to decorate their homes. Moreover, she says, most Britons plan for modest pensions on the understanding that they will have paid off their mortgages before they stop working.
And most of all, she believes, aspiring to be an owner-occupier runs deep in the British psyche.
"Even if renting were more practical here, culturally and emotionally, we like to own our own homes," she says. "I remember how thrilled I was when I first got my own roof over my own head and I think, in general, that people share that.
"However, renting does allow you more in the way of instant gratification and a disposable income in the short term, and I think the culture of sacrifice for home ownership isn't as fashionable as it was."
Of course, renting will always have its advantages, such as fewer hassles, greater flexibility and less exposure to the turbulent property and mortgage markets.
But very different sentiments are expressed by those who desperately want to get on the housing ladder but cannot even reach the lowest rung.
Supporters of the Right to Buy revolution of the 1980s may proclaim that it opened up the prospect of home ownership to millions, but, according to the National Housing Federation, some 4.5 million people are now stuck on waiting lists for social housing.
With council and local authority homes now stigmatised and apparently reserved for the very worst-off, journalist Penny Anderson, author of the Renter Girl blog - in which she covers housing issues as well as her own experiences as a tenant in Glasgow - says the British will begrudge renting privately until they enjoy similar rights to their counterparts in Germany.
"It's very hard to find anything positive about renting in this country," she says.
"It doesn't feel like living in a home - it's insecure, you can't decorate, you can't have pets. You feel like you're living in someone else's piggy bank."
Indeed, for now it appears unlikely that most Britons will voluntarily choose to become long-term renters until the financial and legal status of tenants changes.
A recent survey by the property search website Zoopla suggested that taking out an interest-only mortgage on a home was cheaper than renting in 74% of UK locations - although in areas like Huddersfield, Oldham and Brighton it was more cost-effective to take out a tenancy.
Nonetheless, the country has not always idealised ownership. Writer Lynsey Hanley examined the changing status of social housing in her book Estates: An Intimate History, and points out that the popularity of post-war council homes superseded the property boom of the 1930s which had led to a brief rise in home ownership among better-off working class people.
"This is a weird country," she says. "In some ways we're quite individualistic and in other ways quite socialistic.
"It would take a massive change in people's priorities for renting to become truly popular again - but then again, it's a generational thing. My grandparents didn't think about owning their own place, they just wanted somewhere nice to live."
Perhaps it is simply finding somewhere nice to live which is the real national obsession. Until Britons believe that renting is the best way to achieve that, however, it could be that millions are about to fall short of their aspirations.
Related Internet Links
The BBC is not responsible for the content of external sites.