What has The Bill taught us about policing?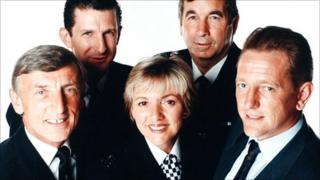 After 27 years, ITV's long-running police drama The Bill comes to an end tonight. But did it teach us anything about pounding the beat?
If there is one police cell most of us have seen the inside of, it's at Sun Hill police station. The fictional south London cop shop has been a staple of evening TV for decades, along with the Jasmine Allen estate, where its officers spent so much of their time. But not after tonight, when the final episode of The Bill is screened.
After 27 years ITV has pulled the plug, but it promises the final episode will showcase the programme's ability "to tell hard-hitting stories about the reality of policing modern-day Britain".
The Bill's accurate portrayal of life on the beat is something the show has always prided itself on. It has gone to great lengths to keep things as realistic as possible, right down to using the same office furniture suppliers as London's Met Police.
It has had two full-time police consultants working on the show at all times and a third collaborating with the writers. So did it actually teach us anything about police work?
"The show did because it brought policing into the public domain," says Andy Metcalfe, chairman of the Durham Police Federation and a policeman for over 25 years.
Heroic
"The show was like a link between a drama and a fly-on-the-wall documentary. It was fictional, but it showed accurately how things are done, how decisions are made and why. It helped people understand the job and the pressures that come with it."
Officers say the average member of the public probably wouldn't know these details unless they personally knew someone who was in the police. They may have a point, but why does it matter?
"In the UK we police by consent and we're not routinely armed," says Mr Metcalfe. "We need public support, we need people to understand what we do and why we do it. Sometimes it isn't always obvious. The Bill helped massively when it came to getting all of this across to people."
It also set itself apart from many police dramas before it because it showed the more mundane work and office politics, as well as the action.
"Other programmes would show the police in an extreme way, like jumping in too quick or kicking down doors or in some quiet, rural station," says PC Andy Walker, a beat manager with Nottingham Constabulary, who has been with the force for over 30 years.
"It's not often like that. It showed the leg work we do that is a necessary part of the job. It showed we weren't always doing raids or having cups of tea, but are out in the community or at our desks doing reports. It got all of that right."
When it first started in 1983, serving police officers would often watch to catch up with work developments, says Peter Kirkham, a former detective chief inspector with the Met Police.
Good, bad and ugly
"When it came to the procedural stuff it was spot on. Even officers would tune in to see what was going on in the force, rather than waiting for an internal police notice."
He says he once used a storyline about the introduction of a new computerised intelligence system to secure one for a new Flying Squad team he was setting up.
"I wrote to my bosses and said if Sun Hill can have one of these new systems then surely the Flying Squad should have one. We got it."
Another important thing the show taught the public about the job is that police officers are just normal people.
"I personally think this was very important," says Mr Kirkham, now a consultant on policing issues with PAR Services. "It showed the person in the uniform is not just a police officer, they are human beings and have all the other stuff in life going on like everyone else. They are under the same sorts of pressures. It helped break down the them-and-us attitude some people had."
And just as there is good and bad in society, there are good and bad police officers - and everything else in between, says Mr Metcalfe.
"The Bill showed heroic stuff, right down to some big transgressions by officers. The police are not perfect, we know that and the show reflected that."
But there are certain aspects of the job that The Bill didn't show too much of, say some, and probably for good reason.
"It didn't show the endless paper work that is now part of the job, but I don't suppose that would have made very interesting television," says PC Walker.
But in the end, maybe the show reflected a bit too closely the reality of policing today.
After the last episode, Sun Hill is being closed down, like many other stations across the country.