Whatever happened to Mercury Communications?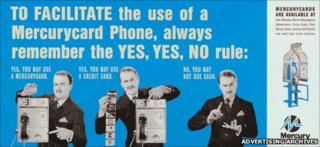 The xx may still be basking in the glory of taking home the Mercury Prize 2010 - one of Britain's most prestigious music awards. But what of the company it was named after?
While officially it's the Barclaycard Mercury Prize, the fact that much of the music industry still uses its shorthand title demonstrates how well-established it has become during its 18 years.
Similarly, the Foster's Edinburgh Comedy Awards are still commonly referred to under their long-time moniker of the Perrier Awards.
But while plenty of people can still crack open a bottle of the French fizzy water, they would be hard pushed to make a call from a Mercury phone box these days.
When the first Mercury Prize was carried off by Primal Scream in 1992, its sponsor was at the cutting edge of the rapidly-expanding telecoms sector.
Formed in 1981, Mercury Communications was one of the early products of the Thatcher government's introduction of competition to state-owned utilities.
"It was an excellent choice of name because the Greek god Mercury was the messenger of the gods," says Nigel Linge, a professor of telecommunications at the University of Salford.
However, early consortium partners Barclays and BP soon pulled out, leaving Mercury under the full control of the UK's established global communications giant Cable & Wireless - itself undergoing privatisation.
"Cable & Wireless had wired up the world but had no domestic footprint because it had been a Post Office monopoly," says Prof Linge, who heads the university Computer Networks and Telecommunications Research Centre.
The early 1980s saw rapid change, with Post Office Communications rebranded British Telecom and - from November 1983 - the creation of a duopoly.
Mercury initially launched in the City of London, offering corporate clients cheap and modern services.
Later, the firm's US-style sleek glass phone booths began to spring up close to their traditional red rivals on Britain's streets.
Odd designs
"They had some odd designs," recalls telecoms consultant Peter Walker.
"Mercury definitely went out to break the mould. Some were really quite eye-catching and one or two have been preserved because they were iconic in their own way," he says, pointing out that each booth was actually wired to a BT line.
Eventually residential customers could join the revolution.
Again, Mercury avoided the costly business of digging up land or rigging poles to install lines to homes, says Prof Linge. Instead, it used existing infrastructure for a fee in a similar way to firms like Virgin Mobile "piggybacking" other providers today.
Meanwhile, the newly-privatised BT was forced to meet traditional obligations of offering universal service and a sufficient number of public call boxes.
However, Mr Walker says Mercury did not have things all its own way. It invested heavily in long-range infrastructure, such as microwave masts and fibre-optic cables alongside British Rail tracks.
Blue button
Its new domestic phones featured a blue button which sent a code to the local exchange to identify Mercury callers, who then had to wait while the handset pulsed out their account number before eventually dialling the receiving number.
"It was a hard sell into the residential market in the early days because it required you to do things which were more difficult than just staying with BT - having a special Mercury phone and changing number," says Mr Walker.
The latter also proved difficult when trying to sell services to companies who considered their number part of their brand, says Mr Walker, who has spent 40 years in the industry - including 10 at former regulator Oftel.
However, by dint of being "leaner, meaner and cheaper" than BT, Mercury was able to gain a foothold and its market share grew. Once its rival had responded by becoming more competitive, however, it struggled to look "sufficiently different", says Mr Walker.
The seven-year duopoly of BT and Mercury had been intended to create a strong competitor to the established giant. However, Mercury drew many of its staff from either BT or Cable and Wireless - itself a national operator in Hong Kong, the Caribbean and parts of the Gulf - and Mr Walker feels they wasted a chance by competing on too many fronts.
"They were trying to be a 'little BT', which wasn't that clever."
However, Prof Linge credits Mercury with some key advances - notably, as Mercury One-2-One, launching the world's first digital mobile phone network which would revolutionise communications through text messaging and enable handsets to become ever smaller.
By 1997, the Mercury name had disappeared in an amalgamation of UK operators, although its work lives on through its successor Cable & Wireless Communications.
Mr Walker says that Mercury's legacy is not just in the music prize.
"It might not have been as successful as some would have hoped but it led the way for everything that came behind it," he says.