Keeping it in the family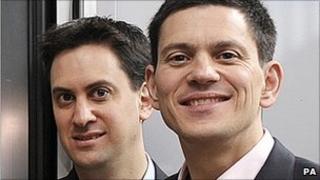 Ed Miliband has proved victorious over his brother and been elected Labour leader. Now David is considering whether to take a job offer from his younger sibling. So what is it like to work with a brother or sister?
Sibling relationships don't come much more stressful than what is being experienced by the Milibands at the moment. The younger brother triumphed over the older, defeating him in the Labour leadership race by the narrowest of margins.
David Miliband now has to consider whether he wants to put himself forward for a job in his brother's shadow cabinet. Nominations are open for the 19 posts, to be elected by a ballot of MPs. Ed will then allocate jobs to the successful candidates after the vote on 7 October.
The brothers have put on a brave face, with David saying the party now has a "great leader" in Ed. But others fear their relationship may never recover.
"They cannot be the same after this because that is how politics is," said former MP Oona King, an old school friend of the two brothers, in the run up to the election. "It doesn't matter how much blood is in there."
But some brothers have pulled off a close working relationship in politics. Bobby Kennedy, the younger brother of US president John F Kennedy, was made attorney general by him. He is said to have been his brother's closest political adviser during his presidency.
Twins Jaroslaw and Lech Kaczynski became prime minister and president of Poland respectively, and ran the country for a time.
Brothers in particularly can be very motivational with each other, says author and behavioural expert Judi James.
"Male siblings tend to be very competitive, they can egg each other on to greater things. You see it a lot in sporting fields. It's almost like sledging in cricket, they trade jokes and insults with each other."
She says the advantage of siblings working together is that when they trust and compliment each other, they can form a natural and unbreakable team.
No 'easy ride'
"Even squabbling siblings tend to stick together. If you attack one, you attack the other. They have a solid rock-like basis, a deep level of trust and protection.
"They will know exactly what each other is doing, what the response will be, they will recognise facial expressions and be able to read each other's minds, which can be quite effective in the workplace."
But working with your sibling can also have big disadvantages, she adds. When things go awry, close relatives know exactly where to dig the knife in.
"They know your weaknesses, your background, little digs from childhood. They'll be able to hit you where it hurts."
But what is it actually like to work with someone you grew up with, especially when the boss is a younger sibling - like the Milibands.
Barry Houlihan, 38, is the co-founder and CEO of mobile and digital communications business Mobile Interactive Group, where his sister Marie Murray, 40, is head of human resources. The pair work out of the company's base in London.
"I was going to leave after three months because I thought 'I can't work with my brother, it's never going to work'," she says. "But I ended up staying and I've been there ever since."
Mrs Murray says she and her sibling, who have worked together since 2005, are able to adopt a less familiar approach when they are in a business environment.
'Great communication'
"It's strange, because me and my brother are close, but we put a business head on when we get to work. We don't sit and have a coffee and a chat, we get on with running the office. It's about having two different personas between work and family."
Mrs Murray also feels she has to try even harder in her role, because her brother runs the company.
"I don't want anyone to say I'm getting an easy ride because I'm Barry's sister. But guaranteed, if I ever do something wrong then Barry is straight on my case - but that hasn't happened often."
Mrs Murray does admit to family dynamics slipping into the workplace very occasionally.
"Barry was once having a bad day and he chewed my head off over something. But I'm his big sister, so I chewed his off even more."
Paul King, 27, works with his brother David, 26, at their website business 1daylater.com, which is based in Gateshead and is a tool for tracking time, money and mileage. Not only do the brothers work together, they also share a house.
"I probably spend far too much time with my brother," says Paul.
"The benefit of us working together is that we've got great communication skills. We don't have to explain anything twice."
But Paul does admit this familiarity can cause issues in the workplace.
"We do talk to each other in a way that you wouldn't talk to someone you were strictly in business with. And if we talk about business, sometimes we go off on tangents and talk about other things. It would be easier to stay focused if we were talking to someone we weren't related to."
What is for sure, if David Miliband does pursue a post in the shadow cabinet, it could make for interesting meetings.