Is modern life a bar to marriage?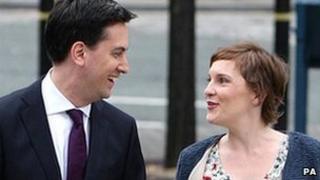 New Labour leader Ed Miliband has said he intends to marry partner Justine Thornton but that political events have prevented them setting a date. So, does modern life get in the way of marriage?
Picture a wet Monday evening back in March, as Ed Miliband calls home: "Hello darling, I'll be home late tonight. Gordon wants me to tweak the manifesto section on schools funding."
The reply carries a tone of horror:
"But Ed, we were supposed to see the caterers to sample their wedding breakfast. And we really should have chosen a photographer by now..."
In reality, Mr Miliband and his partner Justine Thornton avoided such panics thanks to their decision to postpone any wedding plans until after the Copenhagen climate change summit, the general election and subsequent leadership race.
However, since becoming leader, he has faced questions about his marital status.
His reply that people are "pretty relaxed" about the need for a prime minister to have tied the knot is perhaps a sign of the times.
Modern history lecturer Dr Marcus Collins says the cohabiting arrangements that would once have barred Mr Miliband from high-office are now "not much of an issue".
"Marriage primarily used to be about starting a family. Everything used to be in a particular sequence: Get engaged, get married, have children.
"Now many people move in together, maybe have children, then maybe get married," says the author of Modern Love: An Intimate History of Men and Women in 20th Century Britain.
And Dr Collins acknowledges that work can get in the way of modern life - particularly with high-pressure jobs such as that of politician.
Knees-up
But does the man who would be prime minister really need to make time to discuss floral arrangements and poetic readings?
Certainly, those approaching their golden wedding anniversaries, who perhaps married three months after a proposal, might wonder what all the fuss is about. Surely a simple ceremony followed by a knees-up in the local village hall would suffice?
The Church of England, however, says the average length of an engagement today is 18 months.
And Leeds-based wedding planner Hazel Walshaw says securing a venue is the key consideration.
"They can be booked up two years in advance, especially in the summer on a Saturday, while a dress can take six months to be ready," she says.
While things like flowers and cars - if required - are readily available, many couples spend time choosing a photographer, sampling taster menus or planning a gift list.
But she says even the most easy-going of couples, who find a venue easily and do not fret about fine details, might struggle to organise one aspect of their day at short notice.
"Getting everybody you want there is one of the main problems," she adds, noting that more people live away from the family home than in the past, or meet partners from further afield.
The trend for more couples to aim for a "dream wedding" has not only meant more planning but driven costs up to a UK average approaching £20,000.
Narcissism and self-promotion
And last month, the Rev Dr Giles Fraser, Canon Chancellor of St Paul's Cathedral, attacked this culture for creating "an atmosphere of narcissism and self-promotion".
However, the Church of England's Gillian Oliver says research suggests people are treating marriage more seriously than in the past.
Where once people were judged for "living in sin", there is now not the same social expectation to marry.
"The stigma about living together has gone and now people think about what it is that shows they are committed to each other. There is still no greater sign of commitment than marriage," says Mrs Oliver.
As manager of the Church's Wedding Project, which aims to encourage more people to marry, her team has surveyed hundreds of people about their attitudes to wedlock.
"There's a feeling among people thinking about marriage that, in their words, it's the last piece of the jigsaw," she says.
"They want to get it right and so it takes a lot more planning than it used to."
Even the growth in stag and hen trips - not usually associated with marriage's solemn vows - can be seen as a sign of how couples want to mark out their union as special, she adds.
Hard though it is to imagine Mr Miliband departing on a boozy weekend, should it become a prospect, expect speculation about whether his brother will be on the trip.