What's an egg race got to do with inventing?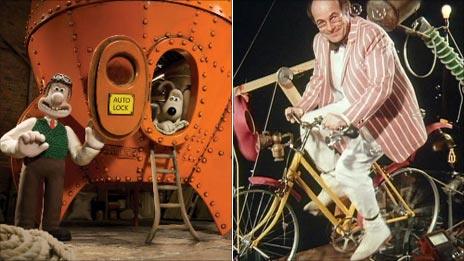 As the BBC re-releases episodes of its cult show The Great Egg Race, what is it that cobbled-together contraptions tell us about the art of inventing?
Mad hair. Perhaps a lab coat. Or questionable knitwear. Few inventors fit this stereotype, just as few inventions are flights of fancy worthy of Heath Robinson.
Not that there's anything wrong with an elaborate contraption bristling with cogs, pulleys and water clocks, that boils a kettle while simultaneously tipping its owner out of bed and straight into a natty vest/corduroys combo.
But often the best inventions come about because an ordinary person has a problem that needs solving.
It's this spirit which infuses cult TV classic The Great Egg Race - newly digitised from the BBC archives - in which teams built eggmobiles or automatic tea-making machines, all from everyday tools and materials.
The DIY science show, which ran from 1979-1986, was hosted by Professor Heinz Wolff, all wild hair, bow tie and German accent - the very image of an eccentric inventor, and deliberately so, says co-judge Professor Ian Fells.
"I asked him once why he played it up, and he said 'if I have to appear as a clown to make people listen to what I'm saying about science, so be it'."
But why Egg Race? At first entrants built rubber band-powered eggmobiles. But as its popularity grew, keen amateurs were effectively forced out by companies keen to showcase their engineering skills on primetime TV.
"It became immensely competitive - Rolls Royce, for example, put two people onto it fulltime," says Professor Fells. "So we had to change it."
The challenges diversified but, by and large, the competitors were cut from similar cloth - quiet, serious men with elaborate facial hair and double denim. This gender imbalance so annoyed Professor Fells' wife Hazel that she applied under her maiden name.
Her crack all-female team - thought to be the only one in Egg Race history - comprised a technology and design teacher, a "very practical housewife", and she herself worked in computing at Newcastle University.
"We scored 85% for our engineering," she recalls fondly of their challenge to build a contraption to ferry bike parts off a desert island, to reassemble said bike, and ride it around the studio.
"The workshop was set up as if it was your kitchen, garage or shed at home. That's how it was in those days - if something broke, you didn't get a man in to fix it, you did it yourself," says Hazel Fells.
The show's celebration of homespun inventiveness is acknowledged by one of Britain's greatest living inventors, Sir James Dyson. It started just before he began work on his vacuum cleaner.
"I certainly identified with it. Ideas are less likely to come from eureka moments than experimentation," he tells the BBC News website.
"As children we naturally experiment: whether it's through play, building a den or pulling things apart. At that age we're not bound by a right way of doing things because we don't know what that is yet. So we try and figure things out by being creative."
Another competitor on the show, Malcolm Thomas, who took part in the tea machine episode, says the appeal was to put one's practical skills to inventive use.
"I was working in engineering, and another team member was always stripping down motorbikes and putting them back together.
"Our machine involved a ball bearing setting off all the stages of tea making. As it rolled down a wooden track, a tea bag was lowered in and out of the water."
It's just such a contraption that might appeal to Wallace and Gromit, says Merlin Crossingham, creative director at Aardman, whose job involves dreaming up the duo's inventions.
"Wallace often invents things to make his life easier and more modern. The root of a lot of inventing is laziness."
The claymation pair front a new BBC TV series and competition to encourage budding inventors young and old to design and build their most inventive contraption, made entirely from household objects.
It's apt that Wallace and Gromit have picked up Heinz Wolff's DIY inventor baton, not least because Aardman devised the Egg Race's opening sequence of an egg on a rollercoaster made of kitchen utensils.
Crossingham, too, remembers putting the Egg Race's make-do-and-mend principles into practice.
"I was always making things as a child. If I wanted to do a jump on my bike, I'd race off to find some wood and make a ramp. Invention is a very official term but what it's about is curiosity."
His top tip for inventors, amateur or otherwise?
"Record every idea - draw it or write notes. You never know when some stupid thought might turn to gold. The best inventions make you smack you head and think 'why did no-one else think of that, it's so obvious' - but it's not obvious, someone's spent time thinking about it."
Related Internet Links
The BBC is not responsible for the content of external sites.