How to fill empty stadiums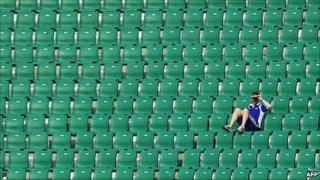 TV coverage of the Commonwealth Games in Delhi showed many of the opening day's events being played out in front of near-empty stadia. So how can you put bums on seats for those less high-profile occasions?
With a rich history stretching back 80 years and Delhi this year hosting 7,000 athletes from 71 countries, the Commonwealth Games are one of the world's biggest sporting festivals.
But the opening day saw poor attendances at many events.
In an environment of cut-throat competition, maybe the "friendly games" were always going to be a hard sell.
Here, experts suggest a few ways to get punters through the turnstiles:
Bus in "fans"
It might sound extreme but that is exactly what happened at the Beijing Olympics in 2008.
Despite claiming that all 6.8 million tickets for the games had been sold, organisers became concerned about TV coverage revealing rows of empty seats at some of the early events.
Their solution was to bring in specially-trained volunteers.
Armed with inflatable batons and dressed in uniform bright yellow T-shirts, the fans were encouraged to clap and chant in unison - whoever was playing.
"They are told to cheer for both teams to create a better atmosphere. If the ticket-holders turn up then they get up and go," Wang Wei, vice-president of the organising committee said at the time.
Sports marketing specialist Laura Walkerden says there's a "time and place" for bussing people in but that with a good long-term strategy it should be avoided.
However, she warns, there is no one-size-fits-all solution: "You have to look at what the product is, identify the potential audience and then decide what's the best way to reach them."
If fans won't come to the stadium...
"You can't just expect an audience to roll out because they have historically," warns Miss Walkerden, of London-based Fast Track Agency.
"You have to balance satisfying the hard-core support with attracting a new, younger audience."
That could mean using social media - for example, keeping potential fans informed through an e-mail campaign - as a cheap and efficient way of promoting a sport.
Regular fans can be offered extras, such as the chance to attend special events or first refusal on tickets, to build loyalty.
"Taking the sport out of its normal context to the masses can also work," she says.
When promoting UK Athletics, Fast Track organised a pole vault demonstration at Canary Wharf. It attempted to attract non-traditional supporters and help people understand the skill involved in a way that cannot be portrayed on TV.
"It's great for the public to get a new perspective on the sport," she adds.
Lay on some razzmatazz
When a Parisian rugby team moved from its 12,000-capacity ground to the newly built 74,000-seater national stadium, it had to do a lot of work to boost support.
Dr Guillaume Bodet says Stade Francais Paris rugby union club made the leap by laying on plenty of extras for fans.
"They might have can-can dancers before the game, a mini-concert at half-time and then end it all with a huge fireworks show," says the lecturer in sports marketing at Loughborough University.
"At one event, Darth Vader came into the stadium - backed by the Star Wars music - to present the match ball to the players. It changed the image of rugby, making it more trendy and introduced new fans like younger people and families."
However, Dr Bodet adds that this strategy carries the risk of alienating traditional support - a complaint often aired against Twenty20 cricket.
Make sure the price is right
The key to success is always value for money, according to Miss Walkerden - although giving too much away can be risky.
"If an event is priced too low, there can be a perception that it's because [it's] not that great. You have to understand how much people are willing to pay and if you don't sell out, then it's difficult to push prices up," she says.
But Miss Walkerden says a jam-packed stadium is not always required for a special atmosphere.
"If you've got good action and great individual performances, a half-full stadium can be twice as noisy as one full of people who aren't being entertained."
Giving away tickets can devalue the event, she concedes, but admits "bums on seats" are essential at lower-profile events, with many sports offering cheap tickets to children.
Dr Bodet says the cheapest seats in the Stade de France were priced at around £5 for children.
"On a Saturday evening in Paris, what else could you do for that price? Not much," he points out.
The strategy works not just for the spectators. It enables Stade Francais to generate huge crowds several times a year and enjoy the extra revenue that entails.
Use the power of celebrity
There is no doubt a bit of star quality can help drive ticket sales. Recently, athletics has been boosted by the success of Jessica Ennis, Phillips Idowu and - this year - long-distance runner Mo Farah.
Miss Walkerden says Farah's likeable personality had always made him a draw for traditional athletics fans but that his European Championships double gold-medal winning exploits made him a name to millions more.
However, she warns that while promoters must maximise such assets, there are inherent dangers.
"Basing your marketing campaign around individuals can set you up for a fall, for example if they pull out, or get injured and can't turn up."
If all else fails... vinyl fans
With attendances languishing at around 4,000, Italian Serie B football team Triestina Calcio decided to give the fans rattling around their 32,454-capacity stadium some company.
Giant vinyl sheets, painted with virtual fans, were used to fill the 10,000-seat Colaussi stand.
While it might have given the impression there was something to shout about, it did not please everyone.
One fan reportedly called the move "depressing", adding: "It's as if we're sending out the message that Trieste has no flesh-and-blood fans, just cardboard cutouts."