Location nicknames: What do you call your home town?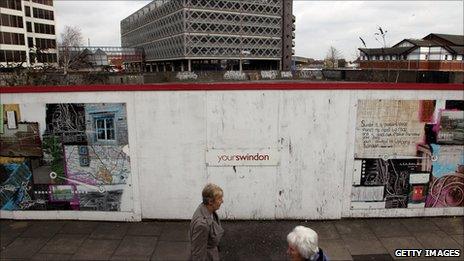 From Mevafishy, through Barlick to Amazingstoke, nicknames for Britain's towns and cities are legion. Now a new project seeks to create a database of what we really call where we live.
What we name things says as much about us as it does about them. Take cars, for instance; I've come across pet names which include Eric Robinson (a famous bandleader), Pompidou (a former President of France) and Oscar (presumably Wilde). I also know someone who insists on referring to the TV remote as a "klangenstuhl".
And so it goes for places.
"No man is an island... apart from Barry," goes the old quip. And the South Wales resort of Barry Island is just one of countless places in Britain to have its own nickname. As a major filming location for BBC television's award-winning comedy, Gavin and Stacey, it was christened BarryWood by the actor Russell Tovey.
Some slang names are just simple abbreviations, so in Lancashire Skelmersdale became Skem, Barnoldswick is known as Barlick and Ricky is the chummy moniker given by locals to Rickmansworth in Hertfordshire.
And, in the historic tradition of spoken English, ironic puns abound.
The comedian and broadcaster Phill Jupitus says that his home town of Stanford Le Hope in Essex is called Stanford No Hope by locals.
Elsewhere, the picturesque Cornish port of Mevagissey is becoming known as Mevafishy, for obvious reasons, and the South Yorkshire town of Wath-Upon-Dearne is often cheekily referred to as Where Upon Earth.
Now, as part of English Language Day on Wednesday 13 October, the English Project and Ordnance Survey are launching Location Lingo, an interactive project which aims to uncover the nicknames, pet names and hate-names which people use in their daily lives for the places which are near and dear to them.
"The name that people conjure up or create for a place forms an emotional connection," explains Winchester University's Professor Bill Lucas, a patron of the English Project.
"So Basingstoke becomes Amazingstoke, Swindon is known as Swindump and Padstow, home town of chef Rick Stein, is nicknamed Padstein."
Other nicknames, though, require a little explanation. In Scotland, the 80-odd roundabouts which grace the new town of East Kilbride have led it to acquire the name Polo Mint City.
Devonport, the Royal Navy's home in Plymouth, is known in the Senior Service as Guz, short for "Guzzle", a comment on West Countryfolk's alleged devotion to cream teas.
And in Northern Ireland, local radio presenter Gerry Anderson came up with the jocular name Stroke City to describe the politically contentious Londonderry/Derry.
The practice of bestowing pet names extends far beyond towns and cities, though. Millions of people in the UK have heard of the complex feat of engineering known as Spaghetti Junction. But just how many are aware of its proper title - Gravelly Hill Interchange, where junction 6 of the M6 meets the A38(M) Aston Expressway in Birmingham?
Beyond this, there are places like the Banana Bridge, a curvy crossing over the River Itchen in Hampshire, and one of London¹s newest landmarks, the Gherkin, otherwise known as the Swiss Re building.
And the intimacy of a place name can also extend to what occurs there.
"Many of these names may also refer to little natural features of landscape where people go for a hug and a kiss," says Prof Lucas.
As well as creating what promises to be a fascinating resource detailing the linguistic richness - and sheer quirkiness - of pet place names, there is a practical side to the project.
"With the huge variety of place nicknames that exist we could never hope to capture them all ourselves," says Glen Hart, Ordnance Survey's head of research.
"But the information from Location Lingo could prove vital. Organisations like the emergency services rely on our information when responding to 999 calls, so by having the most complete set of nicknames we could help the emergency services quickly locate the right place, and maybe even save lives."
Anyone in Great Britain can submit their location lingo - and, if possible, the story behind it­ to the English Project website where they can either plot their entry on an interactive map or fill in a simple form.
As Bill Lucas puts it: "It's not about apostrophes or no apostrophes. Its about what a place name means to you."
Related Internet Links
The BBC is not responsible for the content of external sites.