Who, what, why: What happens when a country loses its 'birth certificate'?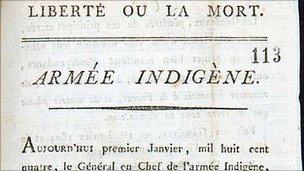 Fiji has admitted losing the legal document confirming its independence from the United Kingdom. But does that threaten its existence as a state?
About a million people visit Washington DC's National Archives Experience each year, many wanting a glimpse of its prized exhibit - the American Declaration of Independence.
Dating from 1776, the parchment document is stored behind bullet-proof glass, in a guarded, humidity-controlled cabinet, to ensure its preservation for future generations.
However, as Fiji celebrated the 40th anniversary of winning independence from the UK, its government admitted it had lost the legal Independence Order presented to ministers by Prince Charles in 1970.
And after five years of scouring files in government departments, it was forced to take the embarrassing step of asking its former colonial masters for a photocopy.
But when a country loses such a document, does the right to independence go with it?
Almost certainly not, according to Catherine Redgwell, professor of international law at University College London.
"If it's recognised as a state and fully participates in the international community, the loss of documents isn't going to affect its existence [as an independent state]."
The UK Parliament's Fiji Independence Act 1970 granted that to the Pacific nation, made up of 800-plus volcanic and coral islands.
"On and after 10 October 1970 Her Majesty's Government in the United Kingdom shall have no responsibility for the government of Fiji," it read, before spelling out the nation's free powers to make laws.
Independence papers, meanwhile, are largely symbolic items.
In the same way that losing your birth certificate does not mean you cease to exist, the legitimacy of a state does not rest on a piece of paper, agrees Prof Roda Mushkat.
Neither should its loss affect a state's constitution, says the international law expert from Brunel University, west London.
"I cannot foresee any case where somebody would argue on the basis of constitutional law that Fiji is not an independent state," she says.
Thankfully for Fiji - and any other states which mislay a vital document - copies of many can, in any case, be found at the UK's National Archives at Kew.
All are stored in repositories with controlled temperature and humidity, while some are stored in a safe room.
One recent beneficiary of this was research student Julia Gaffield, from Duke University in Durham, North Carolina.
In April, she came across Haiti's declaration of independence from France within the National Archives' colonial correspondence relating to Jamaica.
The second-oldest such document in the world, it was attached to a letter sent on 25 January 1804 by Edward Corbet, HM Agent for British Affairs, to Sir George Nugent, Lieutenant-Governor of Jamaica.
While several reprints had been made, researchers had spent years trying to find the original.
Given that Haiti has existed as an independent state for more than 200 years, that tale might give the residents of Fiji a little peace of mind.
Related Internet Links
The BBC is not responsible for the content of external sites.