How 'mummy tummy' became the latest body image anxiety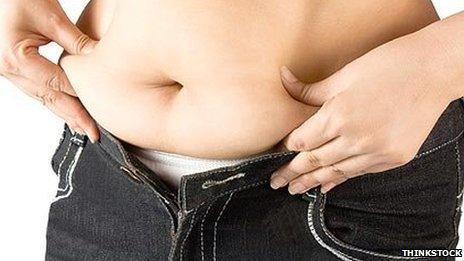 A cosmetic cream, said to help reduce a woman's post-natal stomach bulge, has been launched - prompting reports of rush buying. But why does it seem women are suddenly worried about this most natural result of pregnancy?
It's a miracle apparently. A new cream costing £18.85 with "fat-burning ingredients" that can help banish a mummy tummy - the softness around the midriff most women are left with after having a baby.
That women worry about their stomachs - and bodies - after giving birth is nothing new. The average woman puts on two-and-a-half stone during pregnancy, so it's no wonder her stomach muscles are left looser than they were.
But in recent years this natural body change has been given its own moniker. At the same time, the raft of celebrity-focused magazines and tabloid newspapers seem to be keeping a watching brief on which famous mothers are winning - and losing - their battle with this baby bulge.
Part of this burgeoning obsession is to do with changing times, says Dr Mary Jane Kehily, from the Open University's Making of Modern Motherhood project.
Historically pregnancy was seen as a confinement, she notes, whereas now it is celebrated and "very public". Women and their pregnancy bumps are very much on show, often literally. This continues after birth.
This, coupled with changing linguistic fashions, has resulted in "playful" terms such as "yummy mummy", "mummy tummy", even "mummy job" - a post-childbirth surgical stomach tuck. But such terms are also the result of another significant shift in society, says Dr Kehily.
"A key change driving such phrases is women delaying childbirth until they are older," she says. "By then many have established careers and are not just mothers. They also have a disposable income and pregnancy nowadays is an industry.
"The teenage mums in our study don't talk about things like a mummy tummy. They have more chance of springing back into shape as they are younger, so it's not an issue for them. They also aren't targeted like older women who tend to have more money."
Journalist, nutritional therapist and mother-of-three Lowri Turner agrees. Older mothers have unwittingly spawned a potentially lucrative new market.
"Many women are older when they marry and have children now. They often have the spending power that previous generations didn't. There is now a concept of 'me time' among mothers, that didn't exist when my mother was raising me. She didn't go for a facials or a massages.
"The other issue is more women are getting divorced and are back on the dating scene, so are more concerned about their bodies."
The surge in paparazzi snaps of celebrity mothers going about their lives has given mums something "to compare ourselves to" says Turner.
The term yummy mummy dates back to 1993, says Dr Robert Groves, editor of the Collins Dictionary Of The English Language. He spies an insidious factor in it and the more recent "mummy tummy".
"Rhyme is clearly a factor [but it] makes each of these phrases seem playful, even fun, despite the fact that they all point to very real anxieties about modern life."
But while great claims are often made of "miracle" fat-burning creams, a woman's post-natal bulge is not so much about fat as muscle tone, says fitness expert Dr Joanna Helcke.
"During pregnancy the abdominals have to stretch and lengthen enormously. No other muscle in the body will have to stretch like that," says the specialist in ante- and post-natal personal training.
"In two thirds of women the abdominals will separate completely to allow for expansion, afterwards they need to realign and will most likely need help to do so.
"When it comes to tackling that soft, jelly belly women notice after birth, it's not just about fat burning - it's physiological too. It's about strengthening muscles."
So a cream is unlikely to be the solution, it would seem.
And while it may be tempting to blame today's celebrity-fixated media for planting yet another body image insecurity in women, Lowri Turner says it would be foolish to believe it's an entirely modern obsession.
"I think women probably always talked about these issues to friends, but now they are out in the open and in the public domain and that's good in some ways," says Turner. "It acknowledges that women are sexual and that doesn't just stop because they become mothers. They still want to look good and feel confident about their bodies."
Related Internet Links
The BBC is not responsible for the content of external sites.