'Can I cut my household spending by 40%?'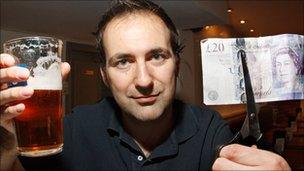 Simon Francis, 33, attempted to reduce his outgoings by 40% after government departments were ordered to identify savings on the same scale. Here are edited extracts from his diary.
So day one of my cuts challenge is here. It's not been a good day: 100% of my voluntary spending has been on coffee and alcohol.
I spent £3.85 on breakfast (a soya latte and a pain au raisin) and £2.00 for a coffee during a meeting.
Frankly, I think this caffeinated extravagance should be cut. This, really, is similar to slashing the pot plants budget of mid-sized government department.
So from tomorrow, I will eat toast and honey and brew my own coffee in the morning.
Obviously I feel sorry for the employees of Caffe Nero who will see their takings reduce by at least £19.25 a week, but I imagine that other areas of the economy will replace this sad loss.
Today's alcohol consumption was £2.95 for a pint of Well's IPA. I see no need to cut this as I've decided that spending on real ale is ring-fenced. A sort of NHS.
I also spent circa £4 involuntarily on tube fares. This spending may also need to be ring-fenced. I almost have an obligation to use it, so let's assume that has a DfID status. Of course, it may get axed if things get really tough.
A major victory today. My only expenditure has been on dinner.
Should I buy the free range chicken fillets and cook them quickly in some breadcrumbs (£5) or pay £2 for four Southern Fried Chicken pieces?
Well, no contest really - processed chicken it was. Add to that the £1.50 for sweetcorn and my dinner cost just £2.50 - a 60% saving.
The only downside is that I couldn't help but read the label. On the cheap chicken, 9% was actually water. And the meat was the "produce of Britain and Brazil". So let's face it, these chickens won't have had a happy life.
So, here's the ethical dilemma. Cuts or chicken welfare?
Friday's are usually pretty good as there is a bar at work.
Coupled with the array of savoury snacks and cakes assembled for a colleague's birthday, I can leave the office a couple of bottles of Staropramen and a mildly-lined stomach to the good.
But on reflection, is too much sponging really in the rules? The coalition government is trying to avoid going cap-in-hand to anyone.
But then, the principles of the Big Society seem to be: don't spend money on something you could get someone else to do for free.
So, when is it sponging and when is it just civil society doing its duty?
I may be a week in, but I need to start making some tough choices during the weekly shop.
Bottled water: my usual four litre bottles of mineral water for going to the gym come to £3.60. Today I spent £3 on a 750ml water bottle from JD Sports so I no longer need them.
Lunch: £2 for two bags of rocket, 70p for a cucumber, £1.19 for a loaf of bread, £1.29 for some hummus. Lunch for a week £5.18 - a 75% saving compared with buying five Pret a Manger sandwiches (about £15-£20).
Weekend breakfast: two packs of bacon £5.58, free range organic eggs £1.63. The only savings here would be to stop buying British bacon or to go for battery eggs. Having debated my chicken dilemma I really think I'd rather be vegetarian than eat battery hens, cows or pigs.
Snacks: 99p for a big bag of Bombay mix. Reckon this is probably a luxury. All snacks abolished.
Oh, Boris... you thought you'd escaped from my cuts since I ring-fenced public transport. But today's brainwave comes from accidentally leaving my wallet at home.
A quick e-mail around work finds a willing comrade to lend me their pre-paid travel card.
So, between borrowing and walking more, I reckon I can impose at least a 75% cut on travel.
Day 10 of the cuts challenge is an important one. It's mortgage day.
And the saving is a pretty significant 20%. Because I have moved to a tracker from a fixed rate to get this deal, I will have to save the difference to ensure I am covered for future rate rises (even if it will need a rise of at least 2.5% for me to start paying more than I was before).
But this is obviously a blow, as it's not 40%.
Now, either I shrug my shoulders and try to find savings elsewhere in my monthly spend to make up for this (roughly around £250 of additional savings) or I adopt a lenient approach to the banks as government has done and allow this to go buy.
Just like the government, I'm finding it tricky to find savings in my diplomatic budget.
My attempt at booking a mini-break was honourable. I selected a tour of east Europe (cheaper than my usual haunts in Scandinavia by a significant percentage) and chose train over flying once I got to Vienna.
Up at 0400, I was set to get the cheap slow train to the airport from Paddington when I realised I'd forgotten my passport.
I spent £30 on a return taxi trip to Kentish Town. I made the Heathrow Express (£22), but my journey to the airport was only supposed to cost a tenner.
Back in London. A day out in Bratislava was just 10 euros. I thought all the talk of 15p beer in Prague was all bravado, but it's all true.
My solution to the whole cuts challenge is just to move to eastern Europe, but my boss doesn't go for it.
At least today I spent £0 of non-ring-fenced money. Yes, £0.00.
Had left-over food in fridge for breakfast and lunch. Walked to the pub after work and spent just £10 on (ring-fenced) beer.
It too late for dinner when I left the pub, but rather than sink to suspicious chicken or McDonald's, I just went to sleep.
So maybe that's a solution, if I can't move to Bratislava: stop eating dinner?
This lack of food may be cheap, but I just don't think it's sustainable. Woke up hungry with my stomach making some very odd noises.
So, more toast - but the last of bread is now gone. No bread means no lunch.
I crack - £4 for a meat calzone. While spending this week has been really minimal, I think I still need to eat. So I'll ring-fence food.
I suppose eating is similar to front-line armed forces - it's not like you can go without and it does need to be properly funded.
With just a few days left to go, it's clear that I'm going to fail to reduce my spending by 40%.
The devil of this experiment has been in the detail. Setting an arbitrary cuts target was appealing three weeks ago, but once it was clear that my mortgage and my utility bills couldn't be cut by the 40% level, I knew I'd have to start sacrificing ring fenced areas such as food, travel and even ale.
This means sacrificing not just ethics and principles, but a social life.
My message to the politicians facing a similar challenge is that while it's easy to make headline promises and take easy decisions to axe frivolous spending, make sure that when you get down to he detail you don't go so far that the UK becomes the equivalent of a miserly hermit!
Related Internet Links
The BBC is not responsible for the content of external sites.