Do you have a Wayne Rooney in your office?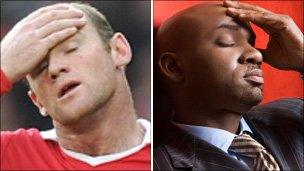 Sir Alex Ferguson has announced that Man Utd and its prize asset, Wayne Rooney, could be parting company. The fracture between a firm and its star, maverick employee is a scenario familiar to many workplaces. So how should a boss deal with it?
Some years ago, Tony Blair consulted Sir Alex about what to do when a senior player steps out of line.
According to the former prime minister's memoirs, he had his turbulent chancellor in mind when he asked the Man Utd boss what he should do if he "had a really difficult but brilliant player causing problems".
Get rid of them, was the unequivocal response from the Scot, in an exchange which now lends considerable irony to the fix Sir Alex finds himself in now.
A few months after picking up the Premier League's player-of-the-year trophies, and glowing accolades from his manager, the team's star player Wayne Rooney has told a mystified and visibly-shocked Sir Alex that he wants to leave.
The announcement is a culmination of a difficult few months, coming after Rooney's drastic loss of form, unsavoury allegations about his private life, and his direct challenge of his manager's authority over an ankle injury, although Sir Alex denies there has been any falling out.
So the dilemma now facing one of the most experienced club managers in world football is one that will test all his famed Glaswegian nous - cash in on his prized talent in January before his value depreciates, possibly to the club's arch rival, Man City, or try to persuade him to stay, whatever the price.
In the past, Sir Alex has shown little appetite to indulge players who step out of line but, in ignoring the advice he gave Mr Blair, he says he wants to keep the door open for Rooney because of his ability.
Although few managers have employees on the payroll to the tune of a reported £90,000 a week, trying to get the best out of a troublesome talent is an exercise that many other leaders across all industries will have experienced in some way.
So what advice can management experts give to bosses when their star employee causes the following Rooney-esque problems?
Undermining the boss's authority
Egos can often rock the boat, says Donna Ladkin, professor of leadership and ethics at the Cranfield School of Management.
"When people start to believe the publicity about themselves, and start to feel they are more important than the organisation, it's really important for the people managing them to take the broader view and think of the best interests of the whole organisation.
"You have to hold the line on your authority because star players often test it, and if you pander to them you can adversely affect the morale of the team.
"It's good when you have someone who can do things that are a bit magical, that no-one else can do, but football matches, like any projects, are not usually won by one individual."
The authority of the manager should not be defended at all costs, but it should be 99.9% of the time, says the professor.
"I'm not advocating authoritarian rule, but there's the day-to-day managing of star players and then there's a crisis situation, which is where Wayne and Sir Alex are now. You need to avert that, because now someone is going to lose face."
Whether you like it or not, your behaviour will reflect on a company's brand, says Judi James, who runs workshops for businesses about leadership.
"People will think that's the kind of people they employ, therefore the company values are like that.
"As a boss about to have a conversation about this, you have to spend time planning your strategy first - what you want to achieve with any discussion. So don't go talking to someone unless you know what you need them to do, maybe less of this behaviour or more of that behaviour.
"The worst thing is to use terms like 'not pulling your weight' or 'bringing into disrepute'. You need to be like a judge in court. Absolutely whittle it down to behaviour that needs changing and what you want."
When having a conversation about an incident, don't let anger or emotion infect it, she says, and don't let it degenerate into an 'I'm right, you're wrong' slanging match. It's much better to make clear your expectations about future action.
"If you only go on past behaviour, then it's like giving them a telling-off, and they might just think they've got away with it and repeat the behaviour. So it's better to look to the future."
Performance issues should be addressed in a face-to-face meeting, says chartered business psychologist Ben Williams, who is based in Edinburgh.
"Avoid sending e-mails and speak to them in person. If they've been under-performing and you don't say anything, then you never can, because they can turn round and say 'You never said anything before.'"
The way to do it is "good news, good news, bad news", giving two compliments about their performance followed by the problem, he says. This gets them onside before the issue is brought into the open. Discuss it and agree upon the facts, so refer to a specific piece of work or an area that wasn't up to scratch.
"It's not making the bad news better but it makes it easier to listen to. You need to get the message through without weakening it. Ask questions and listen to the answers. The boss should be careful to criticise the action, not the person.
"He or she should explain why it matters. Discuss a remedy with the employee and end on complimenting the employee in some way, as this helps the employee to understand that they are still respected."
For the situation at Man Utd to have got this bad, there appears to have been no dialogue between Rooney and Sir Alex, says Mr Williams.
But ordinarily, in a situation where you have a talent wanting to leave, the manager needs to meet them as soon as they hear about it on the grapevine.
"Take them for lunch or for a pint and have a good heart-to-heart. Find out why they want to leave and what the concern is. Maybe they want a promotion and you have a project they can lead."
But if they are determined to go, then get rid of them fast, he adds. If a talented, skilled person has been poached, then don't offer them more money because it won't keep them for long and it will just disrupt team spirit.
"They should just clear their desk and go. If they have a problem with that, say you'll talk to them later. It's very harsh but it's damage limitation. Give them a month's salary and wish them well."
Surveys always show that the number one reason why people leave a place of work is because they have a disagreement with their immediate supervisor, says Doug Staneart, chief executive of the Leader's Institute based in Texas, which has trained more than 120,000 people in the last few years, in the US and abroad.
"Whether you're an attorney, a solicitor or a real estate person, education is almost always on the technical stuff - how to do the job. But not people skills, leadership, communication skills. The people that do have these skills also tend to have high staff retention because they create an environment where people feel that they are part of something bigger and part of something important to the organisation."
Conveying a sense of worth can be achieved in four steps: building trust by listening to their point of view; minimising conflicts that create stress; encouraging co-operation by valuing their opinions and building them up as future leaders.
A footballer would usually expect an increase in salary when negotiating a new contract, but it doesn't appear that negotiations between Rooney and the club have got that far. But while £90,000 a week is a huge amount, Rooney can look at players at Chelsea and Man Utd earning up to double that.
Back in the real world, however, firms just don't have much flexibility in these tough times, says Ms James, so if you really want to reward talent, you need to be very specific about what that person brings in terms of value to the business.
"Being marked out, like Lord Sugar sometimes does on The Apprentice, as a future talent, would look like favouritism and would be difficult to argue with the rest of the group.
"Surveys into leadership suggest that people want recognition and trust from their manager more than anything else. So keep those two in place and you might head off this problem.
"People will work for money but it doesn't actually motivate them. A pat on the back from a boss like Sir Alex would be very powerful and possibly bring a tear to the eye."
If someone is causing you all of these problems, then you might be better off getting rid of them if you can do so legally, says Ms James.
"When a boss has to take time out from other people that also need attention and other people doing well and working hard, then I'm not sure it's worth working out every issue with that one person, because you might get less from others feeling undervalued. So it's an important call to make."
Related Internet Links
The BBC is not responsible for the content of external sites.