Competitive cooking: Why do we bother?
By Megan Lane
BBC News Magazine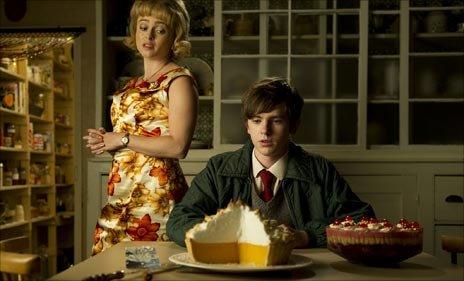 Turkey, trimmings and passive aggressive advice on gravy-making - all ingredients for the traditional Christmas lunch. Let the competitive cooking commence.
Cooking doesn't get tougher than this. A room full of extended family waiting in hungry expectation, a centrepiece dish cooked but once a year, and myriad side dishes that need to be table-ready at the same time.
Little wonder temperatures can rise and tempers fray in the kitchen.
A festive meal is about far more than providing sustenance.
It is a demonstration of the cook's skill and attention to detail, an edible expression of love, and - whisper it - a way to get one over on that tricky in-law who makes lumpy gravy.
"It's the most important meal of the year, and cooking for people you are trying to impress is quite stressful," says home economist Lesley Ball. "It should be about family togetherness, but you want it to be the best because you are cooking for people you love."
Channel 4's reality TV show Come Dine With Me is the perfect example, she says: "It's all 'I've got to do better than my neighbour, cook better food, use better ingredients.'"
The desire to produce the perfect Christmas meal has led, in recent weeks, to online auctions of a sell-out supermarket pud devised by celebrity chef Heston Blumenthal. Demand is such that bidding has reached almost 10 times its recommended retail price of £13.99.
Why do we put ourselves under such stress?
Food is about far more than eating. It is a way to show love. To gain attention and approval. To showcase family traditions. And all against the ticking clock of a roomful of hungry bellies.
Throwing money at the problem is one solution for those short on time or skill, but who nonetheless want their Christmas table to shine.
"We put ourselves under so much pressure to match the image of a Dickensian feast," says food stylist Katharine Tidy.
"That last scene in A Christmas Carol, when Scrooge is a reformed character and there's an abundance of marvellous food. When it doesn't turn out like that, it's an anti-climax."
Chef and food writer Nigel Slater understands the emotional undercurrents of cooking and families, and charts these in his autobiography Toast, dramatised on BBC One over the festive period.
Making mince pies with his dying mother was a last act of togetherness. And when his widowed father marries the cleaner, the teenage Nigel uses food to fight for his dad's attention. He'd make scones in home economics; his step-mother would counter with lemon meringue pie.
Their biggest battle was over this dessert - his father's favourite. His step-mother refused to divulge her recipe, so Slater resorted to subterfuge in order to turn out his own version.
"I'd count the egg-shells in the bin, to see how many eggs she'd used and write them down. I'd come in at different times, when I knew she was making it. I'd just catch her when she was doing some meringue, building up that recipe slowly over a matter of months, if not years."
Christmas meals are also liberally spiced with inter-personal dynamics, this being one of the few times of the year many extended families come together, says Halifax-based psychologist Karen Jones.
Some might try to prove their place in the social pecking order with lavish food and carefully sourced wines. Others might get competitive about who is best at preserving family traditions.
"Parents can be very competitive about time spent with their children. So competitive cooking might not just be making Christmas pudding from great-grandmother's recipe, but darling little Sukie helped you to do it as well."
And woe betide the upstart who decides to conduct their cooking in full view of the family matriarch.
"I do remember my mother having issues with my grandmother," recalls Ms Tidy, who worked on Toast.
"It was, 'You do the Christmas dinner, but I'll watch and say 'that's not how I do it.' She regarded it as helpful criticism."
But this is not an argument about food preparation, says Ms Jones.
"It's about nurturing and control, at a time when only the best is good enough, and it's only you that does it best."
"It's also to do with having a role. Women, in particular, aren't used to taking off their aprons and leaving the kitchen - even when it's not their kitchen," says Ms Jones.
"If you have someone given to 'helpful criticism', find them a role that takes them out of the kitchen. They can set the table while you make the gravy."
But there is a drawback to being the undisputed ruler of the kitchen. Everyone will assume it will be you at the helm when the heat is on to produce a fabulous feast.
Toast, based on Nigel Slater's memoirs, is on BBC One on Thursday, 30 December at 2100 GMT