The most-read stories of 2010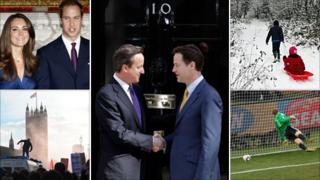 Freezing weather and a volcano left air passengers fuming, Cameron and Clegg sent Brown packing, and student protests left Westminster - and a royal couple - reeling.
But other moments among the year's most-read stories struck a different tone: the UK's biggest lottery win, two royal engagements and exultant scenes as 33 Chilean miners emerged after two months underground.
JANUARY
Snow and ice dominated the headlines for more than a week at the start of the year, as Britain shivered in the longest cold spell for almost 30 years.
Thousands of schools closed, buses, trains and planes were delayed, and power supplies failed as winter chaos reigned.
On 12 January, a devastating earthquake struck Haiti, claiming 230,000 lives and leaving more than one million people homeless.
In the UK, Jonathan Ross announced he was leaving the BBC after 13 years. The corporation's highest paid star insisted his decision was not financially motivated.
Attention turned to England football captain John Terry and his private life after a court lifted an injunction stopping the media reporting allegations of an affair.
And another leader, at least formerly, Tony Blair, gave evidence to the Iraq inquiry saying he had "no regrets" about removing Saddam Hussein.
Apple launched its iPad in San Francisco at the end of the month.
FEBRUARY
Showbiz relationships led February's most-read stories as model Katie Price married her boyfriend Alex Reid and Cheryl Cole split from her footballer husband Ashley Cole.
The fashion world was in shock after designer Alexander McQueen was found dead at his London home.
And Newsnight presenter Jeremy Paxman himself made the news for swearing on air - and apologising afterwards.
There was tragedy in central Chile, as a massive earthquake killed more than 200 people and affected two million more. And in Orlando, Florida, when a trainer died after a killer whale attack at the SeaWorld park.
But it was all smiles in Gloucestershire as a self-confessed "white van man" scooped £56m in the Euromillions - Britain's biggest ever lottery jackpot, for now at least.
MARCH
Chancellor Alistair Darling's Budget was the most popular story this month as he set out battle lines for the general election.
He cut stamp duty for first-time buyers and raised taxes for the better-off, amongst a series of other measures.
Away from politics, there was a sombre tone to many of the stories.
Memories of toddler James Bulger's shocking murder on Merseyside in 1993 were re-ignited when one of his killers - Jon Venables - breached the terms of his release.
TV presenter Kristian Digby, who worked on BBC One's To Buy or Not To Buy, was found dead in his London flat, aged 32.
Then Hollywood actor Dennis Hopper was revealed to be terminally ill with prostate cancer. He would die two months later.
But the glitz of the Oscars lightened the tone as Kathryn Bigelow became the first woman to win best director, for The Hurt Locker, which took six prizes including best film.
APRIL
Ash from a volcanic eruption in Iceland dominated the most-read list in April as all flights in and out of the UK were suspended.
The cloud triggered the UK's worst airspace restriction in living memory and brought much of Europe to a standstill.
Thousands of Britons were stranded as the UK remained a virtual no-fly zone for several days.
An explosion on the Deepwater Horizon platform in the Gulf of Mexico killed 11 oil workers and caused one of the worst oil spills in history, and a PR disaster for BP.
Gordon Brown's gaffe on the election campaign trail in Rochdale also proved a popular read. The former prime minister said he was "mortified" after being caught on microphone describing a pensioner he had just spoken to as "bigoted".
Elsewhere, The One Show presenter Adrian Chiles quit the BBC to join ITV and GMTV in a four-year deal.
Finally, in a twist on April Fools hoax stories, the BBC News Magazine produced a round-up of 10 seemingly fake newspaper stories which were actually true.
MAY
General Election month, and readers were captivated by every twist and turn in a genuine political drama.
The tension built as millions cast their vote and Britain headed for a hung Parliament - but it was not until four days after polling day that Gordon Brown announced he was stepping down as Labour leader.
Defeat closed in on Labour then voters finally awoke to a new Conservative-led coalition government with the Liberal Democrats.
Prime Minister David Cameron and his deputy Nick Clegg unveiled their policy programme, before Chancellor George Osborne outlined plans to cut £6.2bn of "wasteful spending".
In other news, a man charged with murdering three Bradford prostitutes referred to himself in court as the "crossbow cannibal".
The volcanic ash cloud reappeared in the most-read list as new rules allowing planes to fly at higher ash densities were agreed.
JUNE
Most read this month was the shooting rampage by taxi driver Derrick Bird which left a dozen people dead and 25 injured in Cumbria.
The first fatality was his twin brother, David, in Lamplugh. He then shot two others he knew before driving south, apparently shooting people at random. His body was found in the Boot area.
Chancellor George Osborne's Budget came next as he increased VAT and cut welfare spending to tackle Britain's record debts.
Child benefit and public sector pay were frozen and public service spending cut by 25%.
The mauling of nine-month-old twins, reportedly by a fox, also grabbed headlines. The girls were sleeping in their cots when the animal apparently entered the house in east London through a ground-floor door.
And normal service resumed in England's World Cup campaign as the team returned home from South Africa after a 4-1 second-round defeat at the hands of Germany.
JULY
Another month, another shooting rampage. This time, all eyes were on the town of Rothbury in Northumberland after gunman Raoul Moat shot three people and went on the run.
After shooting his ex-girlfriend and killing her new partner, the former bouncer shot policeman David Rathband in his patrol car, before eventually killing himself after a six-hour stand-off with armed officers.
A mishmash of other stories made it on to the most-read list. A five-year-old Irish boy wrongly accused of stealing a bag of crisps won his damages case against supermarket chain Lidl.
BNP leader Nick Griffin was denied entry to a Buckingham Palace garden party over claims he "overtly" used his invitation for political purposes.
And pictures of a luxury car - worth £1.2m - clamped outside Harrods in central London also attracted widespread attention.
AUGUST
August threw up a mixed bag of news in keeping with its traditional "silly season" tag.
Skywatchers enjoyed "fantastic views" of the annual Perseid meteor shower and a US man taken to hospital for a collapsed lung was told he had a pea plant growing in his lung.
Comedian Tim Vine won a prize for the funniest joke of the Edinburgh Fringe. His gag: "I've just been on a once-in-a-lifetime holiday. I'll tell you what, never again."
The BBC also made headlines. Chris Evans' Radio 2 breakfast show lost a million listeners in three months. Weatherman Tomasz Schafernaker made rude on-air gestures, and the corporation became embroiled in a court battle over the identity of Top Gear's The Stig.
There was interest, too, in an MI6 worker whose body was found in a hold-all in the bath at his London flat.
And model Naomi Campbell attracted attention at the war crimes trial of ex-Liberian President Charles Taylor, with her testimony that she was given "dirty-looking stones" after a dinner he attended.
SEPTEMBER
Sibling rivalry topped the most-read list in September as Ed Miliband was narrowly elected Labour leader over his brother David.
Their political rival David Cameron's father Ian died, then it was revealed his daughter Florence, who was born last month, slept in a box rather than a cot.
Despite some arrests by counter-terrorism officers, Pope Benedict XVI's four-day state visit went without a major hitch, although there were protests. It was the first official trip by a serving pontiff since 1982.
Two deaths at the end of the month made the list: Segway boss Jimi Heselden fell from cliffs riding one of his firm's motorised scooters, then Hollywood star Tony Curtis had a cardiac arrest at his home in the US.
And at just 70cm (27ins) tall, a Colombian was confirmed as the world's shortest living man.
OCTOBER
There was huge interest in the conclusion of a drama in Chile as 33 miners were successfully rescued after two months trapped deep underground.
That only just beat George Osborne's Spending Review to the top slot, as the chancellor unveiled the biggest UK cuts for decades and axed child benefit for higher-rate taxpayers.
The scrapping of 192 quangos - public bodies like the Film Council - was also well read.
As were plans to ditch Harrier jump jets, the Navy's flagship HMS Ark Royal and cut thousands of jobs in the strategic defence review.
Showbiz again proved popular as X Factor singer Gamu fought her expulsion from the UK and Take That fans crashed sites selling tickets for a tour with Robbie Williams.
But the ticket everybody really wanted was the one which scooped first prize in the Euromillions draw - it was the biggest single lottery win in UK history and worth £113m.
NOVEMBER
Freezing weather returned to the UK, as forecasters warned of the earliest significant snowfalls since 1993.
Hundreds of schools closed and motorists and air passengers faced long delays. In Cornwall, meanwhile, floods and gales caused travel chaos across the county.
There were heated scenes in Westminster as protests against plans to treble tuition fees turned violent. Demonstrators stormed buildings and smashed windows, overshadowing the planned day of action.
News that Prince William was to marry long-term girlfriend Kate Middleton in 2011 also drew strong interest. Clarence House announced the date and venue a week later.
Elsewhere, comedian Jason Manford quit The One Show and Nigel Havers walked out of I'm A Celebrity... Get Me Out Of Here!
DECEMBER
Freezing temperatures and heavy snow returned with a vengeance as one of the coldest starts to December for 20 years took its toll.
Schools shut again and there was more travel chaos, which left thousands of people's Christmas plans in disarray.
The Prince of Wales and Duchess of Cornwall were caught up in violent student protests and the Queen's oldest granddaughter, Zara Phillips, got engaged to her long-term boyfriend - England rugby star Mike Tindall.
The publication of thousands of US embassy cables by the Wikileaks website continued, but the focus of the story shifted later in the month to its founder, Julian Assange, who is fighting extradition to Sweden over sex assault allegations.
Showbiz again proved popular as some of the most watched TV shows reached a climax. Matt Cardle won The X Factor,Stella English became The Apprentice, and actress Kara Tointon took the Strictly Come Dancing title.