Is the UK uniquely bad at coping with snow?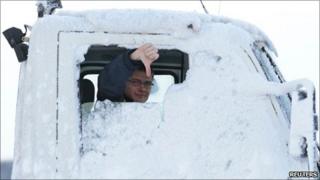 For the third year running the UK is suffering snow-induced chaos, so are we any closer to answering the perennial question of why we can't cope?
One only has to pick up a newspaper to see that the UK is gripped by anxiety over the disruption caused by the snow.
Roads, rail, airports and schools have all been severely affected during the cold snap.
It is perhaps not surprising that the government asked David Quarmby, chairman of the RAC foundation and co-author of the Winter Resilience Review, to lead a rapid review of how transport was faring.
And the ultimate question being asked at freezing bus stops and train stations around the country is: why can't we do better than this?
COST
The most fundamental reason the UK is having problems is that preparedness costs money.
There has been much discussion over the logistics of gritting over the past couple of years. Local authorities have increased their grit stocks, but there is always a ceiling. Grit is very bulky and storage, which ideally needs to be covered, costs money.
If you wanted the 3,000 gritting vehicles the country had last year to increase to 6,000 this year that would cost money.
In colder countries, like Sweden or Norway, drivers change to winter tyres after a certain date.
According to the RAC Foundation, there are about 30 million cars in the UK. It doesn't take much imagination to see the massive challenge and cost of having a changeover to winter tyres for every car in the country.
Everything is a cost-benefit analysis. Every pound that is spent has to be weighed against the number of days of disruption and losses caused by cold weather.
A UNIQUE PROBLEM?
The UK is on year three of winter disruptions but in recent memory the country has gone for long periods without a severe winter. And it has not been the exact same set of problems or timing every year.
"This is a very early onset of winter but it is also a bit different from what we are used to - although temperatures are not particularly cold, we have had this huge dump of snow along the whole of the east coast of Britain," Mr Quarmby tells the BBC News Magazine.
"Our winters are very unpredictable in this country." These cannot be fairly compared with Scandinavia or Canada.
"They know almost to the week when the snow is going to come and they are organised for it," Mr Quarmby notes.
The seven years of mild winters that preceded the current cold snap shape our priorities.
WHAT HAPPENS IN OTHER UNPREDICTABLE WINTER COUNTRIES?
Of course, there are other countries in Europe that have variable winters.
Take Belgium. In Flanders particularly, the sudden cold snaps of recent years have caused problems.
"Last winter was disastrous. There was one night where an unexpected bout of heavy snow led to [massive] traffic tailbacks on the highways - especially in Flanders," says Yves Delepeleire, a journalist who works for the Flemish daily paper, De Standaard.
This led to criticism of Hilde Crevits, the Flemish minister responsible for transport, prompting the launch this year of a "winter plan".
"It's a set of measures to deal with snow problems and prevent the problems we have had before," says Delepeleire.
"There are more gritters spreading salt overnight; the police are guiding them through traffic and there is more communications between organisations to make sure the heavy snow doesn't bring everything to a standstill."
DOES SCANDINAVIA COPE EASILY?
"They handle worse snow than this in Scandinavia with ease", or variants thereof, are becoming a familiar refrain. But do they?
As well as the winter tyre rules, Scandinavian countries have an array of snow ploughs and innovations like, in Norway, heated pavements.
But they still suffer disruption.
"As far as trains are concerned, there were severe problems last year which led the government train company to take some measures. It has been a little bit better this year," says Anders Bolling, a reporter on Om Dagens Nyheter.
"In February and March there were catastrophic scenes where people were stranded for days."
And just as Britons tell themselves things are being coped with better elsewhere, so do Swedes in the usually warmer south of the country.
"People were saying 'how come they can manage this in the north when they can't in the south'.
"They are more used to it in the north."
THINGS ARE BEING DONE
Everybody's first thought is grit and this was addressed by the Winter Resilience Review, led by Mr Quarmby.
It recommended that every local council should hold enough salt for 48 gritter runs, and that the country should have a strategic reserve of 250,000 tonnes of salt.
"My take is that salt is not an issue," says Mr Quarmby, of the current disruption. "You can't deal with huge amounts of snow with salt."
Issues on the rail network are also being addressed. The review recommended heated "third rails" on electric lines south of the Thames, situated mostly at points and stations. These prevent a layer of ice forming that stops trains getting the current and being stranded after stopping.
Network Rail has since installed the heaters in three stretches in Kent as part of a pilot scheme. By the end of the year there will be 42 heated sections. Early anecdotal reports suggest they are reducing disruption.
But the rail infrastructure body has yet to increase its fleet of de-icers or snowploughs, although it says they are covering more miles.
It is worth noting that the German railway, with an international reputation for efficiency, has been ravaged by snow delays.
On 1 December, 3,000 passengers spent the night on German trains. More than 200 were stuck in Frankfurt station alone, sheltering in carriages after hotel rooms filled up.
"It was something that we could not have prevented," a spokesman for Germany's national railway company Deutsche Bahn explained at the time. "The trains stopped just before they reached their final destinations in Leipzig or Frankfurt and, for their security, we offered them to stay on the train. We gave them hot drinks and blankets and the trains were heated.
"We tried to clean the snow off the track and had the equipment out but the snowfall was so severe that the tracks kept getting covered."
THE FUTURE
In the current financially straitened times it is hard to imagine any government pouring additional funding into massively increased preparedness for extreme cold.
But many of the little things that will make life easier may be in place by the next run of cold winters.
And we might remember, Mr Quarmby says, that "severe winters like this are still relatively rare events".