Been and gone: The sexy vampire and the chair guru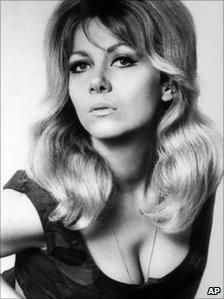 Our regular column covering the passing of significant - but lesser-reported - people of the past month.
While early vampire films portrayed beautiful, and usually well-endowed women as the victim, Ingrid Pitt proved that the female of the species can be just as deadly as the male. She achieved cult status with her performances in Countess Dracula, The House That Dripped Blood, and The Vampire Lovers, the lesbian overtones of the latter causing some consternation when it was released in 1970. Born in Poland, she and her parents survived a Nazi concentration camp and she lived briefly in the US after the war before moving to Berlin and taking up acting as a career. She had small parts in films Dr Zhivago and Where Eagles Dare, but it was her spell at Hammer Films that brought her worldwide fame. She also made a brief appearance in the Wicker Man before moving on to more mainstream roles. She never regretted her vampire appearances and enthusiastically attended horror film fan conventions. She was a prolific writer and was once commissioned to produce a script for Doctor Who, but it was never put into production. In 1998 she appeared as the narrator on Cruelty & the Beast, an album by the goth metal band, Cradle of Filth, which was based on the Countess Dracula character she had played almost 30 years before.
Cinema also lost one of its first ever child stars, Baby Marie Osborne, whose early screen career was over before she reached her teens. Adopted in mysterious circumstances, she made her first film appearance in 1914 when, at the tender age of three, she was cast in Kidnapped in New York. Within two years she had her own production company and appeared in hundreds of silent films portraying the cute child who overcame adversity to triumph at the end. But her adoptive parents frittered away the money she earned and she made her final silent film in 1919 when she was just eight years old. At 22 she was in a failing marriage and working as a shop assistant when she discovered that she had been adopted and that her real father had left her a substantial legacy. She went back to the cinema, playing a series of minor parts during the Thirties and Forties before moving into the costume department at 20th Century Fox where she worked on a number of big productions, including The Godfather Part II.
Gavin Blyth made his name on the small screen working on two of televisions best known soap operas. As series producer of Emmerdale, he revamped the programme bringing back some familiar old faces such as Kelly Windsor and Viv Hope and introducing a string of new characters including Faye Lamb and Hazel Rhodes, the latter played by Pauline Quirke. He began his career as a sports journalist with his father's press agency in Liverpool before joining Emmerdale in 1996 where he became a script editor. He left the Dales for the gritty streets of Weatherfield when he moved to Coronation Street as an assistant producer and story editor. He returned to Emmerdale and his first episode as series producer was transmitted on 13 March 2009.
It can almost certainly be said of Robin Day that he has been responsible for supporting more bottoms than any other furniture designer. His Polypropylene stacking chair, invented in the 1960s was cheap, tough, light and easy to store and quite unlike anything else on the market at the time. It became a familiar sight in a range of public buildings including village halls and schools. Day went on to develop an outdoor version, complete with a perforated seat which formed the basis for mass seating in stadiums. Born in the furniture-making town of High Wycombe, Day attended the Royal College of Art where he became interested in architectural design. During his career he designed the seating for prestigious locations such as the Royal Festival Hall, and the Barbican Centre. He also designed a bench for railway stations and the perforated seats used on London Underground stations. His famous plastic chair continues to be produced and it is estimated that more than 14 million have been made to date.
Design with blooms was the speciality of Julia Clements, who has been described as the high priestess of flower arranging. The author of more than 20 books on the subject, she almost single-handedly created the hobby in the UK, yet she never had any training in the art. It was the austerity of a "make and mend" post-war Britain that made her suddenly decide that flowers could bring some much needed colour into people's homes. She visited gardens owned by the Royal Horticultural Society to study the colour and form of plants and flowers before beginning lecturing on the subject. She toured the country in the 1950s as part of a show entitled How to Be a Good Hostess, which was compered by the TV presenter, Katie Boyle. Marguerite Patten gave cookery lessons while Clements would demonstrate flower arranging. She helped launch dozens of flower arranging clubs across the country that eventually came together as the National Association of Flower Arrangement Societies. In 2009, at the age of 103, she was the guest of honour at the Festival of Flowers at Westminster Abbey, celebrating 50 years of the NAFAS.
It is rare that there is a challenge to the stranglehold on US politics held by the Republican and Democratic parties but David Nolan provided an alternative for American voters. His Libertarian Party was founded in 1971 in response to Richard Nixon's announcement of wage and price controls in a bid to halt rising inflation. Nolan and a group of like-minded people believed this was another sign that government was getting too big and too powerful and they wanted to provide an alternative voice. While their calls for smaller government and lower taxes chimed with the ideas of the Republican right, they also advocated more liberal abortion laws and an end to American involvement in foreign wars. Over the years the party campaigned for curbs on police power and, recently, against the controversial "pat-down" procedures used by security staff at US airports. While never gaining widespread support, the party often put up presidential candidates in all 50 US states, and the one electoral college vote for their vice-presidential candidate, Theodora Nathan, was the first ever vote for a woman in a US presidential race.
Among others who died in November were star of Airplane and Naked Gun, Leslie Nielsen; the Norfolk farmer who raised "bootiful" turkeys, Bernard Matthews; director of The Empire Strikes Back, Irvin Kershner, and producer of films such as Ragtime, Flash Gordon and Barbarella, Dino De Laurentiis.