John Lennon: Where you were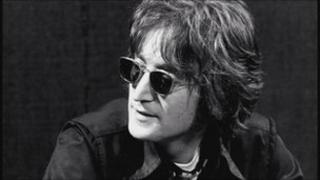 It's 30 years since John Lennon was murdered in New York - an event so shocking and unexpected that many remember exactly where thet were when they heard the news.
Earlier this week, the Magazine reflected on those global news events that have become "where were you when" moments. Here are some of your accounts of where you were when you heard about John Lennon's death.
"I was 10 and we filed in to school assembly with "All You Need is Love" being played. One of the teachers, Mrs Jackson, was crying. She was the teacher that organised the choir and all the school productions and had grown up the 60s. She told us what had happened and how the music we were listening to was all influenced by John Lennon. I remember it so vividly - you never saw teachers cry." Cogsi
I was driving a taxi in New York City when I heard the news over the radio. I immediately drove to Roosevelt Hospital where I arrived in time to hear of John's death, as a physician announced that Yoko had left the grounds. Reporters and others groaned. It was wildly out of control emotionally for one and all. Outside the sadness was palpable... the disorientation in the air very real." Richard Oxman
"I was 18 years old and in my senior year of high school. I was at the kitchen table doing homework when the network broke into regular programming with the news of Lennon being murdered; I was so distraught my mother had to call the school the next morning to let them know I wouldn't be in. When she gave the reason, they were a bit confused by 'John Lennon's dead!' but they let it go as excused." MnDina
"I was in my first term at Oxford and was up very early studying for a History exam I had that day. When I went to breakfast in the college dining hall I told a fellow examinee the news. I had not realised that Lennon was his idol. He failed, reputedly only writing 'John Lennon is dead' at the top of his paper. I did rather well. He later went on to a successful career as an academic. I did not." Niloc
"John Lennon has played a major part in my life and still does today. At the time of his death I was working on the record counter at WHSmith in Church Street, Liverpool, and I can still remember my mother waking me up early because the manager of the store had phoned to say all staff had to report to work as soon as possible due to the amount of customers already there! Lennon still is my hero." TRFC
"I was driving on a busy street in Toronto. It was about 11pm and I was with a friend with whom I had originally bonded due to our shared passion for John Lennon. When I turned on the radio, the announcer said: 'This is a night you will remember all your lives - this is the night John Lennon died.' I burst into tears. My friend started screaming. I pulled the car over and we just sat and wept." Carolyn
"I was 13 and got in from my paper run around 7.45am to be told by my mother. Our teachers seemed shocked, one of their heroes and their generation was gone. When I saw my father's tears, watching the evening news, the depth of it all really hit home. The anniversary brings back the senselessness. My generation's JFK moment, especially as we'd been taught the songs from birth." Ok12comp
"I was 17 and staying at New College, Oxford being interviewed for a place to read PPE. I remember hearing John Lennon music being played all night by the few students who were still in residence, and feeling very connected to these invisible people because my family were passionate Beatles fans, and played their music constantly. It was a memorable day - I felt that I had suddenly grown up." Kate Bristow
"I was working at Astor Wines in Greenwich Village, NYC. Still a student at NYU. I remember I was pricing the wine bottles in the cellar when the radio announced his shooting. We all stopped what we were doing and looked at each other in shock. No one was able to continue working that evening. We closed the store early and some of us headed up to the Dakota for the vigil. We all loved John so much!" JorgeI
"I was 23 and living in a house in Surrey with three guys. I was lying in bed, when the first one up that morning heard the news on the radio and told the rest of us. We were all big music fans and we decided immediately not to go to work that day. We sat around playing John's music all day. As three of us worked at same place we had some explaining to do, but it was a day I'll never forget." lennybang