Why do trains have a winter timetable?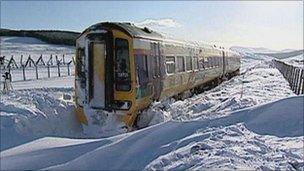 The latest UK rail timetable is up and running. Why do we get a new one every winter?
Trainspotters of Britain, here is the latest service update: your schedule for the next six months has arrived.
Each December and May, train operating companies and Network Rail, which owns the UK's railway lines, publish updated timetables.
These changes, often by just a couple of minutes, may seem baffling to commuters who depend on being on the right platform at the right time each morning. But maintenance work , service alterations and seasonal pressures - at peak leaves-on-the-line times, some trains have to leave up to four minutes earlier - all mean the giant jigsaw that is the national railway schedule needs to be regularly adjusted.
Additionally, since 2004, an EU directive has required member states to change their timetables on the same date in December to prevent clashes between networks.
Independent travel consultant Barry Doe says the dawn of Eurostar, linking Britain's network to that of the continent, meant it was entirely sensible that this applies to the UK.
However, he questions the wisdom of introducing new services at a time when the weather and the Christmas holidays have a disruptive effect on services - the winter 2010 schedule taking effect from 12 December.
"It's the most stupid time of the year to change it," he says. "Very soon after it's introduced, the whole thing is thrown to the wind. It doesn't really start to get off the ground until 3 or 4 January."
Nonetheless, the logic of regularly updating the schedule becomes clearer when you consider the many variables that can affect the UK's 25,000 train services every day to more than 2,500 stations.
Even minor alterations potentially having knock-on effects on when other trains can use stretches of track and arrive at platforms.
Maintenance work must be scheduled months in advance. Events like Wimbledon or the Glastonbury festival require additional services. And during the peak leaf-falling period of September to December, morning services often start slightly earlier to allow for delays.
The introduction of new services - such as those along the new Airdrie to Bathgate line in central Scotland - and the downgrading of others require updates.
These are made to the working timetable - a far more detailed document than the schedules passengers pick up at stations.
It details every train movement on the network, setting out the times of arrival and departure of trains and appropriate passing points.
As well as regular schedules for routes, it also sets out specific timetables for weekends affected by engineering works as well as for longer periods which may witness adjustments - such as the autumn leaves-on-the-line peak.
This mammoth tome - essential for signallers and drivers, and highly prized by rail enthusiasts - also forms the basis for bookings and National Rail Enquiries.
"The working timetable is an amazingly complicated thing," says Barry Doe. "Every day of the year is different."
Updating it is a major undertaking in a country with such a large railway system. According to Network Rail, some 600 people across the country are involved in the task of scheduling passenger and freight services.
Of these, about half are employed by Network Rail, most of them based at the not-for-profit company's York office. Their role is mostly a co-ordinating one although the Office of Rail Regulation can be brought in to adjudicate in any disputes.
A spokesman for Network Rail says the May timetable changes are normally just a "spruce-up".
Larger-scale alterations normally take place in December, when typically some 30% to 40% of timetables are altered - although some of these will be relatively minor.
But May 2011 will see major service changes on the east coast main line.
For all that we may associate British railways with the mundane day-to-day reality of crowded commuter carriages and tepid tea, it is an altogether far more a complicated feat of logistics currently departing from a platform near you.
Related Internet Links
The BBC is not responsible for the content of external sites.