How are airports kept open in cold weather?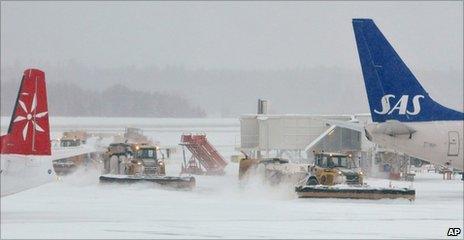 The current cold weather has caused disruption to airports across the UK, but how do some airports keep flights going?
A year ago the UK's airports were suffering snowy chaos. This year the problems have seen thousands stranded at London's Heathrow and elsewhere.
The situation at airports is similar to that faced by motorway drivers, according to David Learmount, of Flight Global magazine.
On a clear sunny summer day, drivers will tend to leave a smaller gap, and therefore smaller safety margin, between themselves and the car in front. On an icy day, they would tend to drive much slower and leave longer gaps.
"Aeroplanes do the same when they are approaching to land," says Learmount.
"They have to leave for safety reasons big gaps between the departing aircraft and the arriving. The aeroplanes cannot brake and slow down easily."
The same applies to visibility. The pilot needs bigger safety margins if visibility is lower than normal.
"The final decision about whether it is safe to land is not the [air traffic] controllers," says Learmount. Instead it rests with each pilot.
One big issue is ice. Airlines are typically responsible for de-icing their own craft. Airport operators like BAA take responsibility for the runways and roads at the airport.
They use precautionary anti-icing chemicals to try to ward off ice, and de-icing chemicals when it has formed. Taking Heathrow as an example, the airport has a fleet of de-icing vehicles that can carry 57,000 litres of chemical. More than a hundred staff and 70 vehicles of all kinds are used in the current cold weather efforts.
Salt and grit is not used, says David Learmount.
"Salt is corrosive to bare aluminium [which is often found on planes]," he says. Instead, less corrosive chemicals like urea are used in the de-icing.
There are of course airports that claim to tackle snow and ice with ease. Stockholm-Arlanda, the biggest airport in Sweden, currently only has severe delays involving flights to Paris, London and Frankfurt and that is because of problems at those airports.
In fact, in the five decades since Stockholm-Arlanda opened, it has never closed because of snow, says Anders Bredfell, press relations manager with owner Swedavia.
"We are coping very well. We have almost no problems," says Bredfell. "Heavy snow itself if actually not a problem." However, strong side winds can cause problems.
The airport has 18 PSB (ploughing, sweeping, blowing) machines. These are followed by snow throwers which move the line of snow left by the PSBs. Behind these come friction measuring vehicles that test the likelihood of skidding on the runway.
The airport has more than 40 staff dedicated to snow during the winter months, and it claims to be the among the world's best at removing snow. Its three runways take 6-10 minutes to clear.
But wherever you are, levels of disruption depend on how busy the airport concerned is.
In an airport like Heathrow - much busier than Stockholm-Arlanda - which can often be operating at 98% of capacity, small amounts of disruption can cause rafts of cancellations.
"Really busy airports operate pretty close to capacity - even going to a more widely spaced approaches might mean cancellations," says Learmount.
At smaller airports the effects of the weather on schedules may be much less noticeable.
Heavy snow can cause airport closures as it cannot be cleared while planes are landing and taking off.
Disruption is also exacerbated by the knock-on effects from other airports.
But there is no possibility that icy disruption can be cured by heated runways. While pitch underheating may be the norm in Premiership football, it might be a bit more tricky to install it on the vast expanses of the typical runway.
"If there were you would create a lot of other problems, it would be phenomenally expensive and not at all green," says Learmount.