Been and gone: Tom Walkinshaw, Chuck Jordan and others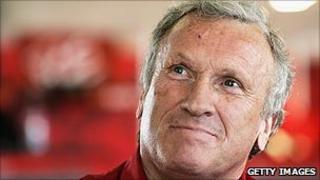 Our regular column covering the passing of significant - but lesser-reported - people of the past month.
Many motor racing teams carrying the name of a big car manufacturer are actually operated by entrepreneurs such as Tom Walkinshaw. A former racing driver, he founded Tom Walkinshaw Racing (TWR), running touring cars, first in co-operation with Rover and then with Jaguar. His TWR Jaguar XJS cars won Le Mans twice and the World Sportscar Championship three times. He joined Benetton as engineering director, helping to take the team to the 1994 Formula One World Championship, before buying the Arrows Formula One team and recruiting the, then, reigning World Champion, Damon Hill. Arrows ran out of money in 2002 and its collapse also brought down TWR. Walkinshaw bounced back in 2005, when he set up a deal with the Australian manufacturer, Holden, to race V8 supercars. As well as his motor racing interests, Walkinshaw also owned the Premiership rugby side, Gloucester.
Cars need designers as well as engineers and Chuck Jordan was responsible for many of the high-finned, chrome-embellished models that left the Detroit production lines during the 50s, 60s and 70s. The 1963 Buick Riviera and the 1973 Chevrolet Monte Carlo were among the models he created. Jordan joined GM in 1949 and worked on a number of concept models before joining the Cadillac division in 1957. Probably his most flamboyant achievement was the massive 1959 Cadillac Eldorado which, more than any other car, epitomised the excesses of the post-war American dream. Nearly 40 years later he admitted to the Los Angeles Times that maybe the Caddy was a little over the top. "Even before the '59 hit the street, we had already completed the '60 design where we cut the fins off. That tells you we recognised that we probably overcooked it. "
The conspicuous consumption of the motor industry was a world away from the gentle life of Elisabeth Beresford's most famous creations. The Wombles first appeared in a 1968 book, the name inspired by a Boxing Day stroll with her children on Wimbledon Common. After the book had featured on Jackanory, the BBC commissioned an animated series, bringing in Bernard Cribbins to provide the narration. In the days before environmental awareness became mainstream, the Wombles' insistence on recycling discarded objects put them way ahead of their time. The characters generated a huge merchandising operation, while Mike Batt's theme tune, Wombling Free, became a chart hit. It was performed on Top of the Pops by musicians in furry costumes. While Beresford wrote a number of other children's books, none of them approached the world wide success of the Wombles with the books being translated into more than 40 languages.
If the Wombles had ever appeared in Gaelic then Ian Noble would have been the man to champion their cause. Known formally as the 3rd Baronet of Ardkinglas and Eilean Iarmain, the former banker was not a native Gaelic speaker but was fascinated with the sound of the language and became fluent in it. He was responsible for the introduction of bilingual road signs in Scotland, ignoring critics who claimed it was a waste of public money. As a major landowner on the Isle of Skye he had a policy of only employing native Gaelic speakers and set up the Gaelic college, Sabhal Mor Ostaig, in 1973. He courted controversy by discouraging English incomers from buying houses on Skye, claiming they forced the prices out of reach of local people. He famously told a 2003 conference: "I don't have any English blood in my veins, a thing which I am inordinately proud of."
In a period notorious for industrial unrest the Grunwick dispute, led by Jayaben Desai became something of a milestone in union history. Grunwick was a film processing laboratory employing a large proportion of female Asian workers. Desai was one of a number of workers who walked out in August 1976, in support of a sacked colleague and set up pickets outside the factory. Although only four feet tall, Desai's passionate campaign to improve wages at the company encouraged many more workers to walk out. The dispute rapidly escalated, culminating in pitched battles between mass pickets and police as the company bussed in other workers. The company steadfastly refused to allow its workers to join a union and, in July 1978, the strikers finally gave up the struggle. Although seen as a defeat for the unions, it did focus attention on the plight of immigrant workers in the UK. "We have shown," said Desai, "that workers like us, new to these shores, will never accept being treated without dignity or respect."
Stuart John "Woolly" Wolstenholme was the keyboard player and a founder member of progressive rock outfit, Barclay James Harvest. BJH was formed in 1967 when Wolstenholme met John Lees at Oldham College of Art. After a stuttering start they were signed to EMI's new progressive label, Harvest, and they ambitiously toured their second album, Once Again, with a full orchestra. They moved to Polydor, releasing their most critically acclaimed album, Everyone is Everybody Else, which saw them appearing on Radio 1's John Peel Show. They achieved huge popularity across Europe and became the first western band to play in East Germany. By this time, Wolstenholme had quit music to become a farmer. When BJH ran out of steam, he was persuaded to join John Lees in a spin off band, John Lees' Barclay James Harvest and also released his own solo albums under the Mæstoso name.
Music also lost one of the unsung heroes of Blues, Little Smokey Smothers who was instrumental in encouraging white artists to take up the genre. Born in Mississippi, Smothers took the well-worn road north to Chicago where he landed a job as a session musician with Chess records, backing the likes of Howlin' Wolf and Muddy Waters. He annoyed blues aficionados when his first band, formed in 1961, featured a brass section and was wont to drift into areas such as jazz and R&B. In the mid-60s he was influential in promoting the career of Paul Butterfield, one of a number of white blues fanatics who hung around the Chicago scene. The Paul Butterfield Blues Band eventually went on to play the Woodstock festival. The band's guitarist, Elvin Bishop, later appeared with Smothers in 1993 when the older man released his much acclaimed album, Bossman!
Among others who died in December were award winning BBC Correspondent, Brian Hanrahan; political commentator and former New Statesman editor, Anthony Howard; outspoken judge and tabloid columnist, James Pickles; avant garde musician and artist, Don van Vliet, aka Captain Beefheart and film producer and director, Blake Edwards.