Would you do voluntary work on your honeymoon?
By Tom de Castella
Journalist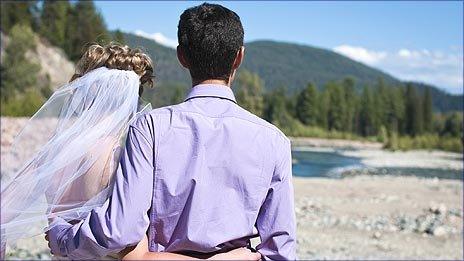 It used to be a wet week in Scotland, now the modern honeymoon is synonymous with exotic indulgence. But some holidaying newlyweds are choosing something different.
Ahh, honeymoons. Rose petals in the bath, cocktails on the beach and intimate candlelit dinners for two. But for some newlyweds it's more likely to be digging a well in an African village, dinner with the locals and sleeping on the floor.
"Honeyteering" is where just-married couples volunteer for a worthy cause in the developing world, rather than the indulgent two weeks on a beach. A growing trend in the United States, it is relatively new in the UK.
Times have changed and nowadays many couples have lived together for years before they get married. So a honeymoon is less of the romantic and sexual epiphany it once was.
It has already become commonplace for the bride and groom to ask guests to donate to a charity rather than give presents. The logical extension is for the happy couple to give up their time on honeymoon helping a worthy cause, says Dr Peter Slowe, founder of volunteering firm Projects Abroad.
"It's not like they're going on honeymoon and having sex for the first time," he says. "They're looking for a holiday with something special, expecting it to combine fun and relaxation with using their skills to help someone else."
Honeyteering couples will usually mix four or five days of voluntary work with equal amounts of relaxation and sightseeing, says Christopher Hill, founder of ethical tour operator Hands Up Holidays. Activities range from teaching, working in an orphanage, construction, medical outreach or helping on a nature project.
"Honeyteering is an important aspect of what we offer," he says. "It's for people who don't want to spend their whole honeymoon in bed. And who want to consolidate their marriage by working on something together."
For Emily Shugarman, 30, and Ethan Robbins, 29, from Worcester, Massachusetts, the traditional options just didn't appeal. They decided on India for their honeymoon and mixed sightseeing with four days of volunteering at a school in Delhi.
An English teacher and computer systems engineer, they worked with children at an early morning and after school club, helping them with their English and homework. They were embraced by the community and invited to eat with local families. They say those four days were the highlight of the trip and they didn't want to leave.
"We were leaving to go to the Taj Mahal but it felt like we were wasting time that we could have spent with those kids," says Shugarman.
People who think honeymoons have to be self-centred are missing the point, she says.
"We absolutely enjoyed ourselves. Fundamentally if your relationship is so insecure you need a special trip to concentrate on yourselves, you're probably better off not getting married in the first place. For me there's no better way of celebrating the joy of your marriage than with other people - it doesn't matter if you know those people or not."
Saying that, concessions can be made to romance.
"Usually our volunteers live with local families, but we can provide more private accommodation for honeymooners," says Dr Slowe. "And you'd be allowed an extra lie-in so you wouldn't have to teach the first class of the morning."
But some charities are opposed to the idea. Rachel Collinson, head of marketing for Raleigh International, pinpoints two key problems with honeyteering.
"We prefer people not to come as a couple. If we get a couple we'll split them up because if you're too focused on yourselves that's not great for the group."
And honeymoons are too short in duration to benefit local people, she says.
"We don't recommend anyone spending less than a month volunteering if you want a community to develop sustainably. You can do more harm than good if you just turn up for a week."
Tour operators offering more traditional honeymoon packages aren't worried by the emerging trend either.
Tamara Diethelm, who heads the wedding and honeymoon programme at luxury tour operator Kuoni, says more couples are considering volunteering, but not many are going through with it.
"There's more interest than firm bookings. People like the idea of giving something back, but our data suggests that the honeymoon remains a self-absorbed, indulgent time."
And that's how it should remain, she thinks. Getting married herself in June, she says that if her fiance were to suggest two weeks digging wells in Tanzania for their honeymoon, she would send him away with a flea in his ear.
"I'd say that I'd love to go and do that but I don't want to do it on our honeymoon. I want our honeymoon to be just about us. There are plenty of other holidays for us to give something back."