Royal wedding: Should your brother be your best man?
By Jon Kelly
BBC News Magazine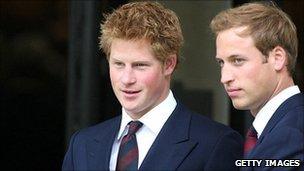 Prince William has chosen his brother Harry to be his best man. But is selecting one's sibling for this most crucial of matrimonial roles a good idea?
For would-be grooms, it is a common conundrum - finding a close acquaintance who can organise a suitably eventful stag do yet not say anything too embarrassing during their speech.
Picking the best man is always a crucial decision for any husband-to-be, and Prince William has nominated his brother Harry for the role. In doing so, he follows the example of many men who have negotiated the often delicate politics of making the appointment by naming a sibling.
By picking one friend as best man, of course, a groom runs the risk of offending or upsetting his others.
At a time when male companionship is under greater cultural scrutiny via the so-called "bromance" movie genre, a man might be forgiven for swerving this social minefield by nominating instead someone with whom his relationship transcends straightforward friendship: his brother.
Of course, fraternal bonds can be as intense and fraught as any. And a shared childhood potentially offers an even greater store of tales with which to humiliate you in the after-dinner address.
The author Tim Lott has written extensively about the perils of sibling rivalry, drawn from personal experience, in his novel Under The Same Stars. Nonetheless, he recognises that brothers offer a handy get-out from what could otherwise be an awkward situation.
"The good thing about it is that it relieves you of the pressure telling friends that you've chosen one of them over the others," he says.
However, at his own wedding Lott straddled both camps by asking both his best friend and his younger brother to share the role - a combination he believes offered the best of both worlds.
"My brother is not the most confident public speaker, so he gave a short and very touching speech," Lott says. "My friend gave a longer, and altogether more malicious one. It was a good balance."
The fact that the best man traditionally delivers a speech at the reception gives the role an added degree of responsibility - and potential danger - compared with that of the chief bridesmaid or maid of honour, a position that will be occupied by Kate Middleton's sister Pippa in the Royal wedding.
Keen royal-watchers will be intrigued to see how Harry handles the task of delivering a speech and stag do that avoids making the headlines for the wrong reasons.
Indeed, not everyone agrees that brothers are the right picks for such a sensitive job.
The journalist Toby Young admits he has been a disastrous best man in the past, misjudging the mood of the occasion and telling wildly inappropriate stories about the groom.
But while he acknowledges that most men embarking on matrimony will seek a less volatile candidate, he regards the selection of a sibling as, essentially, a cop-out.
"I'm always slightly disappointed when friends of mine have chosen their brothers," he says.
"As an embarrassment strategy it's not always foolproof, however. I've gone to several weddings where brothers have given buttock-clenchingly embarrassing speeches and revealed things about the groom that he would have preferred to have remained secret.
"An alternative way to placate close male friends is to make them all ushers - I was one of 25 at one posh wedding."
Still, the sibling option is one that wedding planner Mark Niemierko says he has witnessed increasingly in recent years.
He says the fact that Prince William has only one brother, while Kate Middleton has only one sister, means that nominating their roles was more straightforward than it might have been for other families.
"I have three brothers, so when one of mine got married last year he didn't pick one of us," he says. "It all depends on the relationship. But this is now pretty common.
"But what this shows is that this is a more modern royal wedding - they aren't doing what previous royals did."
Whether or not this is true, it seems likely that attendees of this particular reception will look forward to the speeches with an unusual degree of anticipation.
Related Internet Links
The BBC is not responsible for the content of external sites.