Who, what, why: When is a sex offender not a risk?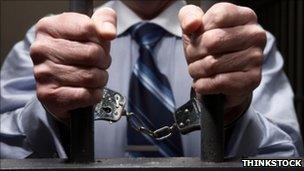 Criminals have won the right to appeal against their names staying on the sex offenders register for life. But is it possible to judge whether they no longer pose a threat?
Allowing those convicted of serious crimes in England and Wales to challenge their life-long duty to notify police of their whereabouts may be controversial, but ministers insist they have little choice.
After the UK Supreme Court ruled that denying offenders the right of appeal was incompatible with their human rights, the government has proposed a system under which they could be removed if they proved they no longer posed a risk to the public.
Criminologist Prof David Wilson of Birmingham City University, who once worked on the sex offender treatment programme at Grendon prison, says psychological profiling can indicate whether such a criminal is less likely to re-offend - but ultimately, the nature of the offence makes it impossible to be absolutely certain.
"It's incredibly difficult to have confidence that someone has changed their behaviour if they are a sex offender," he says. "The only real indication is if they stay out of trouble for a significant period of time - five, 10, 15 years."
The plans will affect individuals placed on the register for life - those sentenced to more than 30 months for a sex-related crime. Currently there are about 20,000 such offenders in England and Wales.
Deputy Prime Minister Nick Clegg has said the government had to act on the ruling, which cannot be appealed against, but promised public safety would not be weakened. Scotland has already brought forward plans to allow convicted adults to seek a review after 15 years on the sex offenders register.
Prof Wilson says he is sceptical about the proposals, though, because, typically, sex offenders are more adept than most criminals at concealing and adapting their behaviour to anticipate the reaction of the authorities.
Moreover, he adds, victims of sexual offences are less likely to report them and may wait years before doing so - making the perpetrators harder to assess and monitor.
On the surface, official statistics for 2008 (PDF) suggest the re-offending rate for sex offenders is low at 26.8%, compared with non-serious violent crime (33.5%), robbery (38.1%), public order or riot (36.6%), and domestic burglary (53.9%).
However, a Home Office study published in 2003 (PDF) looked at the success of sex offender treatment programmes and found that the recidivism rate - a more comprehensive measure of behaviour - was more than five times that of the re-conviction rate.
"Often these offenders are incredibly furtive," Prof Wilson says.
"They may have committed many, many offences before being caught - their conviction is only the tip of the iceberg."
Nonetheless, he says, there are techniques which allow the authorities to assess sex offenders and judge their likelihood of reoffending.
One of these is through so-called circles of support and accountability - groups of community volunteers who form a social network around the criminal to support their rehabilitation.
Another, more typically used within the prison system, is intensive psychodynamic therapy which aims to get them to confront their offending behaviour and develop strategies to prevent it reoccurring.
Harry Fletcher of the National Association of Probation Officers says such techniques can be effective.
"They might be taking medication to control their behaviour - we can't force them to do that though - or they might submit themselves to certain psychological tests, like lie detector tests, to try to prove they have changed," he says.
"They might have to abide by certain curfews, such as during school hours.
"However, sex offenders are very often in denial and don't believe that what they've done is wrong so we have to take that into account when thinking about re-offending.
"Those who work with them don't talk about cures, they talk about containing and controlling their behaviour, teaching them that it's wrong and helping them to avoid triggers that might cause them to regress."
Mr Fletcher says he believes it is right that an individual can appeal to be removed from the register if they are no longer a threat, but warns that cutbacks may mean that police may have less scope to monitor offenders by making unannounced visits.
However, Donald Findlater, of child protection charity the Lucy Faithfull Foundation, said he felt the opportunity to be removed from the register after a long period of time could be a positive incentive towards good behaviour.
He said that for every one of the 35,000 registered sex offenders, there were probably at least 10 who had committed offences but never been caught.
"The register, the police, they can't be the ones who keep us safe. It's all of our jobs to look out for the sort of behaviour that shouldn't be happening and to do something about it."
Related Internet Links
The BBC is not responsible for the content of external sites.