Who, what, why: What do you put in nine bins?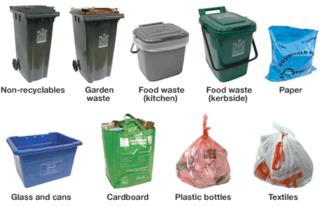 A council has faced criticism for asking householders to sort their refuse into nine different bins. What goes into them?
To supporters, it is an effective way to boost recycling. To critics, it is, well, a load of old rubbish.
A UK-wide survey of waste collections found that Newcastle-under-Lyme provided its residents the largest number, offering them no fewer than nine containers.
The authority uses separate bins for:
refuse
glass and cans
garden waste
And plastic bags for:
cardboard
paper
textiles
plastic bottles.
It also hands out two food waste caddies:
one for putting food scraps in for the kitchen
and another for kerbside collection
The authority's status as the one which provides its residents with the greatest multiplicity of waste receptacles was revealed in a survey by the TaxPayers' Alliance, which lobbies for lower taxes and greater government efficiency.
Although Newcastle-under-Lyme is the only authority in the UK to offer nine bins, some 20 councils are not far behind, providing no fewer than seven, according to the study. These include Aberdeenshire, Middlesbrough, Neath Port Talbot and Warwick.
At the other end of the scale, however, two councils - Dumfries and Galloway and the Isles of Scilly - collect just one bin.
Certainly, local authorities are under pressure to improve the amount that they recycle. They can be fined for sending waste to landfill and for failing to meet European Union targets.
This appears to have made an impact, with 40% of England's household waste now being recycled, composted or reused.
However, it has provoked a backlash among some residents of Newcastle-under-Lyme. Sylvia Butler, who lives in the Staffordshire town, urged the council to simplify collections.
"We just want a more streamlined system," she told BBC Radio 5 Live.
"For people like me who live in a terraced house, or people in flats, it is a nightmare knowing where to keep all these containers."
Indeed, critics argue that providing too many bins places too heavy a burden on householders and could actually deter people from recycling.
Chris Daniel, a policy analyst for the TaxPayers' Alliance, argues the situation is "ridiculous" and that imposes "needless pressure on households". The Department for the Environment, Food and Rural Affairs says nine bins "seems over the top".
However, Trevor Nicoll, head of recycling and fleet services at Newcastle-under-Lyme Borough Council, defends the nine-bin system.
He says that the council have managed to save £500,000 from his department's budget and that the borough's recycling rate had gone up from 27% to 50%.
Mr Nicholl argues it is wrong to imply that households were compelled to fill nine containers every week.
"There's no compulsory requirement for people to use the system - basically, people can be flexible to use the container they need for the service they want," he says.
"The reason we've gone for a bag system rather than bins, where other councils maybe have three or four wheelie bins, is that it can be flexible so if you haven't got the space they can stack back into the other boxes, so it's being flexible for the needs of different people."