What can the old and young learn from a life swap?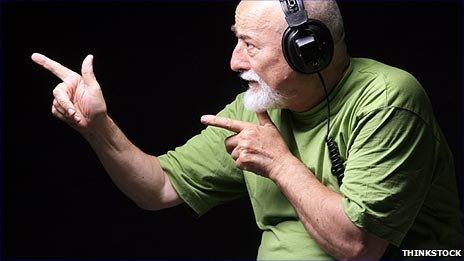 Age is said to come with wisdom, but do the young still expect to learn from the old and can they teach their elders anything?
At 73, Betty Dunbar admitted it was years since she had sat down to talk with a teenager. And her opinion of them was not good.
"The youths that I've come across are obnoxious," she says. "Respect? I don't think there is any."
Living in a retirement village in Surrey, she is one of four million pensioners in the UK who live isolated from younger people.
So when four young people spent three weeks with Betty and her neighbours, both young and old found they still had some life lessons to learn.
Never too old to have fun
A good night out for 83-year-old Roy Hone normally sees him spending time at his local bowls club.
But while spending a week with 24-year-old beautician Zoe Day, he ended up in a gay bar in Southampton, singing karaoke into the early hours and trying his first "jagerbomb" - a cocktail where a shot of Jagermeister is dropped into a glass of Red Bull.
He says spending time with Zoe gave him "a new lease of life".
"I shall go back invigorated and I'm thinking of doing all sorts of things as a result," he says.
Trevor Syson has played the harmonica and guitar for decades, but the 69-year-old said he found it harder now as he suffers from Parkinson's disease.
He bonded with 21-year-old Jonny Rowland over their love of music. The young musician even got Trevor up on stage with his band, to rapturous applause.
"If you start thinking you're old you'll get old. You need to still think you're young," says Trevor.
"I've felt younger by many years just being around Jonny and his pals. I may limp around a bit, but I don't half feel like getting up and dancing."
Betty spent a week with 19-year-old Jace Russell, 54 years her junior, and his family in Hertfordshire. During her stay she was introduced to surfing, both online and in the sea.
Jace helped Betty find her estranged daughter on the social networking site Facebook.
"It has made me think about my daughter. I think eventually I will get in touch with her. I do miss her," says Betty.
She was also the only one of the older group who tried out surfing with the young adults on a break in Cornwall.
"I think it has reignited a little bit of youth in me because I've done things which I didn't think I could manage to do."
John Hemsley knew he was totally out of touch with the young. The 89-year-old also had strong views on single-parent families, saying youngsters who are not raised by both parents "go bad".
"Single-parent families, they aren't families because they're missing so much," he initially said.
But his opinion was challenged by 18-year-old law student Estenetia Davidson-Porter, who was bought up by her mother.
"I don't think I've turned out bad at all," she says. "My mum has been my mother, my father, my sister, my cousin, all in one. I put my hands up greatly to her and if I'm half the mother she is I'd be very proud."
She encouraged John to change his view.
"I'm pleasantly surprised," he says. "She's an exception to what I'd believed all my life."
The issue of the acceptance of different races also reared its head, with some of the older generation admitting they were on a steep "learning curve".
Margaret Climpson, who is 83, was not the only resident to admit she had "no close connections with people who are black".
She spent time in Manchester with Estenetia's family, who identify themselves as British and Jamaican.
"When I was young I had never seen a black person walking around the streets in England so can you perhaps understand what a change it is," she says. "And not everybody has adapted to it very well."
Estenetia challenged Margaret's opinions, saying they were out of date.
"In the future, however hard it may be, I'll keep my judgements to myself about people until I figure out who they are," says Margaret.
Both young and old bottled up painful memories and emotions, but found talking about it helped. Zoe found she had not dealt with losing her father last year, and Roy revealed his pain at losing his wife 19 years ago.
"I've learnt the importance of talking to people about about how you feel and dealing with grief as soon as you can and not bottling it up," says Zoe.
Jace struggled to talk about his father, who has lived in the US for years, but Trevor helped him find the courage to get in touch with him.
"When you work together with people things happen," says Jace. "When you're by yourself and you dwell on it, it becomes larger."
He found he could finally move on and mark "the start of a new chapter".
Six million people are providing care for an elderly relative and it could be something that Zoe, Jace, Estenetia and Jonny will have to do in the future.
Some of their views were as out of touch as the older generation. Estenetia initially thought the "whole atmosphere of an old person is like death".
But after being a carer and spending time with the older generation, she says she was wrong.
"I surprised myself. I thought I was a little bit selfish, I didn't think I had that carer instinct in me. The experience has been a big but good event that's changed my attitude towards older people and caring."
Zoe found age was just a mindset.
"The generation gap is more a breakdown in the communication between the generations," she says.
"Just to be able to sit down and talk to someone and understand how they're feeling, you don't feel the years between you."