What's it like being a bodyguard?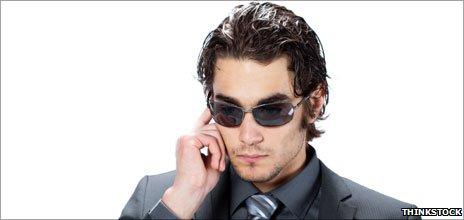 The close protection industry is flourishing, but is the life of a bodyguard really anything like the movies, asks Yasmeen Khan.
"Give me your money now! Now!" The man shouting doesn't seem able to intimidate the woman on the receiving end.
Calmly and confidently she puts one hand over the barrel of her assailant's gun and the other hand on his wrist before pulling him towards her in a move that totally disables any movement on his part and gives her control of the gun.
This is not an attempted mugging, but a simulated one on a training course for bodyguards - or to give them their proper name, close protection officers.
Once seen as the preserve of royalty or celebrities, private close protection officers are now in demand for an increasing range of clients.
The growth in the number of high net worth individuals over the last 20 years has certainly fuelled demand; in recent years when the size of their bonuses became public, City bankers attracted the wrong kind of attention and many were reported to have employed protection for themselves and their families.
Mega-rich clients face the threat of kidnapping or the kidnapping of their children, so some protection officers are employed to do the school run. There is also the risk of attempted assassination if they are dignitaries. For some, it may be more about a perceived threat than an actual one.
Jamie, ex-marine, experienced close protection officer and chief instructor with training provider Task International, believes many potential trainees don't understand what close protection involves.
"People enquire about the training course thinking that they're going to be wearing dark suits and dark glasses and be doing handbrake turns as they chase the baddies away from their boss.
"In reality, the job requires you to have a multitude of skills covering everything from being organised and doing surveillance to even being a bit like a PA for your principal. As for guns, well any private protection officer has to do their job by the laws of the land - which obviously means that in the UK you can't carry firearms."
Perceptions of the close protection industry are shaped by films and television. On one hand there's the suave, sophisticated security operative in a suit, like Kevin Costner in The Bodyguard. At the other end of the scale there is the "bit of muscle" looking after his boss who deals in less than legal activities, as per Dennis Waterman's role in Minder.
According to those in the profession - which in the UK requires you to have taken approved training and to have been granted a licence from industry regulator the Security Industry Authority (SIA) - popular though these two on-screen depictions are, neither is realistic. Jamie acknowledges, however, that there is demand for different types of protection officers.
"For those in the limelight, it's sometimes about having someone who looks intimidating; someone who can keep an over-eager fan, paparazzi or even a potential stalker at bay. But it's also sometimes about show - the more famous you are, the bigger and more obvious your protection often is; Simon Cowell was often pictured on X Factor with his very noticeable minder.
"In reality you don't need someone huge or visible to protect you, in fact it's often about being someone who can just blend into the background, someone who just looks like the rest of the group."
The need to blend in is most apparent in the corporate world, and this, according to security expert Will Geddes, is one of the biggest growth sectors in the close protection industry.
"The corporate need has always been there, but as companies develop into emerging markets or volatile parts of the world in which there is potential civil or political instability, they have an increasing duty of care towards their employees. If they're sending them to these potentially high risk environments they need to give them protection so they can do their job."
In the current climate of political unrest and civil uprisings, the role of the close protection officer is key. Jamie was sent out to Egypt at the height of the recent uprising to help evacuate ex-expatriate staff working for a multinational company.
"When it's situations like Egypt, we will go to get staff to safety, to get cash and medicines to them, to get them out of the country and to make premises secure. The job may seem exciting and the money can be very good, but going to Egypt was an example of having just a few hours notice that I'd be needed. As soon as the call comes, you have to drop everything. You pack your bag and off you go, sometimes without knowing when you'll be back.
"The flipside of the work is when you're standing protecting someone who is having a good time. They could be in a nightclub enjoying themselves with a group of friends but for the protection officer it can means long, boring hours standing around keeping watch."
One of Jamie's longest contracts was the protection of an Arab princess, for whom he used a team of six including two women. If an Arab princess needs to go shopping for lingerie, for example, then having a burly man in tow is not going to be discreet.
The need for female protection officers is a key growth area. Sophie was the only female participant on the training course she was taking, but with a military background she is typical of those who go into close protection.
"After spending several years in the military, I couldn't imagine myself doing a regular nine-to-five job. I want to be able to use my military training in a new career and also set a good example to encourage other women into the industry."
According to the SIA, there is a small but growing number of women doing the training and applying for licences. Certain cultural groups, for example some Muslim families, will insist on having female close protection officers for female principals.
It's when male officers have female clients that the issue of getting too close often arises.
"Sometimes when a female principal is being protected by a male, the cliché of the knight in shining armour prevails and we have seen a couple of notable cases where relationships have commenced. To me, that is the cardinal sin of our profession; we're often protecting people who are at their most vulnerable and to cross that line of trust is wrong," says Will Geddes.
What about the ultimate sacrifice - is it your duty to take a bullet for your client? Every protection officer asked answered an unequivocal yes but also cautioned that the job is actually all about good planning to ensure that the situation never arises.
"In the event that the planning has failed and an armed assailant does come into the equation, close protection officers are taught to use their body to protect their principal," explained Jamie.
"But whether it would be a conscious decision to leap in front of a bullet like you see in the movies - well how you would really react in a situation like that is something we can't teach."