Wedding rings: Have men always worn them?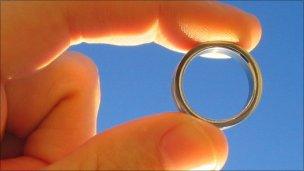 A generation or two ago, a British prince choosing not to wear a wedding ring would have barely drawn comment. But the headlines that followed that decision by Prince William show that rings for husbands are now the norm.
William's decision not to wear a wedding ring isn't unique even in his own family. Prince Charles does wear one - next to a signet ring on the little finger of his left hand - but the Duke of Edinburgh does not.
Those contrasting decisions may to some extent be considered a product of the times in which William's father and grandfather were each married.
While the wearing of wedding rings by brides has been traced back to ancient Egypt, it is only in the latter part of the last century that more than a small minority of bridegrooms began doing the same.
World War II is considered to have heralded a seismic shift, as many Western men fighting overseas chose to wear wedding rings as a comforting reminder of their wives and families back home.
"The mid-20th Century is when it becomes mainstream," says Rachel Church, a curator in metalwork at the Victoria and Albert Museum.
"That's when men started to be expected to wear wedding rings, and nowadays when you hear men don't want to wear them you think that it's a bit odd."
Probably the most common explanation is the one that has been given for William's decision - a royal aide was quoted as saying he "isn't one for jewellery".
But in other cases of ring refusal, an underhand motive is often inferred, as shown in a discussion on parenting website Mumsnet that came in the wake of the Prince William announcement.
"It's so he can pick up girls in bars anonymously, no?" joked one contributor. "Perhaps he doesn't want anyone to know he's married cos it'll cramp his style," suggested another.
The marital status of the man second-in-line to the throne is obviously never going to be much of a secret, not least after a wedding expected to be watched by up to two billion people later this month.
But, given that a wedding ring can simply be removed, is a desire not to deter a potential mistress really going to be the reason some men decide against wearing one in the first place?
"I don't think it's anything suspicious," says David Miller, director at etiquette guide Debrett's. "It used to be very uncommon for men to wear wedding rings, and is now becoming accepted practice.
"I don't think a band on the finger will guarantee anybody's fidelity - there are some more primitive urges at play there, I would suggest. But it's a statement of commitment. It's a celebration as well."
The rise in popularity of men's wedding rings has been part of a wider boom in jewellery worn by men, which Miller traces back to the 60s and 70s and the arrival in the UK of Continental fashions for men's neck chains and bracelets.
"Some of it was of questionable taste - we all remember 'medallion man'," Miller says.
But as long as it is "tasteful, discreet and appropriate", Debrett's considers men's jewellery - wedding rings included - a matter of "personal choice".
Historically, another reason a wedding ring was worn only by the bride was because it has served at times to represent ownership by her husband.
Therefore the advance of women's rights in the last century may also help explain why the exchange of two rings in the marriage ceremony became common.
"Maybe men and women both wearing weddings rings is a sign of more equality - it's supposed to be something that ties them both in the same way," says Church.
What will probably never be equal, though, is the relative attention on each of the bride and groom on their wedding day.
William's decision against wearing a wedding ring is unlikely to spark a trend because there is not the necessary interest among men, Miller suggests.
Whereas, he says, many women will be scrutinising events on 29 April, picking up ideas and, come their own big day, hoping to make themselves look just like the royal bride.
"I think there is going to be greater, more significant impact in terms of how Catherine appears, than how William appears," Miller says.
For the most part, after all, it's the bride's day.