Is stenography a dying art?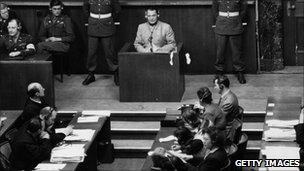 Court stenographers are being phased out in England and Wales with the last contract - at the Old Bailey - set to expire in March 2012. But what is a stenographer and are they no longer needed?
The "speed of speech" is often defined as 180 words per minute (wpm).
Anyone who has ever tried to take a note in longhand at that speed will tell you it is impossible.
Many journalists who learn shorthand struggle to hit 100 wpm.
So the only way to keep up is through a stenographer - a skilled professional using a stenotype machine.
The machine has a minimal keyboard, which omits key letters like i, m or n, and by hitting a combination of keys - known as chords - they can produce the missing letters or phonetic sounds like "th" or "sh".
"Stenographers vary greatly. The difference between the best and the rest is like a concert pianist and a pub pianist," says Mary Sorene, a stenographer who started work at the Old Bailey in 1971.
To increase their speed, stenographers learn hundreds of shortforms and memorise chords in certain orders so their hands can move swiftly from left to right.
"I have memorised lots of shortforms, for example MORJ, is My Lord and the jury," explains Sally Lines, a court stenographer at the Old Bailey.
The advent of high-quality audio recordings and digital storage has inevitably cast a shadow over court stenography. The Ministry of Justice has decided to dispense with stenographers and replace them with a Digital Audio Recording and Transcription and Storage (Darts) service. It believes the new system will be cheaper and deliver good results.
But stenographers don't believe it's a wise decision.
"The strength of stenography is that if you are listening to something on a tape it's hard to distinguish tiny nuances. Sometimes you need to almost lip-read. Sometimes there is patois or slang or you need to know the context of the case," Ms Lines says.
Some judges are believed to be unhappy with the changes too but so far none has put their head above the parapet.
Texas-based stenographer Mark Kislingbury holds the world record for note-taking at speed - a jaw-dropping 360 wpm.
He says: "In important cases - anything higher than a traffic court - we really need a human there."
A spokesman for HM Courts Service says Darts would begin rolling out at all 97 Crown Courts in England and Wales in June and the process would be completed in March 2012.
He says it would result in "efficiency savings by eliminating the need for separate court loggers/stenographers during proceedings".
The Courts Service currently pays a number of private transcription services, which staff courts with stenographers.
Mrs Sorene, who trains stenographers, says: "It's basically trying to do justice on the cheap. Machines can't be trusted. Sometimes you have child witnesses, poor things, who are sometimes whispering."
Ms Lines says: "In court, during cross-examination, you often get two people speaking over each other and you always go for the witness. Sometimes you have to shut out the barrister and just take down what the witness says because that is evidence.
"Will a machine be able to do that?"
The National Court Reporters Association represents 20,000 stenographers in the United States and its senior director, Jim Cudahy, says: "In capital murder and felony cases they are almost always going for stenographers."
But in March 2012 the last stenographer will down their tools at the Old Bailey and hand over to the automated era.
The HM Courts Service spokesman accepts the new system will involve additional duties for court clerks, who would be given the responsibility of supervising the recording, but adds: "We are satisfied that there are sufficient Crown Court staff to cover supervision of digital recording and other duties."
While stenographers will no longer be a fixture in court cases, there is a bright future for them elsewhere.
Merrill Legal Solutions, which employs an army of freelance stenographers, has had to diversify.
The company's director of resourcing, Anne Kiss, says: "We have all sorts of clients. Our private diary includes public inquiries, Parliamentary select committees, AGMs, shareholder meetings, roadshows, press conferences, disciplinary hearings, captioning (for television), even the Baftas.
"We were hired recently by Warner Brothers who wanted a stenographer in each room to take down a note of interviews by actors promoting a film."
So while court stenography closes down one avenue, the worlds of business and showbiz are opening up others.
But stenographer Chris Grzesik is thinking of quitting altogether once the Old Bailey contract runs out.
"Covering annual general meetings and shareholders' meetings sounds so dull. The primary reason I'm a stenographer is that I like being at the Old Bailey. It's the best theatre in the world," he says.
Related Internet Links
The BBC is not responsible for the content of external sites.