Is dangerous cycling a problem?
By Jon Kelly
BBC News Magazine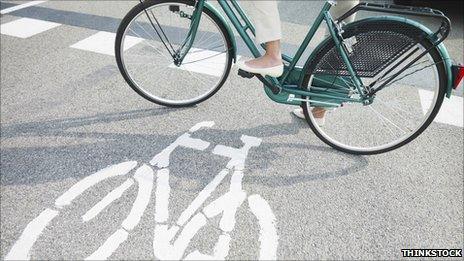 MPs could introduce a new offence of causing death by dangerous cycling. But how much of a danger do these two-wheeled travellers really pose?
There is little that divides UK public opinion more sharply than cyclists.
To their supporters, Britain's bike-riders are clean, green, commuters-with-a-conscience, who relieve congestion on the nation's roads while keeping themselves fit.
But to certain newspapers, and indeed plenty of motorists, they are "lycra louts", jumping red lights, hurtling past pedestrians on pavements and denying the Highway Code applies to them.
Now this debate - regularly articulated, with the aid of Anglo-Saxon dialect, during rush-hour traffic - has found a forum in the House of Commons, where MP Andrea Leadsom has introduced a private members' bill to create new crimes of causing death or serious injury through dangerous or reckless cycling.
She cites the case of Rhiannon Bennett, who was 17 when she was killed by a speeding cyclist in 2007. The cyclist - who, the court heard, had shouted at Rhiannon to "move because I'm not stopping" - was fined £2,200 and avoided jail.
The MP, herself a keen cyclist, insists she does not want to penalise Britons from getting on their bikes. Her intention is to ensure all road users take "equal responsibility" for their actions, as drivers are already subject to analogous legislation. The government has said it will consider supporting the bill.
But the discussion raises the question of how much of a danger bicycles actually pose on the nation's roads.
Cycling campaigners insist the popular perceptions of rampaging cyclists are not supported by statistical evidence. According to the Department for Transport (DfT), in 2009, the most recent year for which figures are available, no pedestrians were killed in Great Britain by cyclists, but 426 died in collisions with motor vehicles out of a total of 2,222 road fatalities.
Indeed, bike riders insist it is they who are vulnerable. Of the 13,272 collisions between cycles and cars in 2008, 52 cyclists died but no drivers were killed.
Alex Bailey of the Cyclists Touring Club (CTC), which lobbies on behalf of bike users, says valuable parliamentary time could and should be used more effectively to improve road safety. He says there is no need to change the law as twice in the past decade an 1861 act has been used to jail cyclists who killed pedestrians while riding on the pavement.
The notion of the marauding, aggressive cyclist causing rampage on the road, he insists, has little grounding in fact.
"It has a lot of currency in the media," he says. "But it's emotionally based, not rationally based. The problem is not about cyclists at all."
Certainly, few would argue that the boom in cycling has led to a transformation in the activity's public image.
Once it might have conjured up images like that of George Orwell's old maids "biking to Holy Communion through the mists of the autumn mornings".
Now, at least in built-up areas, one stereotype, rightly or wrongly, is of well-paid men in expensive leisurewear with a sense of entitlement and a refusal to conform to the same rules as everyone else.
Tony Armstrong, chief executive of Living Streets, which represents pedestrians, says that while most cyclists behave safely, it should not be ignored that "a significant minority cause concern and fear among pedestrians by their reckless and irresponsible behaviour".
He acknowledges deaths and serious injuries caused by cyclists are relatively rare, but adds that the impact of more mundane anti-social behaviour is more difficult to quantify.
"Although fatalities are recorded, there is no way of measuring how many people have been intimidated or left feeling vulnerable by irresponsible cycling," he says. "We know from our supporters that this is a major concern."
Indeed, Professor Stephen Glaister, director of motorists' advocacy group the RAC Foundation, suggests much of the hostility on the roads stems from a lack of understanding and suggests levelling out the legislation would reassure drivers that the rules were being applied fairly.
"In some ways, road users are tribal in their nature; loyal to their fellow drivers or cyclists, and dismissive of - or antagonistic towards - those who choose to travel by another method," he says.
"Subjecting everyone who uses the public highway to the same laws might actually forge better relationships between us all and erode the idea held by many that those who travel by an alternative mode routinely make up rules of the road to suit themselves."
But some bike-users reject the idea that anecdote and mutual suspicion should drive policy.
In particular, Guardian columnist and cycling advocate Zoe Williams says she is exasperated by the references to red light-jumping whenever bikes are discussed.
She insists the practice largely stems from fear, not arrogance, due to the high number of cyclists killed each year by heavy goods vehicles turning left at junctions, and says ministers should concentrate on tackling such deaths if they really want to make the roads safer.
She adds: "Can you imagine if every time we talked about cars people complained about drivers doing 80mph on the motorway?
"Most cyclists are actually pretty timid. You're constantly living on your wits because you're vulnerable. Instead of drawing up laws like this we should be encouraging cycling and making it easier."
The discussion will continue at Westminster. But legislating away the antipathy between cyclists and drivers will surely be a momentous challenge for MPs.
Related Internet Links
The BBC is not responsible for the content of external sites.