Royal wedding: How do you commentate on a big occasion?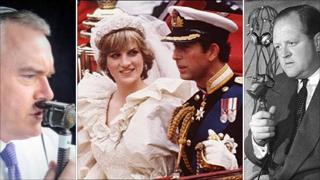 Millions will watch this week's wedding of Prince William and Kate Middleton, but what exactly goes into commentating on a big occasion like this?
It's about getting the balance right.
Saying too much can spoil the viewers' experience.
Saying too little can have the same effect.
You learn from experience, and by studying the work of the masters. The late Tom Fleming, doyen of television commentators, set the highest standards. His attention to detail, his use of language, his great sense of occasion - all these combined to make memorable broadcasts.
"The majestic Life Guards, distinctive white plumes fluttering, cuirasses glinting in the autumn sunshine, escort the princess along the Mall, and she really does look very lovely indeed."
True, some people consider his style to be far too formal and rigid for television in the 21st Century. His virtuoso effort at Princess Anne's wedding in November 1973 might seem impossibly old-fashioned today, but I am a great admirer.
That live programme lasted nearly four hours, and Tom provided an endless flow of elegant, dignified commentary throughout.
The homework is essential. My BBC colleague Poppy Walmsley has worked with me for several years on big state events and she is a real expert at digging out all the facts and figures. I will add my own research to Poppy's work and then try to absorb as much as possible.
It reminds me of cramming for my French A-level and learning endless verses of poetry by Baudelaire, Hugo and Verlaine.
There will be a mountain of paper but most of that will not be accessible when we're on air. There'll be no time to start rummaging through piles of cards and sheets.
Let's just say it's a good memory test.
Past royal weddings are the best starting point. The processional route (along The Mall, across Horse Guards, down Whitehall to Parliament Square) is mostly unchanged.
The one exception was Charles and Diana's wedding in 1981 which took place at St Paul's, but aspects of that live broadcast, presented by Angela Rippon, have also proved extremely useful in preparing for Prince William and Catherine Middleton's big day.
The 1981 coverage broke new ground: it successfully combined casual, chatty studio presentation with Tom's formal commentary on the processions and the marriage service. The team of presenters was very familiar to the audience - John Craven, Eve Pollard and Michael Wood provided really entertaining coverage.
It is still a very good watch today, 30 years on - a real tribute to the producers and presenters.
Achieving that magic balance of informal and formal is our goal in 2011. We want to have fun. We want to enjoy. It's a bank holiday, after all. People will be in a mood to party all day long. But when we turn to the main event, the service at Westminster Abbey, we have to change tone as unobtrusively as possible.
That change is more difficult to manage when the main anchor is also the one providing commentary on the processions and the service, as David Dimbleby did in 1986 for the wedding of Prince Andrew and Sarah Ferguson, and as I will be doing this year.
Some people consider the main challenge for the commentator is to be able to spot hundreds of individual guests and name them immediately.
I can state with confidence - and some relief - that this was clearly not Fleming's priority. He took the view that only the most important and interesting guests were worth naming. That left hundreds of others who faded into the background.
It's a sensible approach but it still leaves a dauntingly long list of people to get to know.
The Middleton contingent will sit opposite the Queen and her family in the Abbey. There will be plenty of time to dwell on these groups and to offer some interesting facts about them.
Nearby will be a group of around 40 members of foreign royalty whose links with the House of Windsor will also have to be explained. And then we'll have the massed ranks of diplomatic guests representing some of Britain's most important allies, among whom the Commonwealth leaders will take pride of place.
Then there's the celebrity guests, including the Beckhams.
A good deal of the commentator's preparation has to be done by visiting some of the key locations involved.
The Royal Mews is certainly one of them. Tucked behind Buckingham Palace, this is where the carriages, horses and limousines are kept and prepared for the big events. We'll find out the details and history of each carriage, we'll need to know which horses are being used, and we'll get some interesting behind-the-scenes facts to reveal to viewers on the day.
Jack Hargreaves, the head coachman, is always ready to share his remarkable knowledge. He will have a very prominent role in the main procession.
Above all, the commentator's job is to enhance the viewers' enjoyment, to explain the things that need explaining, and to let the other images do their own talking.
When BBC One transmits the opening titles on the morning of 29 April, our five-and-a-half hour broadcast will begin. There'll be plenty of nerves, but the entire team is determined to provide the best-ever coverage of a royal wedding for our viewers.