Graffiti campaigns that stuck in the mind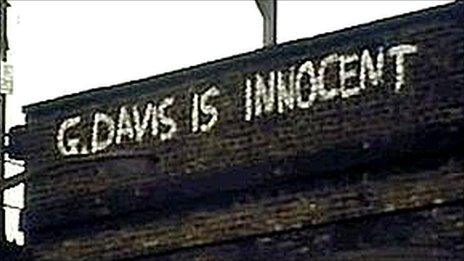 Years after a high-profile graffiti campaign proclaiming his innocence, George Davis has had his robbery conviction overturned. But his was not the only slogan to be sprayed across the UK's motorway and road bridges.
It made him a household name in the 1970s, as well as part and parcel of motorway journeys.
While unauthorised graffiti was - and still is - illegal and treated as criminal damage, as well as often dangerous, it didn't stop George Davis's supporters. They daubed slogans including "G.Davis Is Innocent OK" and "Free George Davis" across railway and road bridges around the UK.
It was one of the first incidences of high-profile graffiti on motorway and road bridges. But there have been others over the years.
In 1975 George Davis was sentenced to 20 years in jail for a bank raid in Ilford. He protested his innocence and one of the defining graffiti campaigns was born.
The phrase "George Davis is Innocent OK" began appearing around the east end of London, where he'd grown up, before ending up on motorway bridges on the M1 and elsewhere. His sentence was remitted two years later by Royal Prerogative, but he was later jailed for a separate armed robbery.
Mail on Sunday legal affairs editor Robert Verkaik says the graffiti campaign meant he was never forgotten. "It had very little impact on his case, but it kept his campaign alive."
The use of the word "OK" now reads strangely but was common in graffiti culture of the time, he says. The phrase endured and allowed him to rise above the average criminal.
"It was an odd phenomenon given that he's a bank robber and basically an East End villain," says Verkaik. "It's amazing that nearly 40 years later people know who he is. It may be the original viral protest campaign."
The 2004 Hunting Act, which banned fox and stag hunting and hare coursing, was always controversial. So were the tactics used by some of those who were against it.
Hunt militants started a campaign of civil disobedience, including blockading motorways and daubing graffiti on motorway bridges, road signs and roundabouts. Slogans included "Rural Rebellion" and "Free Country"..
A group calling itself the Real Countryside Alliance (RCA) claimed it was responsible for the action. Many hunt supporters were not in favour, with the Countryside Alliance distancing itself from the action.
Things went too far for many people when the RCA painted a rider in full hunt regalia on a white horse at Kilburn in North Yorkshire, which dates from 1837. It also painted three white hounds and a rider on the Bronze Age white horse at Uffington in Oxfordshire.
In the mid 1980s three words suddenly appeared on walls and bridges in Manchester - The Stone Roses. The new band were struggling for attention, says John Robb, a music writer but in those days part of a band, the Membranes, who shared rehearsal space with the Stone Roses.
"Reni [the drummer] said he saw our name everywhere. I told him that in the days of punk you self-publicised, you put up your name everywhere. He thought that was amazing."
A week later the graffiti appeared. It was sprayed in black every 50 yards on the road between Didsbury and Manchester city centre. Rumour has it lead singer Ian Brown and Reni were responsible.
"It could have been a coincidence, or the roadies or the band who did it," says Robb. "It got them local notoriety - the music industry inner circle thought they were hooligans. But it started people talking about them and that's one thing you want as a band. And the Roses broke through in the end."
At one point it was reportedly plastered over 150 motorway and road bridges, causing much head scratching among drivers trying to work out what it meant. Gouranga even spawned its own game, much like the Eddie Stobart lorry-spotting one.
The word began to appear in the 1980s and is thought to derive from the Hare Krishna term Gauranga, meaning "peace my brother" or "be happy" - depending on translation.
It became so well known that the word started to appear elsewhere. Indie band Half Man Half Biscuit's song Twydale's Lament contains the line: "Gouranga Gouranga, yes I'll be happy when you've been arrested for defacing the bridge." The phrase also features on the video game Grand Theft Auto.
It's never been confirmed who did the graffiti, but one man claimed to be the instigator on the Guardian's Notes & Queries webpage.
"I began in the north west in the late 80s," he wrote. "Gouranga is a state of mind that can be induced by simply saying the word. I was prompted to begin my campaign following a tragic loss of a loved one from which I thought I would never recover. Of course I did, and ever since I have wanted to 'pass it on'. Pass it on."
The campaign group Fathers 4 Justice has used motorway gantry banners to raise awareness. In one case in 2009, Geoffrey Hibbert climbed onto a gantry on the M25 dressed as batman and proceeded to unfurl a series of banners. Police shut a section of the motorway, leading to long tailbacks.
Fathers 4 Justice founder Matt O'Connor says the motorway tactic - inspired by the fuel protests - are an easy way to get publicity.
He estimates that 15,000 drivers spotted the banner and a further four or five million saw the story in the media.
The tactic is divisive, but he says it's a price worth paying. "Some people will hoot in support, others are annoyed. But we think it's worth taking the hit for the greater good."
For drivers on the M25, they know they're between junction 16 and 17 in Buckinghamshire when they spot the seemingly random message "GIVE PEAS A CHANCE" on a motorway bridge.
The person who did it chose a historic bridge. Built between 1902 and 1906, it is the only Edwardian brick bridge on the M25. A historic building report done by Oxford Archaeology says the slogan was painted in two stages. Firstly "PEAS" appeared, then "GIVE" and "A CHANCE" were added later.
It says "PEAS" is the tag of a London graffiti artist and his tag can been seen in many other locations, particularly on bridges. The additional text changing the graffiti to read "GIVE PEAS A CHANCE" is thought to refer to his continual arrests.
The north facing side of the bridge also has some graffiti, saying just "PEAS06".
"The common misinterpretation of the inscription makes the bridge an interesting landmark to users of the M25," says the report.