Been and Gone: Flick Colby, Edward Hardwicke and others
By Nick Serpell
Obituary Editor, BBC News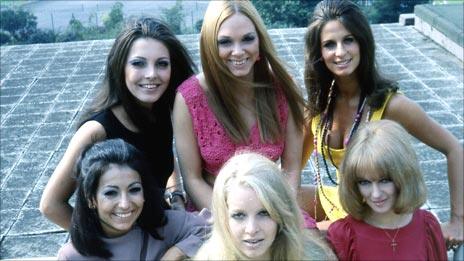 Our regular column covering the passing of significant - but lesser-reported - people of the past month.
Teenagers in the early 1970s were often surprised when fathers joined them to watch Top of the Pops, but they quickly realised parental interest lay not in the music, but the dance group, Pan's People, led by Felicity "Flick" Colby. US-born Colby formed the troupe in London in 1966 and they were soon regulars on Top of the Pops, replacing an earlier group known as the Go-Jos. In the days before music videos, the dancers performed their sometimes raunchy routines when musicians were not available to come and mime their own tracks. Pan's People gave their last performance in 1976 and were replaced by the short-lived Ruby Flipper, also choreographed by Colby. However, BBC bosses were not happy with the mixed-sex line-up and Colby launched a new all-girl troupe, Legs & Co. They were replaced in 1981 by yet another Colby troupe known as Zoo. However, with the explosion in pop videos, the dancers were now relegated to performing behind the featured band, and Zoo were disbanded in 1983. Colby returned to the US where she married a professor and ran a gift shop.
Several actresses have played the part of Margaret Thatcher, but few carried it off with the aplomb of Janet Brown. Born in Lanarkshire, Brown began acting after World War II, appearing in a number of stage and film roles throughout the 1950s. She was appearing as an impressionist on a TV show when the Iron Lady became Conservative leader and quickly added her to a repertoire which included Pam Ayres and Barbara Woodhouse. Brown became even more in demand when Thatcher became prime minister in 1979 and appeared regularly with the man who was then Britain's best known impressionist, Mike Yarwood. In 1981 she played the prime minister in the James Bond film, For Your Eyes Only. A change in viewing tastes, coupled with Thatcher's fall from power, saw Brown appear more often in TV dramas such as Casualty and Hotel Babylon. Brown once said that it was never her intention to portray Mrs Thatcher in a malicious way and indeed the two women often corresponded.
Acting also lost Dana Wynter, whose most famous role was in the 1950s sci-fi hit, Invasion of the Body Snatchers. Believed by many critics to be a veiled attack on McCarthyism, Wynter played the film's love interest, Becky Driscoll, who eventually fell victim to the Pod People. Hollywood cast her most often as an English Rose although she was actually born in Berlin, the daughter of a British surgeon and his Hungarian wife. She began acting while at school in South Africa before getting bit parts in various films including The Crimson Pirate, featuring Burt Lancaster, which was filmed at Teddington Studios in Middlesex. She moved to the US but, despite picking up a Golden Globe for most promising newcomer she failed to capitalise on her appearance in Body Snatchers and spent much of her later career in TV drama such as Hart to Hart and Magnum PI, although she did make a cameo appearance in the 1970 film Airport where she was reunited with Burt Lancaster.
The actor Edward Hardwicke can rightly be described as a chip off the old block. The son of the famous thespian, Sir Cedric Hardwicke, he went on to carve out a notable career on the stage, in films and on television. In fact, it was on the small screen that he had his most memorable role as Dr John Watson in Granada TV's acclaimed adaptation of the Sherlock Holmes stories featuring Jeremy Brett as Holmes. While Brett became the definitive Holmes, the actor Simon Callow described his relationship with Hardwicke's Watson as "that of a drowning man clinging to a raft". His early career was based in the theatre, eventually working with Laurence Olivier at the National. His first major TV role was in the 1970s BBC drama Colditz. He appeared in a string of films including The Day of the Jackal, Shadowlands, The Gathering Storm and Love Actually.
With their smooth ballads and clean-cut good looks, the Walker Brothers, fronted by John Walker, attracted an army of mainly female fans during the 1960s. Originally from the US, they achieved their greatest success in the UK with songs such as The Sun Ain't Gonna Shine Anymore and Make It Easy On Yourself becoming big hits. In fact they were not brothers, neither was any of them originally called Walker - it was just a name they liked the sound of. The group split up in 1968 after some internal wrangling and John Walker went on to a solo career although he did not achieve great success. The group re-formed in 1974 and saw the title track of their new album, No Regrets, make the UK top 10 but subsequent recordings failed to engage the fans and they split again, this time for good. John Walker became a regular on a string of 60s nostalgia tours and was still performing in 2010.
In 1969 Elisabeth Svendsen, a Devon hotelier, was walking through a market in Exeter when she came upon a collection of donkeys, crammed into a small pen and obviously in distress. Her attempts to buy the animal in the worst condition failed, but she vowed to set up a charity to look after homeless and neglected donkeys. She established The Donkey Sanctuary in South Devon and, within four years was caring for nearly 40 animals. In 1974 she discovered that an elderly woman had bequeathed her more than 200 donkeys in her will, which led to her giving up her hotel and devoting herself to her charity. As well as dealing with abused donkeys in the UK, the organisation began setting up clinics in developing countries where donkeys, despite being essential beasts of burden are often cruelly treated. By the time of her death her organisation had helped more than 14,000 donkeys and she had gone on to set up a scheme allowing children with special needs to interact with donkeys as part of their therapy.