Has Wayne Rooney dealt well with hair transplant news?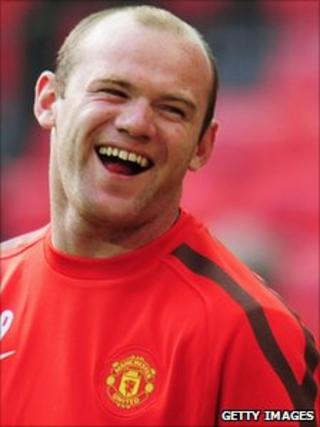 Footballer Wayne Rooney tweeted at the weekend that he had undergone hair transplant surgery, joining a growing list of celebrities who have gone public on such procedures. But how should ordinary men break the news to their friends and family?
For many men, losing their hair is an extremely sensitive issue. Whatever efforts they take to counteract the effects can be embarrassing.
Telling people you have had hair transplant surgery can elicit accusations of "manity" - male vanity.
But Rooney has earned some praise for his approach in going public shortly after his operation, with one commentator from the Irish Times saying he had handled the issue with great style.
"I was going bald at 25 - why not. I'm delighted with the result," Rooney posted at the weekend, adding: "It's still a bit bruised and swollen."
His frank approach elicited a supportive message from Manchester United and England team-mate, Rio Ferdinand: "Just don't go down the wearing a alice band route!! You'll be doing headshoulders adverts soon! Hope its gone OK. Good luck lad."
On Monday, Rooney followed up the announcement by posting a picture of his post-op head on his Twitter feed.
Italy's Prime Minister Silvio Berlusconi took a different approach in 2004. He was subjected to ridicule in the national and international media after wearing a white bandana, leaving commentators and the public playing a guessing game as whether or not he had hair transplant surgery.
He went public months later, saying he felt 25 years younger and that as far as he was concerned cosmetic surgery was a way of showing respect to your loved ones.
Rooney, who has premature hair loss, joins celebrities such as actors John Cleese and James Nesbitt in talking publicly about having hair transplant surgery.
Nesbitt, who spent tens of thousands of pounds on his operation, had been open about his fear of losing his hair. He initially discussed his transplant in a video testimonial for the Dublin clinic that carried it out at the end of 2010.
Virility link
In subsequent interviews, he maintained that it has changed his life and that anyone who says going bald isn't horrible "is lying".
His honesty led one commentator to suggest that he had "played a blinder... a mix of matter-of-fact honesty and bewilderment that people are making so much of it".
To many men, hair loss is a sensitive issue. In many people's minds it is associated with loss of virility and vitality - counter-intuitive given that high testosterone is one of the reasons cited by medical experts for hair loss.
Figures for how many hair transplant operations take place in the UK are hard to come by, but Dr Bessam Farjo, medical director of the Institute of Trichologists, estimates that the annual figure is around 10,000, compared with about 5,000 five years ago.
The surgeon runs his own medical centres, where he says he has seen numbers for these procedures steadily increase, and they are now starting to spike.
But hair transplant surgery is an expensive, painful procedure. Inevitably, men can face a hard time once family and friends get wind of it.
"The implication is that it's a vanity thing," says Mike Shallcross, deputy editor of Men's Health magazine. "But men nowadays want to look better and they want more advice on how to do it. There is a big boom area in male grooming and people do it for different reasons."
He thinks Rooney's approach to going public is a good one.
"I think it was admirable that he was so upfront," he says. "It is worse having had something obvious done, but trying to pretend nothing has happened.
"I don't know of any reason why one couldn't drip it into an exchange of e-mails with your friends - after all, if you turned up at the pub with your mates with a full head of hair, it could become an early talking point.
"Probably with colleagues at work, it's best to tell them in advance. It's a bit like having laser eye surgery, it's noticeable, suddenly you won't be wearing glasses anymore."
Shallcross says it's better not to make too big a fuss when announcing the news.
"The bigger the deal you make of it, the more dramatically people will react."
But, as Shallcross points out, hair transplants are not for everyone who is losing their hair.
"Male pattern baldness is common but many men are wearing it well - gone are the days of the Bobby Charlton combover - there are a lot of men who have made hair loss look cool. Actor Jason Statham is one of our most popular cover stars," he says.
But for those who do go down that route, humour can be key when making the announcement. It was this element that stood out with the Rooney announcement - and his wife's follow-up tweet pointing out that the decision had not been made on account of Coleen badgering him.
"Humour is very important in this kind of announcement," says social behaviour expert Judi James. "People take a lead from your own behaviour, it's good if you can look confident and have a sense of humour. If you show shame of embarrassment it's the worst thing.
"You could mention it beforehand. That will avoid the sniggering, and people are more likely to speak straight to your face about what it was like etc. Wayne has done the right thing - announce it and get it over and done with, and perhaps suggest a date when you will be showing it off.
"If you change your look, the reaction are mostly shock or laughter and actually laughter is not a bad response. If handled well, people will be laughing with you rather than at you."