Is it ever OK to blog under a fake identity?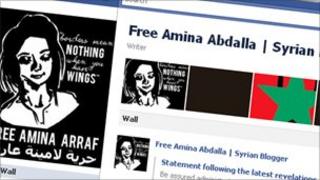 When the identity of "imprisoned gay Syrian blogger" Amina Arraf turned out to Tom MacMaster - a married American man studying in Scotland - the blogosphere was set alight.
"While the narrative voice may have been fictional, the facts on this blog are true and not mısleading as to the situation on the ground. I do not believe that I have harmed anyone."
That's how blogger MacMaster apologised for pretending to be a gay woman called Amina Arraf.
The blog, Damascus Gay Girl, dating back to February this year, claimed to document the life of 25-year-old Amina Abdallah Arraf al-Omari, a half-Syrian, half-American lesbian living in Damascus.
A recent post, which was said to be written by Amina's cousin, said she had been seized by armed men believed to be members of President Assad's Baath party.
Mr MacMaster now admits that he wrote the blog.
Campaigners' uproar
The administrators of the Facebook group "Free Amina Arraf" told their 14,000 followers they were not impressed. "Be assured administrators of this site - who were friends with 'Amina' online - are just as angry as everyone else over the revelation made by Tom MacMaster," it says.
Speaking for gay campaigners in the region, Sami Hamwi is also furious. "I could have put myself in a grave danger inquiring about a fictitious figure."
In the same article in Gay Middle East, David Nasser says his voice has been taken away. "Because of you, Mr MacMaster, a lot of the real activists in the LGBT community became under the spotlight of the authorities in Syria. These activists, among them myself, had to change so much in their attitude and their lives to protect themselves from the positional harm your little stunt created."
Ali Abunimah was one of the key figures involved in tracking down the blog to Tom MacMaster by finding he owned a property that "Amina" had posted the address of on a message board.
In his blog Electronic Intifada, he says it has "sown confusion, distraction and absorbed energy and attention at a time when real people are in danger in Syria and in other countries in the region".
Now MacMaster has renamed his blog to read, "a hoax that got way out of hand. I never meant to hurt anybody".
But for "Joseph W" who cross-posted in the blog Hurry up Harry, the fake identity goes against blogging convention. He explains that "the normal course of action, would be to simply blog under a pseudonym, not post a photo, and explain why this is the case." He goes on to question the political motivations behind the blog suggesting MacMaster may have an "anti-Zionist" agenda.
Checking the facts
Others point the finger at the press.
The woman whose picture was used by MacMaster, Jelena Lecic, was particularly displeased, telling Newsnight before MacMaster's admission that it was mainstream media - the Guardian - that had republished her picture.
The Guardian's Chris Elliot says the delay in taking down the photo was because of suspicion it could be a ploy by the Syrian government.
He explains how, after a failed attempt at a meeting with "Amina", they published the story based on an e-mail exchange.
The excuse that the blogger had to pull out of a meeting because of harassment from Syrian security services seemed plausible, Elliot explains.
Quality writing
Blog Her's Liz Henry had previously expressed "painful doubts" about "Amina" because she didn't seem to have a presence outside the blog. The mainstream media, for example, hadn't managed to track down any friends or family.
But Ms Henry reminds us that there is nothing new about fictional blogging. Sometimes they can be "literary experiments", which turn into books. For example Odin Soli - who turned out to be a middle-aged man - blogged first as a Muslim girl with a Jewish girlfriend and later as "Plain Layne", a bisexual woman. That blog was subsequently turned into a novel.
Similarly NPR's Andy Carvin, who had warned against cynicism when the doubts first emerged on Twitter, still stands by the quality of the writing.
"People should operate under the assumption that there is a real blogger under detention in Syria. Who they are is another matter," he tweeted before the admission.
Now he gives MacMaster credit for managing to create character who would "illuminate the story of the Middle East for a Western audience".
"In a lot of ways," he says on the NPR website, "the accessibility of the blog was likely the reason it got so much attention. Since February, it has been filled with posts that are dramatic and compelling and full of action."
The New Statesman's Steven Baxter wonders if it is possible now to appreciate the quality of the writing given the deception.
"See it for what it is - fiction - and you can admire the literary creation of MacMaster. If only he had presented it that way in the first place. If only he had."