Was Jeremy Bowen's notebook stolen by Gaddafi's son?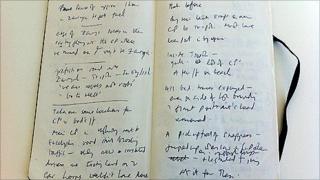 Good note-taking is an essential tool for any journalist, but keeping hold of your notes is not always easy in a country like Libya.
I like notebooks. I like writing things down - bits of detail, colour, what people say, their names, memory joggers, phone numbers. You name it.
I am writing this in a notebook because we are out filming.
And I do not mean a small portable computer. My notebooks have pages, hard black covers, a useful pocket inside the back and an elastic strap to stop them pinging open.
Khamis Gaddafi, the colonel's most feared son, must have liked them too. Because it seems he has been writing war plans in the back of one of mine.
I lost a notebook - or it was stolen - during a futile attempt to get to Misrata when it was a besieged rebel outpost back in April. I realised it had gone on the way back to Tripoli.
The book has had a few adventures.
About two weeks ago a man called Mohammed rang me in London, from a satellite phone somewhere near Misrata, to tell me he had the notebook.
After that it was sighted by various other journalists on the desk of a rebel commander near Bani Walid. Apparently someone has pictures of it. Another colleague even wrote a slightly fanciful story about it.
I have not had it back.
The commander seems to regard himself as the notebook's new owner, a trophy of war.
It was found, he says, in the wreckage of a convoy that was supposedly carrying Khamis Gaddafi. The anti-regime forces say they attacked the convoy and killed Khamis.
As for Mohammed, his satellite phone is not answering, and a message says the mailbox is full. I wonder if he was in the convoy that was shot up, and what happened to him.
Melting tension
But the Khamis notebook was not the only one that has been floating around Libya.
I have just been reunited with another, which was stolen in June from my room in the Rixos, the five-star hotel that was the gilded cage of the Tripoli press corps until the regime collapsed. It was found in a desk drawer at a military base.
I went back to the Rixos the other day. The gates used to be adorned with children's pictures depicting the rebels as rats and the Gaddafis as heroes, and nasty-looking men from the secret police used to lounge about, making sure that they knew who was coming and who was going.
Our old home from home was not damaged, but it looked shabby and overgrown.
Former rebels, now in charge, were hanging out in the foyer, where the portraits of the colonel used to hang, presumably looking after the Rixos until it reopens.
What had evaporated from the hotel was the tension and pressure, often surreal, sometimes threatening, that used to hang over its marble halls.
Dr Shakir was gone. He was a grim-faced Gaddafi propagandist who used to broadcast from the basement during the bombing, often condemning Western journalists as Nato spies.
And then he would wait politely in the queue, next to the "spies", at the lavish buffet which punctuated long, strange days.
Of course, there was no sign of Moussa Ibrahim, the regime's spokesman.
For a while he had the room next to mine.
I used to hear his German wife talking softly to their baby son, while Moussa was out and about producing increasingly unconvincing soundbites. I think mother and child got out before the end.
After the rebels entered the Rixos, someone put a video on YouTube supposedly showing Moussa's room.
Papers, family photos, a few toys and some bottles of wine - he never offered me a glass.
After the minders melted away, journalists found transcripts of their e-mails in the office Moussa and his team used. I wonder if one of his people stole the notebook that disappeared from my room.
I am going to admit it. I liked Moussa to start with, even though I knew his people were watching us the whole time.
He had spent years in London. He told me he was one of the Libyans who had come back because they thought that Colonel Gaddafi's heir-apparent, Saif al-Islam, was going to modernise the country.
When rumours spread a few months ago that Moussa had defected, I was not surprised.
But I had him wrong. He stayed, and became more strident as pressure on the regime increased.
His self-importance grew along with his presence on TV screens in Libya and around the world. I stopped doubting whether he believed what he was saying.
The other night, on the phone to a pro-Gaddafi TV station in Damascus, he ranted for half an hour about the Colonel's impending victory.
Perhaps he is with him now. Moussa, if you tell me where you are, I will send you a notebook.
How to listen to From Our Own Correspondent:
BBC Radio 4:
A 30-minute programme on Saturdays, 1130.
Second 30-minute programme on Thursdays, 1100 (some weeks only).
Listen online or download the podcast
BBC World Service:
Hear daily 10-minute editions Monday to Friday, repeated through the day, also available to listen online.
Read more or explore the archive at the programme website.