Orlando Letelier: Murdered in central Washington DC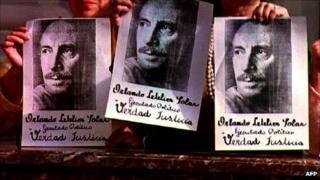 Exactly 35 years ago, an audacious assassination occurred just a stone's throw from the White House. Orlando Letelier, a former Chilean government minister, was murdered when his car exploded in Washington DC's embassy district.
Letelier was foreign minister in the cabinet of Chile's first Socialist president, Salvador Allende. But when the government was overthrown in Augusto Pinochet's military coup in 1973, Letelier was one of the first to be arrested.
He spent a year as a prisoner in various concentration camps, including the infamous Dawson Island, until diplomatic pressure from Venezuela prompted his release.
Then, writer and film-maker Saul Landau invited Letelier to Washington to work at the Institute of Policy Studies, a left-wing think tank.
From there he became the leading voice of Chilean resistance to Pinochet - lobbying Congress and European powers to stop trading with the regime.
About a year after his arrival in the city, on 21 September 1976, Letelier's car was blown across the capital's Sheridan Circle killing him and his 25-year-old assistant Ronni Moffitt.
Saul Landau remembers the moment he realised something was terribly wrong.
"My wife called me in the morning, from her work on Capitol Hill and said she had just seen the worst accident she had ever seen in her life," he says.
"She said there were smoke and flames coming out of a car and there were pieces of what looked like a body. She even saw a secret service agent, the uniformed ones that guard the embassies, throwing up."
Five minutes later a hysterical phone call from his receptionist told Landau his friend was dead.
Confused, he rushed to his office. Passing the murder scene on his way he saw an FBI truck with a huge vacuum cleaner sucking up every piece of material it could find.
Shrapnel
By chance that morning, Letelier was giving a lift to Ronni Moffitt and her husband Michael, because their car had broken down.
Michael Moffitt was sitting in the back seat and was blown out the back of the car, but for a few cuts and bruises he was unharmed.
His wife stumbled from the wreckage and assuming she was OK he ran to Letelier who was stuck in the driver's seat and died within minutes.
But a piece of shrapnel from the blast had pierced Ronni Moffitt's throat and she drowned in her own blood half an hour later.
Letelier's wife Isabel was soon notified by FBI agents who came to her home.
"My first reaction was, 'I have to see Orlando,'" she told the BBC in 1978. "Somebody from the FBI took me to another room and explained that this was not a regular accident, that there was a bomb that had been in the car and Orlando's body had been dismembered, that I couldn't see him."
"I said to him that it was very important for me to see him, that he had been my companero for 20 years and I wanted to say goodbye to him, to a hand or whatever was left."
Even before his death Ms Letelier had received anonymous phone threats telling her her husband was in danger.
"I remember one very specifically because it was really short," she said. "They called me and said, 'Are you Ms Letelier?' I said, 'Yes' and they laughed and said, 'No, you are his widow.'"
A few weeks before his death Pinochet had stripped Letelier of his Chilean citizenship.
Still, Saul Landau says, Letelier didn't think anybody would try to attack him in the US.
"Everybody was astounded by the audacity of it - that someone would dare to do this three-quarters of a mile from the White House, in the capital of the empire," he says. "This was mind-boggling."
Confession
An FBI investigation revealed that the assassination had been orchestrated by agents of Dina, the Chilean secret police, led by an American called Michael Townley. They hired right-wing Cuban militants to carry out this hit.
Two days before the explosion they had taped a remote-controlled bomb underneath the car.
Landau had dined with the Leteliers that same night. After dinner on that balmy September evening Landau and Letelier continued their conversation as they walked out of the house.
"I remember putting my elbows on the hood of the car as we finished our conversation." says Landau. "Of course, later I learned that there was a bomb already placed under the car."
The assassination filled Landau with anger, distrust and suspicion.
"I really wanted revenge, there was no question in my mind that Pinochet, the dictator of Chile, had ordered this assassination. I wanted to go after the killers and I really didn't trust the FBI to do it," he says.
"Later on I had to revise my opinion because a couple of very honest and very good criminal investigators in the bureau did the job."
In 1978, Michael Townley was extradited from Chile to the US where he confessed to carrying out the bombing. He was sentenced to 10 years in prison but was released early on a witness protection scheme.
The head of Dina was also convicted in Chile in 1993.
Although CIA evidence showed the Chilean leader had direct knowledge of the assassination, Pinochet was never charged.
This was first broadcast on BBC World Service's history programme Witness. Listen via iplayer or download the podcast