Four things Captain Scott found in Antarctica (and one that found him)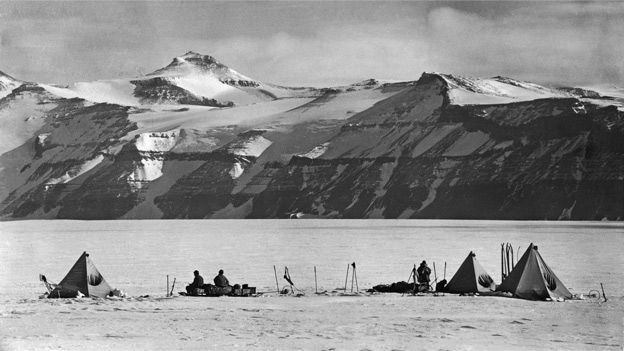 A century ago, Captain Scott and his team set out on a doomed race to be first to the South Pole. They failed in this quest - but that wasn't all they were doing in this mysterious ice-bound land.
It is an expedition best known for its failure. Not only did a Norwegian rival beat Captain Robert Scott to the South Pole, but his five-man team died on the return journey.
Found in the tent alongside their frozen bodies were 16kg (35lb) of fossils, a meteorological log, scores of notes, and rolls of film taken by Scott himself.
The dying explorers thought these too valuable to jettison, even though lightening their load could have played a part in the life and death struggle after weeks of travelling in temperatures below -37C (-35F).
Scott's expedition had a dual purpose - to reach the Pole for the British Empire, and to explore and document this great southern land.
This was in answer to a challenge laid down at the International Geographical Congress in 1895, which called the Antarctic "the greatest piece of geographical exploration still to be undertaken", and one which would result in "additions to knowledge in almost every branch of science".
In the late 19th Century, Antarctica was a large - and largely blank - space on the map. No-one was even sure if it was a continent or collection of icy islands.
Scott first led an expedition to the region in 1901, and returned a decade later with a young and hungry team of experts - including, for the first time, a professional photographer - to collect a treasure trove of specimens, data and observations for analysis on their return.
Just a handful of his 38-man team set off for the Pole on that final ill-fated journey. The remainder continued their research around base camp and beyond.
Gathered to answer the pressing questions of their day, these findings continue to shed light on the pressing scientific questions of our day too.
Here are four of their key discoveries (besides the Pole) - and one thing that found them.
Of the 2,000 specimens of animals collected by Scott and his team - 400 of which were newly discovered - the jewel in the crown was a trio of Emperor penguin eggs.
It was hoped that these would provide long-awaited proof of Darwin's theory of evolution.
At the time, it was thought an embryo passed through all stages of its species' evolution as it developed.
And as the Edwardians assumed the flightless Emperor penguin to be the world's most primitive bird, they hoped the embryos in these eggs would show the link between dinosaurs and birds.
The birds had been seen before, but never with their eggs.
"It was the greatest biological quest of its day," says polar historian David Wilson, whose great-uncle, Edward Wilson, was Scott's naturalist. "Then they collected the eggs, and all the theories turned out to be wrong."
Penguin skins also collected were used 50 years later as control specimens to prove that the pesticide DDT had since arrived in the seemingly pristine Antarctic.
"The scientific program was so large it basically founded modern polar science," says Wilson. "So it provides the base line data for almost every study."
The prize fossil found alongside Scott's body was the plant Glossopteris indica, an extinct beech-like tree from 250 million years ago.
On the return journey from the South Pole, they stopped to explore a moraine under Mount Buckley (pictured top of this page).
This was no random detour. Running low on food and struggling against foul weather, the explorer-scientists had a specific goal in mind.
A newly-minted theory held that Antarctica had once been part of an ancient super-continent named Gondwanaland (now Gondwana), and had once had a climate mild enough to support trees.
It was a compelling theory. All it needed was a killer piece of evidence.
So when Scott and co found this fossil, the same as ones found in Australia, Africa and South America, it was like finding a missing piece of the Earth's jigsaw. It indicated that these countries had all been part of the same prehistoric land mass.
"The finding of that specimen was a seminal moment," says Wilson. "It helped us change our geological understanding of the planet."
As well as specimens, sketches and photographs, the Terra Nova returned with never-before-seen footage of polar creatures in action.
It was the first time a film camera had been used to make breakthroughs in the study of biology. It also set the standard for future expeditions and wildlife documentaries.
"Scott believed the camera could play a part in scientific exploration which it hadn't yet achieved," says Wilson, author of The Lost Photographs of Captain Scott.
Expedition photographer Herbert Ponting captured the forms and textures of ice, and filmed the life cycles and behaviours of the region's little-known inhabitants.
In filming Weddell seals chewing holes in the ice with their canine-like teeth, for example, Ponting disproved existing theories as to how the seals created breathing holes.
And, when filming killer whales hunting in a pack, Ponting almost became their lunch.
At a time of year when temperatures are a relatively balmy -28C, Captain Scott's five-man polar team perished during an extended cold snap when the mercury plummeted to -40C.
The detailed forecast drawn up by meteorologist Dr George C Simpson for the push to the Pole showed no sign of this unfortunate weather event.
In a last message to the British public, Scott wrote: "No-one in the world would have expected the temperatures and surfaces which we have encountered at this time of the year. It is clear that these circumstances come on very suddenly, and our wreck is certainly due to this sudden advent of severe weather."
An unexpected and rare misfortune, or was the forecast simply wrong?
The former, says Susan Solomon, an expert in atmospheric science and author of The Coldest March. Simpson's meticulously analysed weather data would have been correct in almost any other year, but 1912 was the one in which the Antarctic winter started hard and early.
His research contributed much to the understanding of not just Antarctica's climate but how upper wind currents interact across the southern hemisphere.
Aptly, Scott's 100-year-old hut is harbouring a new discovery itself.
So the restorers called in plant pathologist Robert Blanchette, of the University of Minnesota, who at first assumed the fungi had hitched a ride with visitors or imported materials.
"But our DNA sequencing, used to identify the fungi, has found that there are species present in the hut wood that have not been previously found and are not similar to known species," says Blanchette.
Finding new species in Scott's hut is only fitting, says Blanchette.
"The expedition's goal was to study all the new things in this unique ecosystem. I am sure these fungi, found 100 years later, would have been of great interest to the biologists and other scientists on Scott's last voyage."
Frozen Planet is on Wednesdays on BBC One at 2100 BST, or catch up with iPlayer. A number of images in this piece were selected from David Wilson's book The Lost Photographs of Captain Scott.
Related Internet Links
The BBC is not responsible for the content of external sites.