Who, What, Why: What can technocrats achieve that politicians can't?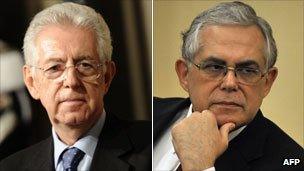 Technocrats are riding to the rescue in Greece and Italy. But can economic experts really solve problems that have already ruined notable political careers?
Goodbye, Berlusconi and Papandreou. Hello, Monti and Papademos.
As the prime ministers of Italy and Greece exited through the revolving doors of power, in came two wise men with no mandate to govern but clutching glittering CVs.
While he was EU competitions commissioner, respected economist Mario Monti showed his mettle by taking on computing giant Microsoft, and he's expected to appoint a government made up of other technocrats. Lucas Papademos is former vice-president of the European Central Bank.
Both men now find themselves cast as the unlikely saviours of these two countries and by extension, the eurozone.
But is wisdom enough to rescue a country mired in economic problems?
What technocrats can do is rise above the paralysing political rancour in these two countries, says Marco Incerti of the Centre for European Policy Studies in Brussels.
"The political spectrum is so fragmented and the political conversation so acrimonious that, in a situation of crisis, the markets and the international partners of these two countries are looking for concerted answers and determined answers and these can't be provided by political figures."
But technocrats, by reputation, competence and experience, can persuade the markets and eurozone leaders that they represent change, he says. The measures they need to implement are so tough that they would have failed to get the necessary political support if introduced by any politician.
Another advantage is the speed with which they can get their feet under the desk, says Mr Incerti, when swift action is needed to calm the financial markets. The democratic approval will come at a later stage, but Mr Monti would probably win an election if one was held tomorrow, he says.
Also, these are men familiar to leaders like Nicolas Sarkozy and Angela Merkel, because of the institutions at which they have worked.
The term "technocracy" - derived from the Greek word "tekhne" meaning "skill" - rose to prominence in the US when engineer Howard Scott formed a group of engineers in 1919 that later proposed a new form of economic management as a radical response to the Great Depression.
The Soviet Union is sometimes held up as the world's first technocratic government, because of the high number of engineers brought into the Communist Party and rapidly promoted during the industrialisation of the 1930s.
Italy is no stranger to the phenomenon, having appointed several technocrats to lead the country out of various economic crises in the early 1990s.
The first was Giuliano Amato who became prime minister in 1992 to respond to Italy's expulsion from the European Monetary System. In 1995, Lamberto Dini took the reins to reform the country's pensions system.
"These times are engraved on the memory of most Italians," says Mr Incerti, because they are times of extreme duress and economic problems.
There are several benefits to a technocrat-led government in times of crisis, says Kevin Featherstone, a professor at the London School of Economics.
"Technocrats bring a reputational advantage both in terms of knowledge and a sense of putting national interests above party political interests.
"It's also, thirdly, a signal of the importance of the crisis, such a serious, exceptional crisis that it needs exceptional political actions."
But there are disadvantages too, he says, and sooner rather than later the democratic process will need to be restarted.
"My concern is that the technocrat-led governments may be OK for the short-term but when they start to face the political challenge and backlash of imposing some very tough austerity measures, they lack the political legitimacy that elected, party politicians can bring to government. So it's a short-term fix."
There is no suggestion that these two appointments are part of a wider European trend, he says. Indeed there may have been periods in the last 10 or 20 years when there were more examples than there are now.
"Smaller European states have often turned to technocrats when they have difficulty in getting a viable coalition together and a non-party figure is part of the deal brokered."
Technocratic government don't happen in the UK, he adds, partly because the first-past-the-post electoral system makes coalitions like the present ruling partnership a rarity.
But more fundamentally, there is an anti-intellectual streak in British politics, he believes.
"Culturally we don't put academics on a pedestal, which they do in Athens and Rome."
Related Internet Links
The BBC is not responsible for the content of external sites.