Ear stretching: Why is lobe 'gauging' growing in popularity?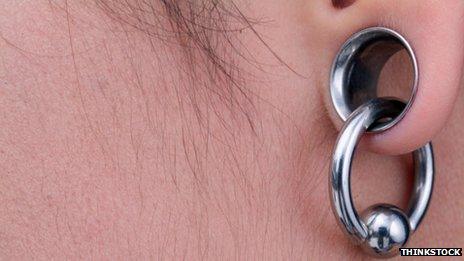 Stretched ear lobes are becoming an increasingly common sight in the street. But why has creating a large hole in the ear lobe started to appeal to more and more people?
Ear stretching goes back a long way.
But you don't have to visit a museum or travel to a remote-ish part of the world to see it because the practice has been adopted in many Western countries.
However, it is not so common that it goes unnoticed. Stretched piercings do tend to stick out like the proverbial sore thumb, particularly if the hole is substantial enough to hold a small object.
For many people, there is an "ouch" or an "eugh" factor when they see someone with a substantial ear lobe stretch but for those that have it done, it is a thing of beauty.
One of the recently ousted contestants on the BBC One show Masterchef: The Professionals had both ears stretched and adorned with black "flesh tunnels", which allow people to see through the lobe.
This led to remarks on Twitter such as "I like Seb. And he can hang his utensils from his ear lobes so double bonus" and "I would've served my prawns in my ear holes if I were Seb".
Flesh tunnels and flesh plugs, which are solid, have become more visible on our screens. Dougie Poynter from British band McFly is currently sporting some flesh tunnels in the Australian jungle, where he is taking part in ITV1's I'm A Celebrity Get Me Out Of Here.
American rapper Travie McCoy and American singer Adam Lambert are also stretching devotees. British fashion expert Gok Wan is also partial to large wooden ear plug adornments but it is not known if these are being used to stretch his lobe.
Statistics are not easy to come by but, as with tattoos, there is extensive anecdotal evidence that ear stretching is on the rise. More people are wearing them, DIY kits are more widely available and there is a much greater choice of jewellery.
Marcus Mellor, from the Holier than Thou piercing parlour in Manchester, says ear stretching has become more popular in the last five or six years.
Practising what he pierces, Mellor has stretched both his ears. He says it used to be associated with hippies, punks or the rock crowd but now it is "all walks of life and not just students".
"We get girlie girls, metal kids and middle-aged men," says Julie Howick, the owner of Cold Steel in London's Camden.
"It used to go hand-in-hand with other piercings but now people just come in for ear stretching. It can be discreet and people can hide it behind their hair in work."
Ear stretching is in vogue, says Alix Fox, who writes the body modification section in the British alternative magazine Bizarre.
"It's fashionable and it's easier to find a reputable, clean, knowledgeable place to have this kind of thing done."
Prof Victoria Pitts-Taylor, from the Graduate Center of the City University of New York, says ear stretching has become popularised in the same way as other sub-cultural practices, such as tattooing and piercing.
The sociologist, who wrote In the Flesh: the Cultural Politics of Body Modification, says it started in the 1980s and 1990s with the rise of the body art movement and the "modern primitives", who appropriated practices from the "global supermarket" for various reasons such as showing solidarity with other cultures or to set themselves apart.
Ear stretching has became more mainstream in the last decade and different people have become attracted to it because they see it on the catwalks and celebrities.
Hard-core modifiers have to up the ante to defy the commercialisation of the practice, Prof Pitts-Taylor suggests.
"It is a slightly more committed body art than temporary practices or ear piercing. The more you stretch the skin, the more commitment you are expressing to a counter cultural look."
People who are obsessed with getting the largest stretch possible are known in the business as a "gauge queen" or "gauge king", according to Fox.
There are many ways to stretch ear lobes. You can gradually stretch the skin using different sized tapers (cone-shaped pieces of jewellery). This requires patience.
For those who want an immediate result, there's dermal punching. This works like a hole punch and will create an instant gap.
Mellor advises customers to take the gradual approach. "Just take it slow and steady - normally a 1mm increase every four weeks - and if the skin does not stretch easily, don't force it."
"The important thing is not to stretch your ear too fast because not only will it be painful but you're not stretching the skin uniformly," explains Fox.
Applying excess pressure can squeeze flesh from the inside of the lobe to the outside, causing what's known as a "blow out", she says. This can leave people with scarring.
There is a point of no return but it varies. A stretched piercing can shrink back to its original size but this depends on several factors including the length of time taken to stretch and the elasticity of the skin.
In some cases, if you stretch too fast or by too much, the lobe can split.
"Most people don't go above 10mm. They are thinking about the future. Once you start going to 20mm/30mm, you would need reconstruction if you changed your mind," says Howick.
As tattoo parlours now offer removals or reworking, there is also demand from people who regret their ear stretching.
Dr Ken Stewart, a member of the British Association of Plastic, Reconstructive and Aesthetic Surgeons, says ear lobes are made of skin and fat but they are sensitive organs - they turn red when people get embarrassed and have an erogenous function. He says the main danger of ear stretching is deformity.
He is used to seeing people with lobes damaged because of bites or big earrings but only in the last few years has he been asked to repair lobes affected by ear stretching - he carried out five operations in the past year.
"They tend to get it done as teenagers and then they have to correct it as they get older for career reasons."
If there is still tissue, he can put it back together again using what he describes as a "Swiss roll technique". This will take about 45 minutes and cost £2,500.
More extensive damage will require taking cartilage from the rib and this surgery will take up to four hours and cost £8,000.
It seems size is all-important when it comes to ear stretching. While some body modifiers like to keep theirs discreet, others want to make a statement.
These days it is nigh on impossible to find a girl who does not have a tiny hole in her ear but it is perhaps a stretch too far to imagine that the long-eared trend will have the same mass appeal.
A selection of your comments will appear in a follow-up piece.
Related Internet Links
The BBC is not responsible for the content of external sites.