Thanksgiving in Alapaha: Slow-smoked meat and cane syrup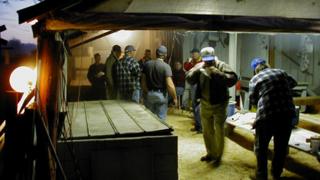 The fourth Thursday in November has been, for my whole life, an opportunity to go back in time.
It is Thanksgiving, that all-American holiday meant to commemorate the first harvest of the pilgrim fathers.
These days, it is more about having an excuse for a meal far too big to finish, and a four-day weekend full of American football. Not so in Alapaha, Georgia, where my Thanksgiving time machine takes me just two days a year.
Where once it was a small, local family affair, Thanksgiving has become the year's biggest gathering, bringing in every leaf on every branch of my family tree, and many of the little town's 682 residents. And there is a lot of work to do.
On the evening before Thanksgiving, the centrepiece of activity is a couple of hundred kilograms of meat - including the obligatory turkey - to be slow smoked all night.
It is a long journey now from London, England and by the time I get here, an enormous stack of wood is going into a kind of custom-made furnace.
Coals are shaken down from the burning logs, launching a plume of sparks into the sky that has the kids spellbound.
The coals are occasionally shovelled and scattered beneath the meat in a pit barbecue, a simple breeze-block affair that has my cousins' initials scratched into it. This goes on for endless hours through the night.
The "womenfolk" head back to prepare the side dishes for tomorrow, and a preposterous number of desserts.
The kids go off to sleep, scattered around in the ramshackle house down by the river.
Someone makes a huge pot of terrible coffee. We drink it and decide who will be next to shovel some coals.
Blessing
Near daybreak, the hunters and fishermen come through. They know that the first delights can come out of the barbecue pit about now. They head off again.
Hours later, everyone is here. As many as can fit into the barn's main space gather around a long table, heads bowed.
Someone is appointed - I have never known how - to say the blessing, which hits a year's worth of thankful high points, and always a tribute to my great uncle, the patriarch of the whole event.
Dinner itself is fast, eaten on paper plates held on laps.
A trailer stacked high with sugar cane awaits, aside an ancient tractor and an even older cast-iron grinding mill.
Sugar cane is fed in, funnelling the juice to a giant kettle and boiled away until it just starts to caramelise. This is cane syrup, and you will have to believe me when I say it is good with something called cornbread. The family has been making it since the 1800s.
No heir
A haphazard assembly line of us bottles the syrup, putting a sticker on each bottle, proclaiming its origins.
It is half-heartedly sold and given away, the family's and the town's annual supply of the stuff.
It is the last bit of produce my great uncle can put his name to, after a full life of farming.
For all my time, he has been the cantankerous, short-fused master of ceremonies here who always told me I was not shaking the coals down right, or that I was underfilling the bottles.
He is 84 years old now, and does not stay up through the night any more, keeping us in line.
Looking around the assembled family here it is hard to see an heir to his throne. The younger generation, for the first time, is getting out of Alapaha, going to the university a few hours drive away. They have families themselves, and those families do not live here.
Time is inching ahead and I wonder how long Thanksgiving will be just like this.
 How to listen to From Our Own Correspondent:
BBC Radio 4: A 30-minute programme on Saturdays, 1130.
Second 30-minute programme on Thursdays, 1100 (some weeks only).
Listen online or download the podcast
BBC World Service:
Hear daily 10-minute editions Monday to Friday, repeated through the day, also available to listen online.
Read more or explore the archive at the programme website.